News
January Board of Visitors Update
---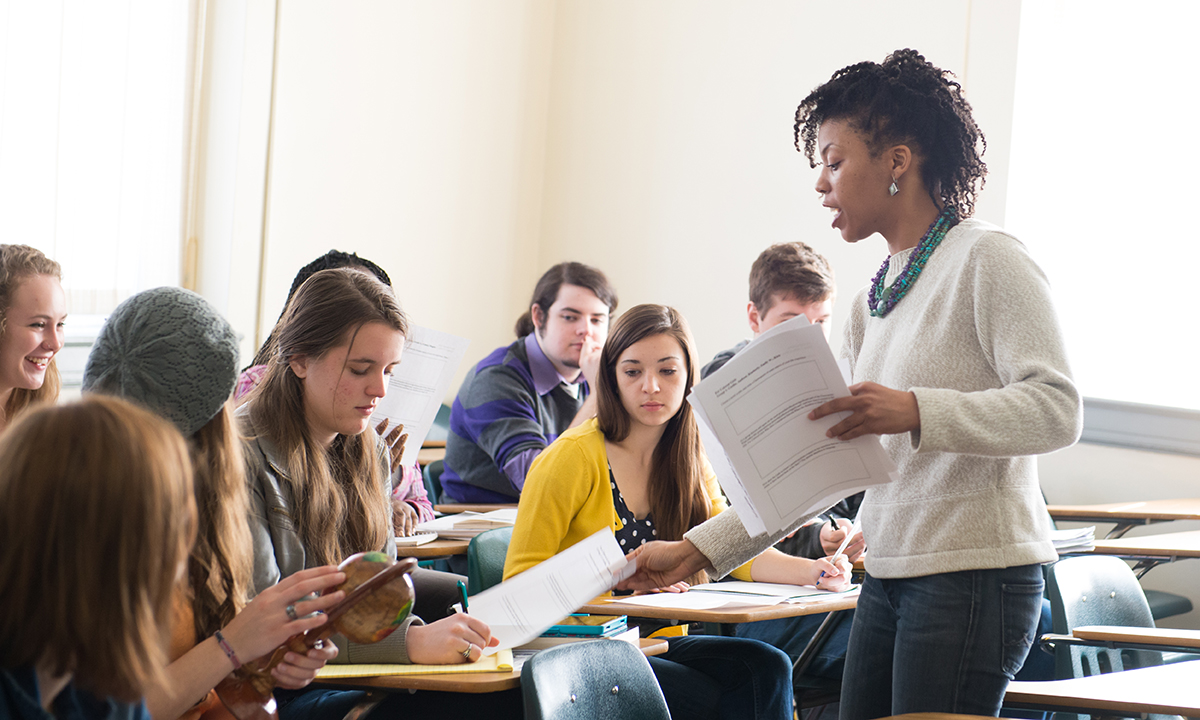 Dear Students, Faculty and Staff, 
The James Madison University Board of Visitors met on Friday, Jan. 15.  The board heard about a number of innovative programs, outstanding accolades and exciting events that have occurred over the past semester.  They also took a bold step toward achieving our vision of becoming the national model for the engaged university by approving the creation of an Honors College at JMU.  Here are the highlights from the meeting:
Fulfilling the Vision: A New Honors College at JMU
The Board of Visitors approved a proposal to designate the university's Honors Program as an Honors College. Honors education has a long history at JMU beginning in 1961.  The current Honors Program has nearly 1,000 students and has, for all intents and purposes, been functioning as a college for some time.  The new college will provide honors students with an opportunity to engage even further with their chosen academic disciplines.  An Honors College will also help the university recruit the best and brightest students and faculty.  This is a momentous occasion in the history of James Madison University.  Please join me in congratulating all those who have worked over the years to make the Honors College a model for excellence.
One final step remains before the Honors College becomes a reality.  JMU will apply for final approval the State Council of Higher Education for Virginia. SCHEV approval is anticipated later in the spring semester.
Faculty and Student Accomplishments
As we cultivate engagement through the board approval of the honors college, the board was told about many of our students and professors who are exceeding in many areas.
Dr. Chris Hughes will receive the Outstanding Faculty Award bestowed on him by the State Council of Higher Education for Virginia.  Congratulations also to Dr. Theresa Clark, Dr. Michael Deaton and Dr. Kristina Doubet who were finalists for this award.  They continue to be exemplars of outstanding faculty work engaging our students inside and outside of the classroom. Congratulations to all!
Faculty Senate Speaker David McGraw briefed the the board on our most recent Faculty Senate Vision Mini-Grant Awardees.  We appreciate the time and effort that the Faculty Senate has put into this innovative program and look forward to the implementation of the award winning proposals.
School Wide Highlights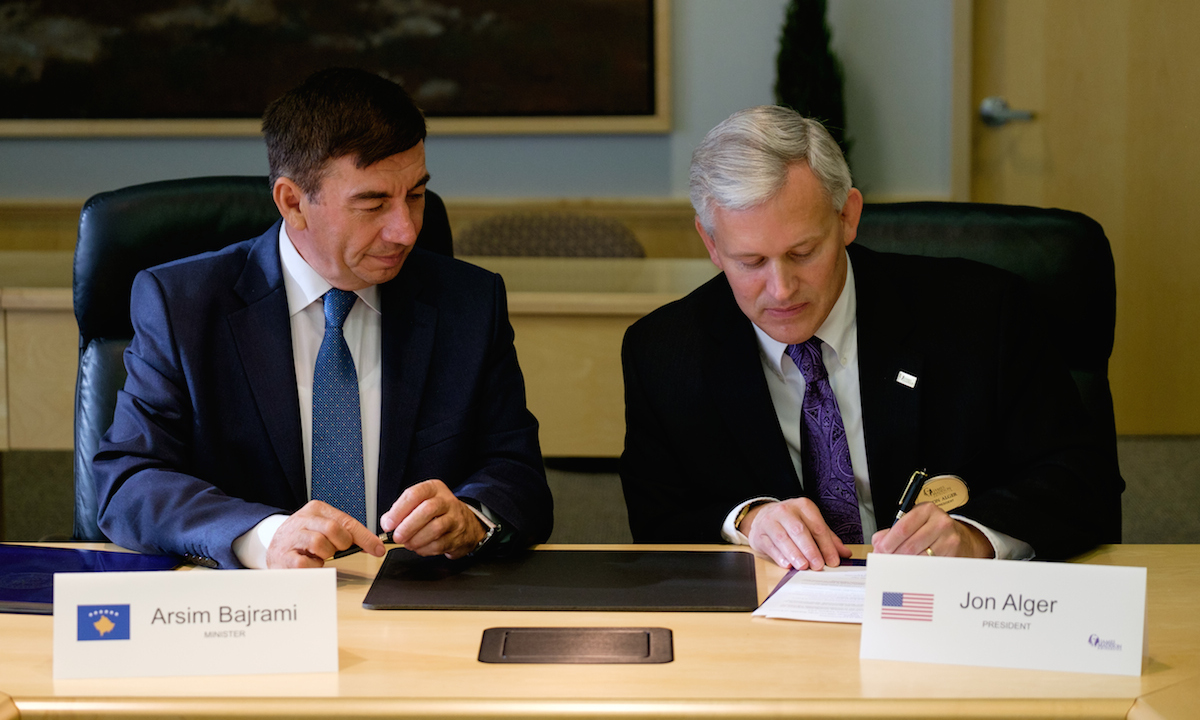 The Board of Visitors also received an update on our working agreement with the Republic of Kosovo. This relationship is a product of many faculty, staff and students from JMU and academic institutions from the European state. I believe that higher education will play an essential role in the growth and development in this new nation. Also, these cross-cultural collaborations will have both short-term and long-term impact potential and engage JMU in a bigger way with the rest of the world.
Collaboration on a National and State Stage
The board also heard about the many gatherings that have involved JMU with important conversations and initiatives on the national and the state level. I attended a conference held by the American Association of State Colleges and Universities titled Higher Education and the Public Good.  Our panel spoke about the Post-Collegiate Outcomes Initiative, which provides a framework to discuss results of postgraduate life with meaningful measurement tools that include public, personal, social and economic value.  We want to see the benefit of our engaged education and how it affects our alumni.
We also hosted a meeting for the Go Virginia Initiative, inviting local legislators, community and business leaders to discuss how we can cooperate to grow the economy in Virginia. We want to be involved with our local and state community and it was a privilege to host this discourse.
Finally, we are looking forward to hosting the second event for Virginia's Service Year Summit on Feb. 9, in the Festival Conference and Student Center. Officials in higher education are coming together to create more opportunities for students to serve their country and be involved in civic engagement.
Innovation
As our school continues to grow, innovation has been at our core of our new projects. Giving students, faculty and staff the creativity to expand, grow and engage have benefited this university and will continue to help us reach our goals.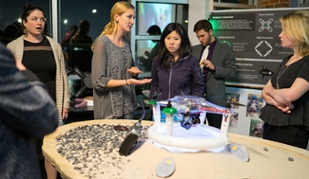 The Board of Visitors received an update on the Madison Trust event held Nov. 13. As you may know, the Madison Trust allows faculty and staff to share their ideas in a Shark Tank fashion where donors and investors are invited to fund projects that connect with the Madison Vision as well as their own interests. Thank you to all who attended this event as a donor or investor as well as the winners who received interest and funding towards their projects.
This fall students in an innovative class called the JMU Drone Project, used their skill sets across disciplines to make drones to serve humanitarian needs. Projects that have a positive impact on environmental stewardship as well as one that assists in locating and mapping unexploded landmines are among the original ideas. Their innovation and interdisciplinary thinking has lead to great ideas and great progress.
Finally, the board heard a presentation from students about our recent involvement in the University Innovation Fellows Program. This group has created a plan to improve innovation and the entrepreneurial environment on campus. Check it out on their blog.
Summer Tuition
The Board of Visitors also set tuition rates for summer 2016.
Upcoming Events
Our Dr. Martin Luther King Jr. Day celebrations will be underway starting Monday, Jan. 18 and continuing throughout the week, sponsored by the Center for Multicultural Student Services. Diane Nash is an African American activist, lecturer and businesswoman and will be honoring the life and legacy of Dr. King on Monday, January 18 at 7 p.m. in Wilson Hall Auditorium.
Madison Vision Series is starting up again on Feb. 4 at 3:30 p.m. to 5:00 p.m. in the Madison Union Ballroom.  Our guest speaker will be Margaret Hu, an Assistant Professor of Law at Washington and Lee University School of Law.  She has served as a senior policy advisor for the White House Initiative on Asian Americans and Pacific Islanders, and served as special policy counsel in the Office of Special Counsel for Immigration-Related Unfair Employment Practices, Civil Rights Division, U.S. Department of Justice.
On March 17, we will host Dr. Sylvia Hurtado as a guest lecturer for the Madison Vision Series during Madison Week. She is a professor at the Graduate School of Education and Information Studies at UCLA in the Division of Higher Education and Organization Change. She is also currently the Director of the Higher Education Research Institute.
Finally, we are having our inaugural day of giving event on March 15 this year. Look for how you can get involved here.
We appreciate the insight and guidance that our Board of Visitors members provide.  It is together through their leadership and with the cooperation of our many talented faculty, staff and students that we will achieve our vision of becoming the national model for the engaged university: engaged with ideas and the world.
Jonathan Alger,
President, James Madison University.
Published: Saturday, January 16, 2016
Last Updated: Thursday, April 5, 2018