News
Why Madison Presidential Listening Tour: University Studies and College of Arts and Letters
---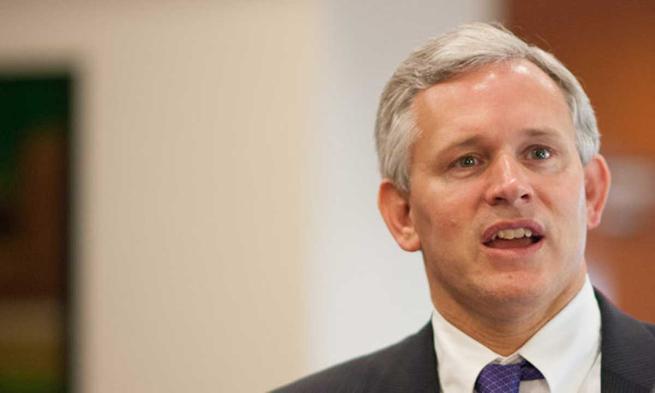 President's Journal
"Why Madison?" Listening Tour
University Studies and College of Arts and Letters


The faculty brings valuable and needed perspective to "Why Madison?"
I have been visiting the colleges and academic unit heads during this fall semester, because the faculty perspective during the "Why Madison?" Listening Tour is imperative. Faculty members are the backbone of the institution; they are on the front lines and the heart of the educational process. They bring many different and extremely valuable perspectives to bear on the institution's challenges and opportunities. I have met recently with University Studies and the College of Arts and Letters department heads, coordinators and faculty advisory committees. I am averaging two meetings a week and finding them deeply rewarding. I plan to reflect periodically on the input I am hearing.

Teaching and mentoring students is important to our faculty
At our "Why Madison?" Listening Tour events with alumni, parents and employers, it is wonderful to hear how they herald the faculty commitment to teaching and mentoring students and JMU's educational values. It is exciting to hear now from the faculty, who are addressing many of the same things from their perspective -- about the importance of providing JMU's liberal arts foundation and about how much they enjoy teaching students, guiding their research, mentoring them as they develop as scholars and mature as human beings. Professors have said they have never had a boring day, in large part because our students bring new ideas and questions all the time, and also because they are in an environment in which they can try new things.

Alumni are echoing the importance of liberal arts foundation
It should be gratifying to our faculty that we've been hearing from alumni, parents and employers that they are appreciative of their efforts and have pointed out the importance of the liberal arts and of our General Education program. They said they received a true foundation with critical thinking and communication skills and excellent preparation for their lifelong learning and success in the workplace. We are very proud of the role our liberal arts programs play in preparing our teachers as well. We've heard that JMU's K-6 teacher candidates lead the pass rate of the PRAXIS II for teacher certification in Virginia and further that Virginia's exam has the highest cut rate, showing just how qualified our teachers are right out of the gate.

I'm witnessing a true commitment to constantly improve the JMU education
I am struck by the commitment to excellence that I am witnessing. Department heads, coordinators and professors say they do not want to rest on their laurels. They want to continue to improve the quality of what they do and contribute to the overall quality of the JMU education. For instance, to paraphrase the department head of one of Madison's most renowned programs (Center for Assessment and Research), if the learning objectives of our programs remain the same, we are going backwards. The Madison faculty is constantly exploring new ways to teach to meet new ways of learning. Among other things, we are also constantly asking how new technology can help enhance our teaching and learning.

Honors Program can help set the tone for academic excellence across campus
It was exciting to hear just a bit about the growth, expansion and future plans of the Honors Program. I plan to learn more about that soon because I think the Honors Program has the potential to help us set the tone across campus for the excellence and rigor of our academic programs and help raise awareness of the strength of JMU academics.

Faculty relationships are central to fundraising
During some of our visits with alumni on the listening tour, they told us that their interaction with professors was paramount during their student days. So I was delighted to hear ideas from the faculty about fundraising, one of which involved exploring giving some release time to senior faculty to participate in engaging with alumni. We need to consider this and other ideas that I hope will come from our ongoing "Why Madison?" Listening Tour. Faculty relationships are central to successful fundraising, and fundraising will be a major focus in Madison's future.
 
How should we describe ourselves?
One of the issues I have been raising on the listening tour is how we at JMU can meaningfully describe ourselves, as we have so many qualities of a small liberal arts college and many of the opportunities associated with a large research-intensive university, and yet we are neither. So we need to concentrate on being the best JMU that we can be. The description of JMU as a public comprehensive university that combines the best elements of these other types of institutions says all the right things, but it is rather unwieldy to use in many circumstances. I will look forward to ideas about how we can describe ourselves better. I'm hearing that one of the functions that shows off where JMU stands at the juncture of those institutional types is academic advising. Attention to advising is critical to maintaining the intimacy of the student experience, and it is becoming an increasingly complex function because of our size. We need to be intentional about ways we can give good and consistent advice and enable students to complete their degrees in a timely manner.

Despite our strengths, we can't expect input to be 100 percent positive
As I visit academic units I'm not surprised to hear from our faculty that there are aspects of our educational operation that we should improve. I would expect to hear nothing less than a frank assessment from our faculty. In order for us to make constructive changes, we first need to understand our challenges and to identify areas where we need to improve. Thus, it is important for us to hear the concerns from the people who know our institution the best. For example, we've heard that we could do a better job, especially internally, of promoting the importance of the liberal arts. It's important that departments have a common understanding of their value and a common commitment to them. They must be able to express the value of the liberal arts to our students, to whom it is not always obvious. Often it is not until later, when they've graduated and look back, that they appreciate that liberal arts foundation.

Maintaining that cherished Madison teaching/research balance
It is heartening to hear from our faculty just how much they enjoy teaching and mentoring undergraduates. In fact, many professors have said that's why they came to JMU. That said, some say they are straining to maintain that cherished Madison educational culture because of a host of factors related to the economy, the size of the university, and operational and budget infrastructure, and incentive structure. One of the reasons for the listening tour is that JMU has reached a critical time in our history. It's time to take a collective moment to reassess, reaffirm our values, prioritize through the strategic planning process and then direct resources. We have come a long way, but we know that we can't stand still and that we face significant challenges in public higher education (in part reflecting national pressures and trends).  For example, we must pay close attention to the steps we need to take to maintain our cherished and delicate teaching/research balance in light of our particular institutional mission.

We've charged the Compensation Task Force to provide a thorough study
Faculty and staff salaries are another concern in light of the recent statewide salary freeze. Provost Benson and Senior Vice President King have charged the salary task force to provide a thorough and transparent study of this issue, including the university budget structure, within state policy guidelines. We want to leave no stone unturned in examining these issues; there should be no "sacred cows" as we look carefully at possibilities with regard to both revenue streams and expenses. We've clearly identified the problem, and now we need to work collectively to identify a set of solutions for the short, medium, and long term.

Early progress has been made on the compensation front
On the plus side, it's worth noting that we've already made some recent progress with some funds that have been diverted from other budgets for faculty salaries. Furthermore, we've had some significant bonuses awarded this year that provide real money for people's paychecks.  These steps represent a good start as we turn the corner on a difficult and challenging economic period for all of our people.

The conversation continues with faculty, students, alumni, parents, donors and partners
There are many more upcoming visits to academic units this semester on the "Why Madison?" Listening Tour. I still have a lot of listening to do, with the faculty, students, staff, alumni, parents, donors and partners. The tour is really just the start of what will be an ongoing conversation involving our entire university community. The dialogue will continue as we proceed through the Madison Future Commission with strategic planning and the development of a vision and priorities for the years to come.  We have great challenges but even greater opportunities as an institution, and I'm looking forward to working with everyone in our community to address these issues going forward.  Together there's no limit to what we can do!
Published: Wednesday, August 8, 2012
Last Updated: Wednesday, May 24, 2017