News
Why Madison Presidential Listening Tour: Student Success
---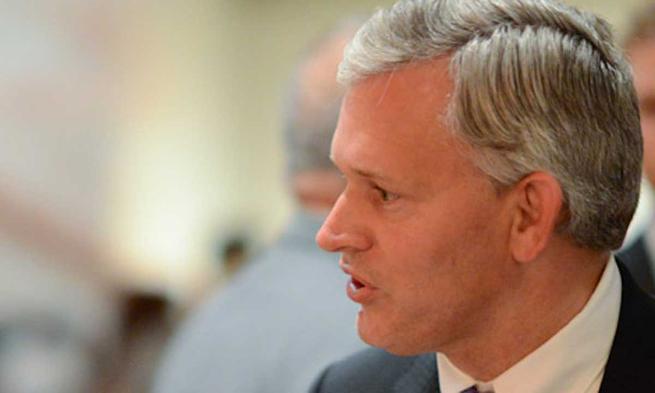 President's Journal —
Student Success, Dec. 4, 2012
Bottling that hallmark Madison Experience
My visit today with the staff of Student Success was like unearthing a hidden gem. We speak often at Madison of faculty caring and faculty-student interaction as being a hallmark strength of JMU's educational culture. Well, I believe the faculty and student apprentices of the Learning Centers might have found the key to bottle that hallmark strength in a way that increases the learning and caring capacity of the Madison Experience.
 
More than 2,500 students make more than 20,000 visits
The Learning Centers are just a fabulous resource, in my opinion. Students think so too, apparently, with 2,500-3,000 students a year making more than 20,000 visits to brush up on their skills or to overcome a serious learning issue. Some centers operate "cafe style," with students showing up when they need help and joining the appropriate table; others operate by appointment, for both one-on-one assistance and with groups.
 
Learning Centers help students overcome academic problems and self-improvement
The Learning Centers include the Communication Center, the Science and Math Center, the Writing Center, English-Language Learner Services and Peer-Assisted Study Sessions. These programs offer students assistance in introductory courses and in certain other key courses, like STEM and business. The Science and Math Learning Center, for instance, assists with introductory courses and some courses such as organic chemistry that figure into progression through the majors. The other areas, communication, writing and English language learning, are open to all students. Many students, however, use the services as a means to further self-improvement and to polish their success.
 
Learning Center improves faculty teaching in their home departments
Interestingly, the Learning Center faculty members also teach in their home departments and oversee and mentor students who act as peer educators and tutors. The faculty members say they acquire a unique perspective in the Learning Center because they get to see just how a student does—or doesn't—learn. They incorporate those insights into their classroom teaching and share those insights with other teaching faculty. In the Science and Math Learning Center, the professors are able to see what concepts students have trouble with and why and can fine-tune the pace they set in the classroom. This is the full circle at work at its best.
 
Students begin to appreciate tough subjects
Often the Science and Math Learning Center changes students' perspectives and attitudes through sustained one-on-ones with students. Those tough subjects like math and physics can become much more appreciated and recognized as something that makes a difference in their lives.
 
Making sure we promote the centers to students
I want to make sure we are doing all we can to inform faculty of this resource so that they can refer students who would benefit from Learning Center services. The centers advertise on JMU buses, send email to professors, offer information cards to professors who teach supported courses, and work through CFI, but word of mouth tends to be the most frequent route among faculty referrals and among students. The English-language learner support is probably the least known service of the Learning Center.
 
Managing group writing assignments
The Learning Centers attract primarily freshmen who seek assistance with GenEd classes. The CoB300 student teams often come for assistance with their business plan presentations, since they involve writing and communication. I was fascinated to learn that what they tend to need help with is managing group-written assignments, which is a daunting task way beyond structure and grammar. Seniors, graduate students, psychology doctoral students—especially when they're working on big projects—and even faculty members seek assistance.
 
Communicating to make centers more effective
I can imagine how instrumental these centers could be if departments would communicate the department's vision and expectations for students to the Learning Centers, so the faculty here can support those standards among the students they see. What visual aids or multimedia might be required of students in philosophy as opposed to biology, for instance?
 
Faculty and peers experiment to find what works
Meanwhile, the Learning Centers are terrific labs, terrific places for experimenting through assistance with the tutors to find out what methods work best for student learners. These faculty members and peer educators have a unique insight into how students learn across the disciplines. This is something our instructional faculty doesn't necessarily have. But the Learning Center educators are a real brain trust that can look at all the different dimensions of student learning and student development. Already they are sharing and learning among one another. I'd like to see them truly assist faculty more broadly with acquiring a deeper understanding—and similarly augment the work of the Center for Faculty Innovation. Some of these lessons become best practices and are shared through CFI or with relevant faculty.
 
Assessments efforts are under way for various Learning Centers
I'm glad to see the Learning Centers are in the midst of assessment efforts. The centers are at different stages, many getting their arms around massive amounts of data, correlating grades in certain classes to the efforts in the centers. Some are surveying their students. Others are trying to create meaningful assessment structures—not just how to measure, but what to measure—that pull together all the threads and circumstances of very intricate services.
 
We heard quite a bit from the Learning Center faculty, but then I was intrigued to hear from the peer educators—120 this year, who work up to 10 hours a week with student clients. They take their direction from the faculty, and then really roll up their sleeves and dive in to work. The enthusiasm I heard was inspiring. One young woman said that being a tutor is the single most fulfilling part of her life at JMU. Others told how rewarding it is when students thank them for helping them get through that tough chemistry class, for instance, or helping them develop confidence. Along the way, these peer tutors say they become expert in the myriad ways students learn. These are powerful stories of connection and another dimension to the Madison Experience.
 
Learning Center professionals try to make realistic assessments
The professionals in the Learning Centers find that some students have disabilities of which they are not aware. Often it's not just that the students don't get the material; something about their learning is different. So part of the work to be done is to make students aware and then teach them new learning strategies.These professionals have a crucial role to play and become counselors in more than just your subject, advice on what class to take, personal and career advice. They often become that support system for the student who's at his or her wit's end, who needs some tissues and a walk with a friend around the Quad, some words of encouragement and then an action plan to tackle the issue that brought them in.
 
Moving in together
I will be interested in seeing the synergy that occurs when the Learning Centers move into what will be called Student Success along with the learning commons, disability services, learning strategies, the counseling center, and freshman advising. Referring students will just be a matter of steps.
 
Learning Centers demonstrate a core strength of JMU's culture
I think these Learning Centers demonstrate a core strength of JMU's culture. At many universities of our size and academic quality, the attitude is sink or swim. Not here. We truly are focused on student success, and so the name of the area that encompasses these Learning Center—Student Success—is quite appropriate. I think it's important to note that students who use the services of these centers are quite exceptional already but are looking for their higher education to bring them to another level. At the communication center, for instance, there are students who want to perfect their ability to make presentations and speeches. They realize that when you get to a certain level, if you don't have those oral communication skills you're not going to get ahead.
 
Learning Centers rely on top-performing students in the majors
Hiring criteria for students is stringent. The Science and Math Learning Center relies on nominations by faculty, advertising for applications, interviewing, and asking content questions to see if they're competent. Physics and statistics tutors are more difficult to recruit. The Writing Center, meanwhile, requires its tutors to take a semester-long class, which includes an internship, spending time in the writing center, working with a mentor, co-tutoring sessions, and watching sessions.
 
Peer educating is good for the peer educators who take the MCAT
It appears that peer educating is good practice for the MCAT, as some peer educators who scored in the high 20s or above 30 benefited by helping others learn chemistry. Beyond the tutoring that takes place, the education that occurs in the Learning Centers is impressive. The peer educators work alongside faculty tutors and get to learn from professionals in action, while the faculty often learn from hearing the way that students explain things and how they talk to other students; professors are able to incorporate that back into classroom teaching and  discussion. And if a Learning Center faculty member can't get through to a student, another student might be able to help because they're on the same wavelength. Students can also give professors some diplomatic constructive criticism.
 
Learning Center faculty stretching to keep up with growth
While the Learning Centers have not actually had to turn students away, the atmosphere was described as a crowded restaurant in which the waiters are overwhelmed and cannot effectively serve everyone. I really liked this analogy to describe the two kinds of students who come to the Science and Math Learning Center: the ones who view the center like student health and just come in when they're sick, i.e. when they're having a test, and the ones who view the center like UREC and come in two, three, four times a week to work out.
 
English-language learners make their way toward the Learning Centers
The population of English-language learners has doubled in the last two years with an increasing multi-lingual population coming to us from community colleges in Virginia. Often the JMU faculty is stumped by learning challenges for these students. They refer English language learners to disability services and then disability services will refer them to the Learning Center because they don't know how to diagnose or understand what's happening with their English language learners. It will be necessary to start shifting pedagogy to be more inclusive and to be prepared for a much larger English-learner population. That's going to be a great opportunity for the Learning Centers.
 
Learning Centers offer promise for international students
I was thrilled to hear that the Learning Centers could turn into a promising resource for our international students. At most universities it is not surprising for international students to cluster among themselves and in certain departments. It's not the kind of experience you'd hope they'd actually be having when they come here. The Communications Center and the Writing Center have been collaborating to learn more about working with English language learners and different cultures' norms for academic integrity, however, to support international students and show that we can integrate these students into our campus in a welcoming and inclusive way so that they get that full experience. That could be a real strategic advantage for us, if we could do it well.
 
The Learning Centers are packed full—and not just for my visit
When I arrived for our "Why Madison?" Listening Tour session, the Learning Center literally was packed with students. There was not an empty spot. I was told this was not even the busiest time of the day or week, illustrating how stretched the programs are. Already the centers are being asked by students whether they can open a little earlier and stay open a little later. Like other departments, Student Success is lean and the demand on their services is high. There will be plenty of physical space when the centers move to their new headquarters on the west campus, but more faculty and tutors in additional subjects and varied backgrounds (like non-native speakers and Centennial Scholars, for instance) will be needed to handle the expected increase in demand. Having the resources to hire the needed tutors is a concern, as is competing with other departments who can pay more for tutors. These learning centers would like to be able to compensate tutors more substantially.

Alumni engagement and fundraising
I think it is a sign of university maturity that so many of our academic programs are now beginning to think about cultivating the relationships with their alumni. It is a natural step, given how so many of our alumni say they feel their closest connection to JMU through the academic program from which they graduated. The Learning Centers are no different, claiming as alumni those former students who worked as tutors and peer educators. As I heard from some current tutors and peer educators today, they describe a similar feeling of closeness and identity to the Learning Centers.
 
Student interactions lead to further investment by alumni
These student and alumni relationships are very valuable to JMU. At some point, successful alumni who have had a great experience with the Learning Centers will want to contribute financially so that more students can benefit from those services. A single donor financed a $12 million learning center at another university. It could be the kind of thing that would capture the attention of a prospective donor here.
 
Everyone benefits when alumni get involved
In the meantime, the Learning Centers are moving in the right direction—identifying alumni who want to be involved in the life of JMU and who will champion the work of the centers. I was pleased that the Learning Centers are tracking the 700 students and alumni who were employed as tutors since 2005 and have established a tutoring award this semester to recognize student tutors. The Writing Center has also been including successful alumni in their monthly newsletter and is making plans to invite them back to speak to our current peer tutors. I believe strongly in those intergenerational connections. Alumni benefit. Students benefit. The university benefits. It will be important for the Learning Centers and our academic departments to partner with the Division of University Advancement in these efforts. Those folks have the expertise to assist with event coordination, communications messaging and outreach, fundraising and database coordination. As we start moving toward a comprehensive capital campaign, that collaboration will be crucial.
 
Faculty in Science and Math Center unheard of in higher education
JMU has taken a bold path with the Science and Math Learning Center. Where most universities have graduate students working in their science and math centers, JMU is probably the only university staffed with science and math faculty members—a phenomenon that is incredibly well received by students. At least 95 percent of them rate that it is "extremely important" or "most important" to them to have faculty in the centers. I know that we tell our prospective students that they will have contact with Ph.D. faculty at JMU, but I find it to be an extraordinary selling point that we have professors who have the desire and the heart to work directly with the students in the centers.
 
Funding insecure for Learning Center expansion
The writing center has been keeping up with enrollment growth by expanding its operations to three satellite locations through some grant funding. More secure funding would prevent the coordinator from having to reapply and to be uncertain about renewal. I can see that we have some vulnerability here. Even after the Learning Centers move to their new location, I am hearing that it is a good idea to continue the satellite locations; they provide access and convenience to different groups of students that who probably would not come to the main center. With most of the sciences already on the east side of campus and tentative plans for math and geology to follow at some point, the satellite locations there will rise in importance.
 
Peer educators seek diversity training
I was encouraged to hear from one of our PASS leaders that our peer educators would be interested in some diversity training that goes beyond race and explores how to work more effectively with non-traditional students—a middle-aged student with a full-time job and a family coming in and trying to do chemistry problems for CHEM 231, for instance. International students. Students from different socio-economic backgrounds. Students whose high school programs were not very strong and at JMU are working on very different level. It would be helpful for all of our peer educators to have more awareness and comfort with the range of students they might encounter.
 
Complex operations highlight need to stay cognizant of challenges
This department certainly has a lot of moving parts, with sponsorships and funding partnerships with certain departments because faculty members are co-assigned to a learning center and also to their home departments. I heard that working with one foot in two different departments, two different cultures, with sometimes competing priorities can be a tough gig. With a mix of instructional faculty, professional tutors and peer educators, there's a lot of complexity to the operation. All of our academic stakeholders will need to be cognizant of those challenges.
 
A foot in both worlds improves classroom performance
That said, the faculty experience in the Learning Centers has produced some fringe benefits. While tutoring enriches the classroom, these faculty members say that as they teach new courses and have more expertise in their disciplines, they become better tutors. So even though it can be challenging to have a foot in both worlds, they don't want to lose those classroom experiences and teaching assignments.
 
Calibrating faculty rewards with university priorities
Their comments remind us that how departments get along and how faculty are evaluated and recognized for their service and accomplishments are standards that we set for ourselves. There's no law that says departments have to treat each other in a particular way or faculty have to be evaluated based on that criterion or that criterion. Despite the pressures in higher education to do things like the Joneses do them, I think we need to ask ourselves, "What do we value? What are some really good things that we're doing?" And I think if they are really good things, then we need to make sure they are seen as priorities that are reflected in tenure and promotion criteria and faculty reward structures.
 
Tutoring is rising in esteem thanks to the Learning Centers
This group is elevating the nature of tutoring on this campus. After all, James Madison himself had a tutor who made a huge difference in his life, as one of our faculty member's research shows. It's as important as just about anything else we're doing on this campus.
 
Peer educators set the tone for academic rigor
I was inspired by one faculty member who has embraced JMU's emphasis on academic rigor because of the contributions the learning centers can make toward it. The tutors make learning more accessible, and as peers and model students can send the message of academic rigor better than anyone else at the university. These students really are strategic assets for us, allowing us to provide a more effective education than anyplace else. We don't just assume that because we brought a bunch of smart people together and then just let them loose to do their own thing, that it's just going to work just fine. We're actually thinking constantly about how to do it better. These faculty members and peer educators were a very thoughtful group and really opened my eyes about how the Learning Centers contribute to Madison's educational environment. What I've heard today helps me to become a better ambassador for these professionals, for our students and for this university.
Published: Tuesday, December 4, 2012
Last Updated: Wednesday, May 24, 2017