News
Why Madison Presidential Listening Tour: Research and Public Service
---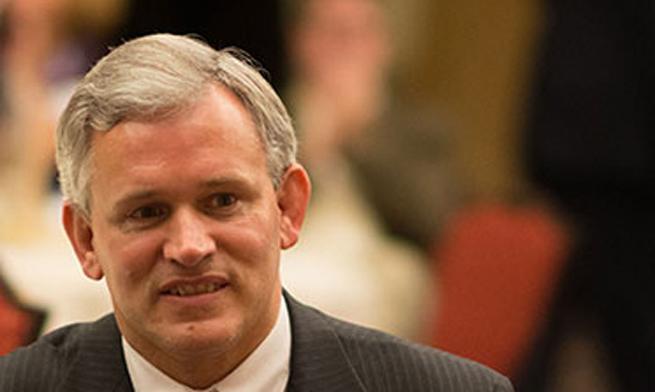 President's Journal —
Research and Public Service, Nov. 1, 2012
Today I had the opportunity to visit with JMU's Research and Public Service, an entrepreneurial group who together look to cultivate partnerships around the world and help apply and monetize JMU's research agenda—in short—to seek opportunity for the good of JMU. This group is monitoring public policy and soliciting relationships around energy, international stabilization, national security and more in a way that connects with JMU's faculty research agenda. RPS coordinates with federal and state policymakers and collaborates with other universities, agencies and labs. What I heard today in terms of RPS culture is similar to what I'm hearing about JMU in all my "Why Madison?" Listening Tour visits across the university—"supportive, collaborative, engaged." Because RPS is both inward- and outward-facing, it is a vital societal interface for JMU. This diverse group's efforts are impressive and the interchange that happens among them appears to be quite productive.

Federal Relations a major focus of RPS
One of the main responsibilities of RPS is federal relations, and I was impressed by its enlightened approach. JMU is not what one leader called JMU's "appropriations shop." Instead of looking for federally directed projects as other universities have, JMU has approached legislators strategically, going after national-level issues in areas like energy, international stabilization, and national security, which can help build capacity at JMU. RPS also reaches out to alumni groups like the JMU Politicos, a great network of people on the Hill, to help get our faculty in front of the right people and to get policy discussions started.

Future outreach should include executive branch and higher education policy groups
Having spent a lot of time in D.C., I think we'll want to make sure we continue to explore and develop relationships with the executive branch also. In addition, we want to reach out to engage higher education policy groups. I have spent a lot of my career connecting with the national organizations in higher education. In fact, I'm hoping at some point in the near future to take a day or two in D.C. and just literally visit a number of them on behalf of JMU. Part of the idea of having JMU become more nationally well known and respected is for us to be seen as a leader in higher education, and being engaged with these organizations can certainly help us do that.

Sponsored Research funding shows faculty commitment to scholarship and research
The Office of Sponsored Research showed me Powerpoint slides of our research awards, dollars and success rate. From 1995 to 2005, JMU's awards grew from $3 million to $21 million. Despite the economic downturn of 2008, it is clear that JMU's faculty commitment to obtaining external funding has not wavered. I am impressed with our high number of proposals and our 65 percent success rate, especially given that Madison is not a research university. Our faculty's commitment to research represents, nonetheless, a major commitment toward creating new knowledge and advancing the disciplines. Naturally, JMU is conducting this scholarly activity in its own unique way—often involving and mentoring undergraduates, almost always engaging with the world and attempting to address societal problems. One of the goals of the "Why Madison?" Listening Tour is for us as a university to consider how our educational culture encompasses aspects of a research-intensive university and characteristics of a small liberal arts college. I want us to think about and discuss how we can be the best JMU we can be. Our approach to research is a major component of that discussion.

Diversifying funding sources will be a major effort
As RPS is well aware, it is time for JMU to branch out and help the faculty diversify funding sources, as JMU proposals and awards are significantly weighted toward the federal side. We need to look at foundations and industry and increase our exposure with technology transfer and intellectual property.

Research Compliance is complex and vital
I am happy to learn about the success JMU has had in assuring research compliance issues on campus, an area that has become incredibly complex in recent years and can be antagonistic at some universities. It appears our Office of Research Compliance has made it a point to maintain effective faculty relationships, and in return, the JMU faculty has been quite cooperative. As an attorney, I appreciate that compliance is rule driven and integral to maintaining JMU's excellent reputation, especially in this age of accountability. I appreciate our attention to standards of conducting research, safety and welfare of subjects and facilities, financial management and public policy.

Sending undergraduates to national conferences
Research Compliance also wears a true feather in its cap—and shows its human side—for administering the long-running undergraduate research program at JMU, providing funding for select students to attend interdisciplinary conference to showcase their faculty-mentored research endeavors. For 26 years, JMU has been sending a contingent of students to the National Conference on Undergraduate Research. JMU also has a long track record of sending young researchers to the Colonial Academic Alliance Undergraduate Conference.

Monetizing intellectual property off to a strong start
Our very young effort in monetizing JMU's intellectual property and research—which includes the Office of Technology Transfer and James Madison Innovations Inc.—is off to a strong start: JMU is above the norm of three disclosures per $2 million of research funding and also has several patents in the pipeline. This office is beginning to make the faculty aware of the disclosure process, its potential and the generous royalty sharing policy of 50-60 percent based on the net royalties received total. In typical JMU fashion, it appears that disclosures are not just from research dollars either, but from all kinds of problem-solving applications.

Licensing is seeing returns for JMU, departments and faculty
Licensing too is a young effort at JMU. Since the corporation of JMI was formed in late 2008, it has resulted in an admirable return to JMI—plus return to faculty, inventors and seven departments—to be used for further research and innovation. Much of JMI's revenue has come from patents for JMU's pioneering work in plastics biodegradability and Madison Assessment from our CARS work.

Opening up new revenue streams for JMU will be a major concern
As I have been saying along the "Why Madison?" Listening Tour, I am very keen to open up new revenue streams for the university. Part of that effort will come from a comprehensive fundraising campaign. With our faculty's innovative and entrepreneurial spirit, there is also dramatic potential for growth in technology licensing, transfer and patents. It will be important to continue to expand disclosure and intellectual property at JMU and then share those success stories. What is truly exciting, again, is the distinct value that JMU adds to this process—we have our students involved with coming up with solutions to problems in countries across the globe. At research-intensive universities, this is often not the case. I was also glad to hear that this effort looks for ways to engage alumni—for instance through the law firms with which we contract to attend to the intellectual property demands of various disciplines.

JMU positioned to fuel national security community
It is no surprise to anyone that, with the Cold War long gone and its generation of analysts entering retirement, the national security community is having to reorient its conception of what kinds of threats we face. What is fascinating to hear from JMU's Institute for National Security Analysis is how universities—and JMU in particular—are uniquely positioned to address these new challenges. One of the key questions that JMU is answering through the work of INSA is, "Who is going to help create a new generation of analysts prepared to assess the problems of the next 50 years? I'm so glad to see JMU stepping up to the plate to answer that question because—and I experienced this having interned with the State Department—the intelligence community really values having broadly educated liberal arts students who are able to figure out how to make sense of lots of tidbits of information coming in from different vantage points. People who can do critical thinking and ask hard questions turn out to be very helpful.

JMU can build critical thinking methods and sociological understanding
JMU's potential is in developing analytical methods—not big weapons systems, not big software programs—but critical thinking methods, sociological understanding. These are exactly the kinds of things JMU is particularly well positioned to provide. This is right in JMU's wheelhouse, especially since partnerships open doors to new revenue streams and can help us build our own capacity at the same time.

INSA has been proactive, leading the way
Our institute has not waited for the national security community to come to JMU. INSA is already a leader in discovering, developing and delivering new analytic methods for the national security community, speaking at and often hosting the conference for all of the English-speaking intelligence agencies and also engaging and supporting our students who are majoring in the JMU intelligence analysis program. I am pleased to see how connected with this community JMU is through INSA.

CISR finds its cultural home at JMU
I was pleased to hear that the Center for International Stabilization and Recovery has found not only its physical home but its cultural home at JMU. At another university the center might be regarded simply as a grant-funded add-on. The grant funding is important, and we want to expand that, but, just as importantly, CISR is deeply embedded in the life of JMU. Created in 1996 to address the international humanitarian mine crisis, it has become the only center of its kind in the world to address the impact on post-war communities. It is of course known for documenting the global commitment to clearing conventional weapons of war, which are a security risk in post conflict environments, for its world-renowned Demining Journal and for its victim assistance, peer support and mine risk education programs. It also serves the international community by hosting the largest unclassified source of ordinance in the world on the CISR website, more than 5,000 pieces.

CISR is a prime example of engagement in action
Throughout our "Why Madison?" Listening Tour, on campus and off, I have been talking about engagement. CISR is a prime example of a highly engaged group. It is engaged throughout the world on its mission—it has a proposal in now with the State Department to take its mine education program to refugee camps along the Syrian border, for instance. Experts from around the world come to JMU regularly. CISR's work also thrives through the expertise of the JMU faculty—with, for example, the Center for Entrepreneurship and the Departments of Political Science and Health Sciences. Our faculty members have been working very recently in Burundi, Bosnia, Jordan, and Iraq. There appear to be many more opportunities for JMU to become more deeply involved overseas in post-conflict areas, as not many universities are engaged in these activities. Often this kind of work is taken up by contractors, but JMU has the added value of educating students and others along the way through its involvement.

How does JMU serve and offer opportunity to veterans?
One of the things that we've had a number of conversations about recently at the leadership level is services to veterans and doing more as a campus. Looking around the university I'm noticing quite a few pockets of outreach to veterans. I would think that there are veterans who would be interested in mine risk education as so many have been affected by mines. I want to make sure we're all connecting up to see if there are any synergies here. While CISR is focused on activities overseas, our conversation yielded some possible discussion points for bringing a CISR program to American veterans. I would like us to be to be talking to one another across the university about these kinds of opportunities.

Shenandoah Valley Partnership drives economic development
I received a briefing as well about the Shenandoah Valley Partnership, through which our major industries and companies and educational institutions seek to drive economic and workforce development in a region that is the most economically diverse in Virginia. I was delighted to hear the Shenandoah Valley described as the "education corridor," given its 12 colleges and universities along I-81, and that JMU's role is significant. The partnership's leadership teams are actively asking our business community what they need to prosper and then trying to help advance that business climate—for existing businesses as well as to attract new companies—in workforce development and advanced manufacturing. IT, life sciences and energy development from a JMU perspective are really important. We have faculty members with incredible expertise in these fields. I was pleased to hear it reiterated how tremendously this region's economic health is intertwined with major companies like SRI, Miller Coors, Merck, and Harris—and with JMU. To think we might play a role in helping to make Virginia a leader in energy development is exciting.

Virginia Clean Cities gets vehicles off of oil
The 501(c)(3) strategic Virginia Clean Cities alliance is a Virginia-wide collaboration of  off-campus efforts designed to get cars and trucks off of oil and reducing emissions—including the state fleet, which are hybrids. This group is currently operating an impressive $10 million in programs. It tries to be there with outreach, education, community forums and direct technical assistance where there is a policy push for conversion to cleaner transportation and cleaner air and pair them up with industry and higher education partners and JMU faculty experts in particular who can help. Many students are interested in studying these greener technologies, and the College of Engineering and Integrated Science and Technology with its faculty are partners in conducting research and creating courses.

Shenandoah Valley Technology Council
I was intrigued to hear about the Shenandoah Valley Technology Council, a 501(c)(6) with potential for fostering relations among organizations and people who are creating technology and those who are using technology. Falling in that realm is the famously successful Lego League and the STEM industry internship program. This council holds luncheons and other networking events to expose the valley to technological opportunities and partnerships.

All of our work boils down to human relationships and engagement
As is the case across JMU, I was heartened to see—beyond the professional partnerships this team creates—the deep personal involvement the RPS team has with the civic organizations, churches, schools, Lego League, and other entities in our communities. As we talk about the Engaged University, I'd like to find ways to celebrate those connections and tell the JMU story on that front. Our session today with RPS has really been very helpful.  I never met the late John Noftsinger, but I see his fingerprints all over this vital organization, which has advanced the capacity of James Madison University. All of what I learned today will be funneled into the strategic planning process, where the conversation will continue in committees of the Madison Future Commission as we collectively chart the course for JMU's future.
Published: Friday, November 30, 2012
Last Updated: Wednesday, May 24, 2017