News
Why Madison Presidential Listening Tour: International Programs and Academic Programs
---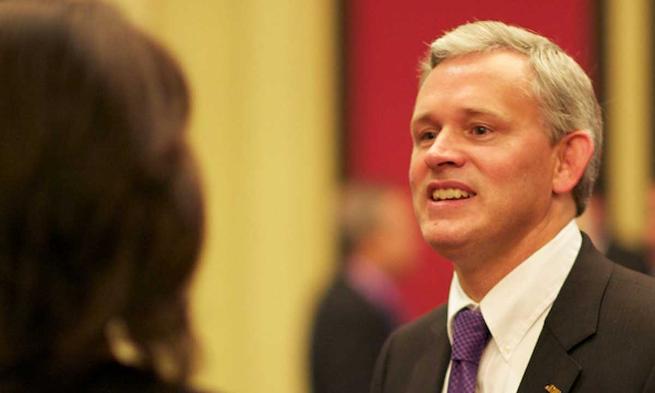 Academic visits allow me to ask deep questions
The "Why Madison?" Listening Tour visits I have with Madison's academic and administrative units give me the opportunity to ask questions that allow me to learn more about how JMU works as well as ask deep questions about what motivates all of us to do what we do together. The ideas for the future I am hearing from faculty and staff members will funnel into our strategic planning process. I visited recently with the Office of International Programs and the Office of Academic Programs, both of which were a fount of information and ideas for us to study.

International education opportunities for students are vast and varied
I'm learning what a strong foundation we have for international education and the many Study Abroad opportunities there are for JMU students—from our traditional semester programs; to unique experiences like a summer school in Hiroshima focusing on peace, conflict, environment and sustainability; to our master's program in European Union Policy Studies in Florence, where JMU resides in the historic 14th-century Palazzo Capponi. These 56 international programs as well as efforts like Study Group that bring the world to the Madison campus are important components in helping JMU prepare graduates who will live and work in a global marketplace.

Study abroad encourages us to explore what it means to be engaged citizens
Moreover, international experiences help us think about our roles as engaged citizens of the world and make us consciously explore the diverse meanings, opportunities and obligations of citizenship. Given that our university is named for the Father of the U.S. Constitution, I want us to be very intentional about exploring those themes from many perspectives, and specifically what it means to be a democracy in the world today. International education will be a vital part of that.

I look forward to learning more about our international opportunities
I hope to visit some of our international programs myself to get a better sense of them and their impact.  I also look forward to attending one of the upcoming meetings of the International Network of Universities, of which JMU holds the presidency. I'm optimistic about all of the possibilities before us.

Nothing replaces actually being in a place to learn about other cultures
We have heard that when it comes to international education, nothing replaces actually being in other places to learn about other cultures and understand the concerns and perspectives of the people of those cultures. Having studied overseas, I understand how transformational these experiences are. We have much more work to do to open the doors for more students to participate, so we know we'll want to focus on finding new financial resources to support opportunities for students and faculty members in the years ahead. 

OIP is offering ideas for encouraging faculty participation abroad
I am impressed by how supportive the Office of International Programs is of sending faculty members abroad, even to the extent of subsidizing worthy
candidates. That gesture shows commitment to a greater good and is unusually altruistic. For a variety of reasons, not the least of them the priority of covering instructional commitments, not all departments on campus can have the same commitment to supporting their faculty in Study Abroad endeavors. An intriguing idea that came up was to encourage professors to tie their grant, presentation and publication agendas to some relevant international initiatives. Tying some international programs to particular colleges was another. I welcome considering ideas like these, and look forward to more of them during our "Why Madison?" Listening Tour.

Making JMU a diverse, inclusive international family must become a priority
It is obvious that our OIP is quite accomplished and entrepreneurial at managing and supporting this vast range of programs across the world, including encouraging and coordinating the matriculation of international students here on our Harrisonburg campus. JMU is beginning to be seen as a Study Abroad destination, and we are beginning to increase our international students at JMU. We will need to work hard to find ways to make our international students feel at home here, which will mean making James Madison University into a much more diverse and inclusive family. I have been talking about that priority all along our listening tour. I am looking forward to considering ideas about how to make that happen, including, as OIP suggested, making international students and faculty part of our definition of diversity.

Engagement means our students should be more than consumers of a place
I am impressed that our Office of International Programs intends JMU students to be more than "consumers of a place" when they go abroad. Our students in Florence and Salamanca and Kenya, to name a few, are engaged in service overseas. This is a great example of applying the JMU educational model in contexts beyond our own campus.

International education extends JMU's engagement with the world
As I mentioned earlier, the development of a global perspective is one of the keys to lifelong learning and discovery, and will also help our students in the global marketplace. All along our tour, we have heard our alumni echo these tenets. They tell us that their international experiences have been life-changing and unforgettable, helping to create a fondness in their hearts for JMU as well as to enlighten their sense of the world.  I have spoken often about the Engaged University. Ideally, international education expands the opportunity for James Madison University to engage with the world.

People behind critical processes allow Madison educational culture to flourish
From my visits with JMU departments and offices on our "Why Madison?" Listening Tour, I am coming to understand and appreciate some of the less visible processes that enable the Madison Experience to flourish. I am hearing directly from the faculty and staff members who facilitate these critical services—like registration, academic policy, cross-disciplinary programs, for instance—that their goals are to manage these functions to make them as painless as possible for the faculty and students who must avail themselves of them.

Keeping academic services sound and strong must be a priority
During my visit with Academic Programs, which connects so many of the dots among our faculty and students, it was clear they are not only committed to undergraduate education, but inspired by it. I am pleased to see and hear how enthusiastically they appreciate and contribute to a Madison environment that supports individual learning and growth for students and faculty and staff. A case in point is their care and attention to supporting our returning students, which transforms some borderline student situations into remarkable academic success stories. It will be a priority to keep these services sound and strong, as the entire university relies, for instance, on the Office of the Registrar and an accurate and consistent accounting of course offerings.

Some heartfelt descriptions of our culture are emerging
Faculty and staff members provided some wonderful descriptions and attributes of the Madison culture: a fearlessness to try new things; a collaborative environment; open and goodhearted people; and a willingness to work across areas. It is exciting to hear this about JMU—both from the people on the front lines at JMU as well as from alumni who vouch for its transformational impact on them. It is clear that our faculty and staff in Academic Programs contribute to this culture.

Tour visits are eliciting ideas to support our most important asset—our people
It is rewarding to hear how seriously the people I visit take the Madison educational culture, as well as their suggestions for sustaining it. They recommended finding ways to celebrate the goodness and commitment of our faculty and staff—perhaps nonfinancial ways to let people know they are appreciated—and looking at our policies to see whether things like flex time and telecommuting would be possibilities. I have said repeatedly on the "Why Madison?" Listening Tour that people are our most important asset, and these are exactly the kinds of ideas I want to elicit. I'm looking forward to hearing more of them.
Published: Sunday, January 1, 2012
Last Updated: Wednesday, May 24, 2017