News
Why Madison Presidential Listening Tour: Graduate School
---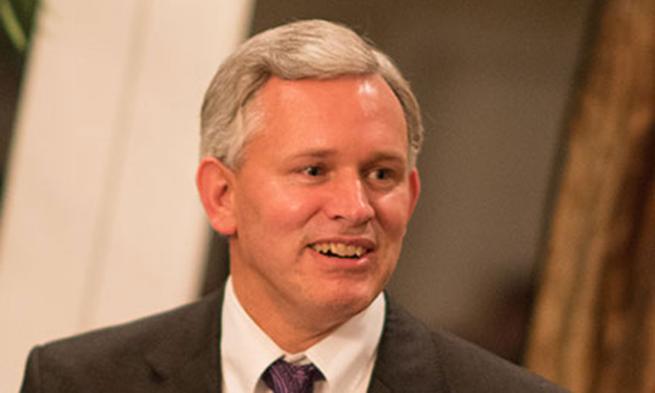 President's Journal —
Graduate School, Nov. 13, 2012
Graduate programs are among our best-kept secrets
 As part of the "Why Madison?" Presidential Listening Tour, I met today with the administrators and staff of our Graduate School. Clearly, one of our best-kept secrets at JMU is our small but top-quality collection of graduate and doctoral programs. Eleven of our graduate programs are listed among the best in the nation. Many of them have grown out of the signature strengths of our undergraduate program. These top-notch programs show JMU's philosophy and commitment to quality: We are not adding programs just for the sake of growing, but we are selective and responsive to the needs of the marketplace. The importance of our graduate programs will increase in the future, as it is estimated that 2.5 million jobs will require a graduate degree. In the new knowledge economy, as Dean Linn put it, the graduate degree is becoming the new bachelor's degree.
 
Support from admissions to commencement
At JMU, the Graduate School centralizes the administrative and support functions for the academic programs, serving as the front door to programs that are dispersed throughout the colleges. These folks support students and programs and coordinate processes from admissions to commencement. The quality of support this very lean unit provides is laudatory. Among the functions are coordinating the budget, the graduate admissions process, recruiting and marketing, student support, graduate assistantships, supporting format compliance for theses and dissertations, commencement and all-around cheerleading for students, faculty and programs.
 
Human touch exemplifies JMU's welcoming community
It is clear that this unit does all it can to help students and faculty, squeaking support out of its budget for faculty and graduate students to travel and present at research conferences, right down to putting notations on registrar records in real time so students can land jobs earlier. This exemplifies JMU's hallmark human touch that results in students' leaving JMU with a good feeling.
 
Our leanness is double-edged—a strength and a liability
One of the challenges we must face is that the Graduate School has such a very lean staff to accomplish all of these functions. I heard that if someone is out—for an illness, for instance—something vital is in danger of being left undone. This group is talking about how in the near-term to implement cross-training, further increasing its near-military efficiency use of resources and all-hands-on-deck cohesion. As champions for the coordinators of the graduate programs in the colleges, the Graduate School administrators have raised another important point: Many of our graduate program directors are coordinating and also teaching four courses, a full workload. JMU on the whole is lean, and this is another example.
 
Talking about the role of graduate and doctoral programs in the life of JMU
 Our graduate and doctoral programs have been quietly growing in quantity and stature, and I agree the time is upon us to explore the presence and role of these programs in the life of JMU. Issues like these are ones that I had hoped would emerge from the "Why Madison?" Listening Tour. These programs certainly are deserving of more recognition, and these conversations will help us determine how best to tell the whole Madison story. The tour was designed for us to explore as a community where we have been as an institution and to identify the strengths we want to preserve and build upon as we chart our future through the work of the Madison Future Commission.

Determining how we best describe Madison
One of the struggles I have been having is determining how best to talk about James Madison University. We have many qualities of a small liberal arts college and many opportunities associated with a research-intensive university. Technically, we are a comprehensive university. Yet outside of higher education, no one knows what that means. When we look at our peers in our classification, many look nothing like us. So where does our future lie? I don't want us to struggle to become another U.Va. or a Virginia Tech, or even to emulate a Swarthmore, the small liberal arts institution where I went to college. I want us to recognize and follow our natural trajectory and become the best James Madison University that we can be.
 
Establishing JMU as the national model of the Engaged University
It will be important to find a way to talk about ourselves meaningfully and intentionally. Even with our recent growth, we are still a place where close faculty-student interaction, teaching and community service, for instance, play a critical role in our educational culture. As we consider whether to add new graduate programs, how does that affect our conversation? This issue is part of the central "Why Madison?" question we are asking: Who are we and how do we become the best JMU we can be? In terms of enrollment, we are a predominantly undergraduate university. And yet we have graduate and doctoral programs that are among the tops in the country. How do we communicate that totality in a way that is clear and inspiring? I have begun talking about James Madison University in new terms: We have the opportunity to establish JMU as the national model of the Engaged University. I believe it has the potential to describe all of our signature strengths, leave room for a bright and inspiring future and include the entire Madison Experience—from our outreach to young children, through our undergraduate, graduate and doctoral programs to lifelong learning.
 
Engaging with ideas and with the world
I thought it was so interesting that these Graduate School administrators and staff members described what they do as preparing students to make a difference. It's clear that we are preparing our graduate and doctoral students, as we are our undergraduates, to go out and work in the community and to be involved practitioners. They create knowledge that makes a practical difference in people's lives. We don't prepare them to "play with test tubes," as I heard it described, but to work with people—to be engaged and productive. That fits in perfectly with the notion of the Engaged University. It is the opposite of the isolated ivory tower. Our university engages with ideas and with the world. Our Ph.D.s will engage and make a difference in people's lives.
 
Talking meaningfully about the entire Madison Experience
I was pleased to hear that in January the Graduate School will be making a presentation about JMU's graduate and doctoral programs to the Board of Visitors. Giving the board a deeper understanding of these programs will be quite helpful to all of us in the university community as we talk about the entire Madison Experience. The notion of a JMU research center is beginning to blossom, and it is emanating from several different colleges and programs, including the Graduate School. Yet another example of JMU's signature collaborational approach, this kind of endeavor might prove to be a vehicle that allows us to integrate and then talk about the entire Madison Experience. I look forward to hearing more about this idea.
 
Bringing more visibility to our graduate and doctoral programs
Part of the challenge of bringing more visibility to the programs of the Graduate School is in ramping up our communications. It would be nice to have a Viewbook for the Graduate School. I would like to see an annual report that we can use in many venues. Overall, I have noticed that JMU has a small amount of printed publications and digital communications compared to other universities. Perhaps that is part of being so lean and efficient. And yet, we are losing out if we don't talk about ourselves and toot our own horn, both internally and externally. We should be sharing news of research awards, for instance. There is so much involvement of our faculty and graduate and undergraduate students in the local community who are providing the kind of services that society needs. On the graduate level that means audiology services for an aging society who will benefit; public administration students who are partnering with local agencies; and an assessment program that shows a sometimes skeptical public how organizations can prove they are doing what they say they are doing. As Dean Linn put it, JMU is producing the people who have the skills to accomplish the kinds of efforts society is saying it wants. These are great things.
 
Preparing for a shift from master's-level to doctoral-level
One of the concerns we will be talking about is the effect of future growth of our doctoral programs. For some time we have been rocketing along at the top of our category as a master's-level university. As the number of doctoral degrees that we confer increases, we will begin to be compared to other doctoral-level universities, and that group of universities is quite different. We must be prepared for how we will be regarded among that cohort. We will need to lay the groundwork in communications so that our alumni and donors are ready and so that our prospective students understand the special strengths that we have to offer. We will want to define ourselves and lead the way. Again, that is why we are having these "Why Madison?" conversations. These are the kinds of issues that I want to make sure the Madison Future Commission is discussing. I appreciate the thoughtfulness and perspective of the Graduate School administrators and staff.
 
 
 
Published: Wednesday, October 2, 2013
Last Updated: Wednesday, May 24, 2017