News
Why Madison Presidential Listening Tour: Faculty Senate
---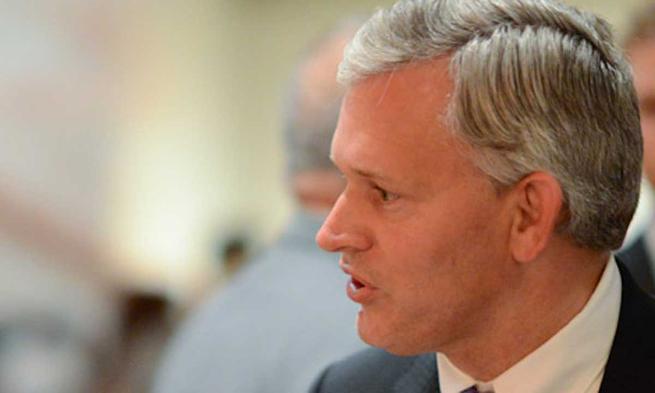 President's Journal —
Faculty Senate, Taylor Hall, Nov. 1, 2012
All "Why Madison?" input will be considered by the Madison Future Commission
I spent an hour today with the Faculty Senate to hear the insights of our faculty representatives into Madison's strengths and challenges. They didn't hold back, and went very quickly to the heart of why Madison matters. I have been reiterating at all of our "Why Madison?" Listening Tour events, both on and off campus, that we are listening closely. Whether positive or critical, we don't want to miss any input or good ideas. So our notes from these "Why Madison?" events are going straight into the strategic planning process. The Madison Future Commission, comprising 150 members from on and off campus, will be considering all of the "Why Madison?" input.
 
What are JMU's aspirational and peer institutions in higher education?
Right off the bat a faculty member raised the issue of James Madison University's identity in higher education, especially as regards our so-called peer institutions. To whom do we compare ourselves? I find that question leads us to one of our central challenges and one of our greatest opportunities. No, we are not William and Mary, or U.Va. or Virginia Tech. What institutions are we like—and for what types of comparisons? Educational culture? Academic rigor? Tuition? Athletics competition? Faculty salaries? In any comparison, the peer groups are all over the map and bear little resemblance to JMU. Few of them are very aspirational. When I came here, I saw the statement that said, "we want to be the best public comprehensive university." I can tell you that no one outside of higher education knows what that technical definition means.
 
Our future will be found in being the best JMU we can be
JMU is not a small liberal arts college like Swarthmore, where I went to school. But JMU does have a lot of its characteristics—like faculty-student interaction and the personal attention students can get here even as we've gotten larger. Nor are we a research-intensive university, but we have some of the strengths and opportunities that those institutions have. I believe our future will be found in combining elements of both in a unique way. While it's an important exercise to keep asking that question about who would be our aspirational peers, I think we're in a position where we really need to ask ourselves another question: "How do we be the best JMU?" We need to worry less about trying to emulate another specific institution. I think the reality is we've got to ask ourselves what it is that makes us unique and then what do we want to build here? We need to then create an environment where the expectations, the workload, the support and the faculty reward system allow teaching, research and service each to take place such that undergraduates can be in the thick of them.
 
Part of our identity is our sense of social responsibility
Central to how we define ourselves is a characteristic that has really stuck out to me. We know we're a public university, but we also are really known for civic engagement, a sense of social responsibility, and for being an engaged university. We are very much engaged with ideas, but we're also engaged with the world. And that community aspect of JMU does differentiate us from a lot of schools that talk about those themes. I've been to some of those other places and yet I've never experienced them in the way that I have firsthand here. The faculty I met with this afternoon are doing that kind of work with students and in the community at every level. I think that there are some things about our identity that have developed over the years that are quite extraordinary and unusual, but they don't necessarily just fit a model or a Carnegie classification. I hope the strategic planning process will help identify and talk about what is it that we want to be. And again we must build from those strengths to be the best JMU. As one faculty member put it, we don't want to be known as the next Michael Jordan. We want to be our own Lebron James.
 
We must contend with external forces
Another faculty member very astutely put his finger on a set of concerns with which we will have to deal as we move forward. Chief among them are the external forces of which we have to be aware. One of the committees of the Madison Future Commission—the strategic planning process—will conduct an environmental scan of what those forces are in higher education. Provost Benson and I had a great conversation earlier today with the folks from the libraries and educational technology where we talked about some of those forces. There are challenges, but I also think there are opportunities on this front for us. Because we're that sort of hybrid model, something a little different and because we're younger, relatively speaking, as a university, we have the ability to deal with some of these changes and opportunities in higher education, perhaps a little more easily than some other schools might be able to do. That doesn't mean you're going to just float with the wind, but it means that you can look at what's happening in higher education, look toward the future and say, as we mature as a university where do we want to be, knowing what the 21st Century landscape looks like? Plus this is a place where that spirit of innovation, of entrepreneurship, and of being interdisciplinary is already firmly present.
 
The era of rapid growth will probably be replaced by strategic growth
Growth came up as one of the most pressing issues with which we will be dealing. The Commonwealth of Virginia, for example, has certain expectations when it looks at institutions. But my own sense is that it won't drive the kind of really rapid growth that we've seen in the past couple of decades. There will probably be some strategic growth in particular programs where there's really high demand, such as engineering and nursing. We really need to look at doing what we're doing even better, rather than just growing in numbers.
 
Alumni can help us affect public opinion
Another faculty member pointed to another external force with which we must contend—that very vocal segment of public opinion that deems public education and teaching to be simply a drag on public coffers. This is despite the fact that our alumni are returning to us and reporting back that the reason for their success was that JMU had taught them how to think and achieve and be productive. I think this faculty member hit on the solution in his anecdote. Our satisfied alumni—of which we boast a stunning 97 percent—and parents of our students can help us make the case. They need to be ambassadors for us, and they are telling me they want to do that. They need to help us tell that story because they are doing very interesting and varied things with those liberal arts backgrounds. That's the story that we have to keep telling in various ways. The good news is we have 100,000+ alumni now who can help us to make that case. We're also producing a lot of the P-12 teachers here in Virginia and beyond—which is a whole separate conversation—so we can be a real leader in talking about the importance of public education.
 
Seven percent giving rate is a startling disconnect
Our faculty representatives were startled to see that—in stark contrast to those 97 percent of alumni who loved their JMU experience—only 7 percent of alumni give back. To overcome that disconnect, he recommended finding out from students today how they identify with JMU and tap into what will make them want to give to JMU. On the listening tour we've been trying to pay close attention to some of the themes that are emerging from alumni, as to what they think differentiates them from people from other schools. Some consistent themes that come out of those conversations include the importance of critical thinking skills, communication skills, teamwork skills, and good interpersonal skills. Our alumni do not have a sense of entitlement and will instead roll up their sleeves to get the job done. Now we've got to do a much better job of articulating these benefits of a JMU education and of asking alumni to give back and strengthen the educational experience at JMU. One of the themes we're hearing is that alumni want to hear from their faculty. Many departments are bringing alumni back, and I'm hearing that alumni find those intergenerational connections to be very meaningful.
 
Stepping up development will be critical to the future
There are many reasons for our small endowment. We are a young university and have conducted just one comprehensive capital campaign. We've been hearing from alumni that they've not been asked to give; that JMU simply went to Richmond in the past for its funding needs; or that the beautiful campus makes students and alumni think JMU doesn't need charitable gifts. One individual suggested investing heavily in our development staff, who will need to be on the front lines. A faculty representative also suggested adding more of JMU's hallmark personal touch to the stewardship process. There are many things that we will need to do more intensively. The "Why Madison?" input we receive will also influence our capital campaign priorities in the near future. We have to learn from the best practices around the country. A lot of this is about relationships, and we keep hearing from alumni that they want to connect again with a faculty member or even current students and feel reengaged in the life of JMU.
 
Looking within and knowing when and how to ask for support
A faculty member talked about the exquisite care we need to take with regard to the timing of asking our graduates for gifts. Obviously, it is not the first thing a newly minted graduate needs to hear from JMU after walking across the stage. However, many schools start philanthropic education with current students. A management faculty member said today that he imbues values orientation into his curriculum. He said students are very accepting and otherwise just don't understand how things work. The SGA wants to take this on as a challenge—to start to build that culture within the student body—and their efforts actually can be frankly more effective than us or an advancement office getting up and saying you should give.
 
Opening up communication to include both pros and cons
Another faculty member said he would like to see my administration develop an open communications model. He said he understands how important it is to listen and plan before making bold statements and that he wholeheartedly supports the listening tour for this reason. He also said the faculty will welcome hearing as we go along both the positives and the negatives we are facing on issues such as the football conference debate and faculty salaries, and combine them into honest messages. He said hearing both the pros and cons will be the basis of a strong relationship. Otherwise, he said, the faculty will always be expecting to hear just accolades. I concur with the need for open, ongoing dialogue.
 
Compensation Task Force will be looking in-depth
The Compensation Task Force, for instance, will be looking deeply to address the complex task of looking for solutions for the short, medium and long term. I want to try and be as creative as we can be when we talk about the budgetary and salary issues. I said to this group that I don't want any sacred cows; I want us to put everything on the table as you think about those issues. I appreciated the point that we need to have that honest dialogue, and I hope that the Compensation Task Force is a sign of that openness and collaboration.
When and how to use technology to deliver education
We also discussed the role of technology in delivering education, which is a hot topic right now, but has its pros and cons. The answer might not be the same in every discipline, so we need to be prepared for some nuance. I don't think we're going to be the next University of Phoenix, but we certainly want to use technology, whether that means teaching online courses or using elements of the technology in more traditional courses. That's got to be a part of the conversation that results from the Madison Future Commission's environmental scan. We must think about what we can do that adds value, and what differentiates us from other institutions. That would be in keeping with Madison's entrepreneurial spirit.
Published: Thursday, November 1, 2012
Last Updated: Wednesday, May 24, 2017