News
Why Madison Presidential Listening Tour: Duke Club Board of Directors
---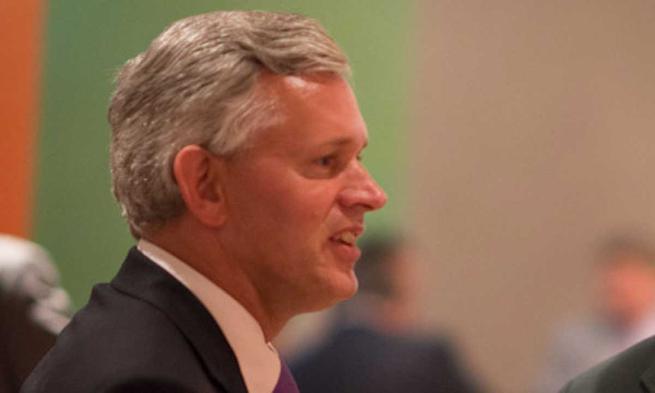 President's Journal —
Duke Club Board of Directors, Festival Conference Center, Nov. 16, 2012
The Duke Club board wants to see Madison succeed both on and off the field
Tonight we met at the Festival Conference Center with the Duke Club Board of Directors as part of the "Why Madison?" Presidential Listening Tour. The board is here in conjunction with a big game weekend and their regular board meeting, and so it was a natural time to meet these very accomplished and enthusiastic supporters. It was obvious to me how much they enjoy feeling involved in JMU's sports programs and how much they want to see Madison succeed both on and off the field.
 
Directors offered concrete suggestions for increasing alumni giving
The Duke Club board is a great example of an action-oriented group of alumni supporters of the university. They have a can-do attitude, so when they heard the statistics today that 97 percent of Madison alumni say they had a great experience at JMU but only 7 percent give back, they immediately analyzed the problem and resolved to do something about it. They started to talk about a variety of solutions, including what they could do as ambassadors—coming back to campus and talking about their own personal experiences with today's students. We heard some testimonials about why they give back, and how it makes them feel like a part of the JMU community even after they've graduated.
 
Alumni can be effective advocates for Madison
The idea of intergenerational connections really struck a chord with this Duke Club board. They understand they can play a role in talking to current students or talking to young alumni about the importance of giving, why it matters, and how gifts can make a difference. Some of them volunteered to be put to work immediately. These alumni are great living examples of people who've done it, people who are part of that 7 percent who give financially to JMU, so I was really encouraged. To know we have supporters like these Duke Club board members is reassuring; they can be effective advocates for us in ways the administration can't—off campus and in all the different places where they live and work. This board understands and embraces this role.
 
Taking JMU academic departments on the road to meet alumni
What I find significant is that most of this group does not live in the local area, but they come back to campus periodically from various places around Virginia and the country. So they are aware of how JMU—and not just JMU athletics—is perceived elsewhere. It was very helpful to hear their ideas about how we can take Madison's distinctive spirit and sense of family on the road, if you will, to all those places where we have alumni, supporters, parents, and students all across the country. One of their great suggestions was to stage an event in a city where we have a lot of alumni and show off some of our celebrated academic programs—like accounting, for example. We did that just recently with our hospitality program dinner in the Washington, D.C. area. That was very successful. Sometimes we hear from alumni that they would connect not only with Madison generally, but very specifically with the program or college from which they graduated. These types of opportunities the Duke Club board has suggested would be particularly important for those people who connect in that way. I want us to explore how we can take Madison out to our alumni communities very intentionally around the state and around the country. We should try to learn from departments that have a successful track record doing this and emulate that university-wide.
 
Board takes a holistic view of athletics in the life of JMU
We had a good conversation about the role of athletics in the life of the university. The Duke Club board takes a holistic view. Athletics often acts as a front porch of the university to the community, to draw people in to cheer on the Dukes. That experience can then open the door farther for Dukes fans to experience more of JMU. We had some really interesting conversations about holding alumni events the night before the big game so that we can offer alumni more to do beyond athletics. There are a variety of ways to showcase what we're doing at the university around athletics events, whether it's our musical and performing arts groups, for example, or interesting research and endeavors that faculty and students have undertaken, or thinking about alumni events and student organizations that can work around the games and draw people out. There's a lot that we can do to tie together athletics with the rest of life at the university, and to bring people back and make them feel all the more connected to JMU. I think we need to be more intentional about finding those opportunities.
 
Alumni are impressed by the personal stories of our student-athletes
We spent some time talking about effective alumni engagement and fundraising ideas. One of the most successful now is the annual Duke Club Auction, which I had the opportunity to attend earlier this fall. It was a very powerful example of those direct relationship-building moments—student-athletes were in the room, and they were mingling with alumni, donors, parents and faculty members. It was just a great experience to watch the excitement and energy in those interactions. I met a lot of our student-athletes at that event and talked to them. When you hear their personal stories, when you hear how much the support given to them means to them and their families and their lives and how JMU has changed their lives, you can't help but want to give. You want to support these wonderful students. You hear their hopes and dreams for the future and you want to be a part of that. I think we need to be looking for more of these intergenerational opportunities. There are many more ways our student-athletes can be a visible presence—ways we can introduce them as real people to our community so people understand their hopes and dreams. Yes, they're athletes, but they're also students. Many of them have aspirations to go on to law school or medical school, or into nursing or other fields where they can have interesting and productive lives and careers. Those personal stories about where they've come from and where they want to go reach people in the heart and make them want to give to Madison to support these students. That's what makes it real.
 
Duke Club board has its priorities straight
I was impressed with how enlightened the Duke Club board is. We talked about the fact that our student-athletes are students first. I think the Duke Club Board of Directors understands that concept, which is not always the case at universities of our size and reputation. These board members are successful in business and in all different facets of life, so they know student-athletes need to develop skills to be successful later in life. Athletics plays an important part of that. We talked about skills of teamwork and leadership, resilience, and overcoming adversity and obstacles, all of which athletics can help cultivate. We also talked about the need for our student-athletes to develop those skills inside the classroom and in their academic experience. Athletics should not be separate and apart from the academic life of the university, but should be very much part and parcel of the educational experience at JMU. Yes, athletics is a part of the educational experience and at every turn we need to reinforce how those pieces fit together. The Duke Club Board is a group that gets it. I really was delighted to meet them and hope we have the opportunity again soon to talk more about their ideas.
 
Published: Friday, November 16, 2012
Last Updated: Wednesday, May 24, 2017