News
Why Madison Presidential Listening Tour: College of Science and Mathematics
---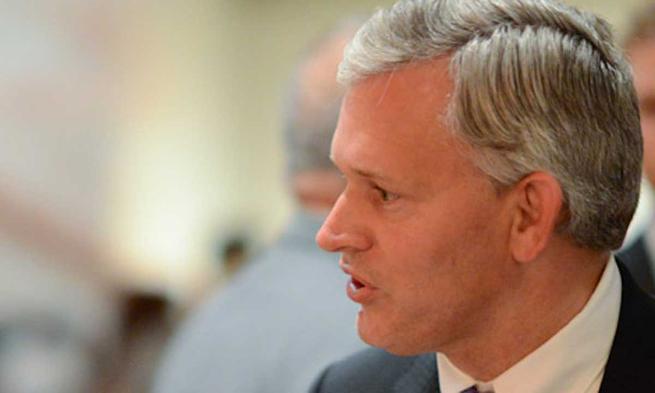 President's Journal —
College of Science and Mathematics, Physics-Chemistry Building, Dec. 3, 2012
Producing and celebrating great successes
I met today with the College of Science and Mathematics, a college that vividly illustrates the juncture at which JMU finds itself today. With many of the qualities of a small liberal arts college and the opportunities associated with a research-intensive university, this college is experiencing the dramatic surge in growth associated with the recent nationwide emphasis in the STEM fields. Our college is producing and celebrating great successes—extraordinary undergraduate and graduate research experiences, program offerings not ordinarily available to undergraduates, superlative graduates who are going on to graduate and doctoral programs and medical schools in substantial numbers, others who are becoming science and math teachers and still others who are going into business and industry. All of them—majors and minors—are practitioners dedicated to solving problems. This success is possible because of our high-achieving faculty scholars and researchers in the sciences who are creating new knowledge and mentoring students to do the same.
 
Becoming the national model for the Engaged University
My "Why Madison?" session with this college has helped bring into sharper focus both the opportunities and the challenges we face. In fact, the tour has been designed for us as a community to determine who we are and where we have been as an institution, to identify the strengths we want to preserve and build upon, and to prepare to chart our course for the future. I have mentioned frequently along the tour that I do not want us to emulate another college or university—a U.Va. or Virginia Tech or a Swarthmore, the liberal arts college I attended, for instance. That would be too limiting for JMU. Instead, we must build on our unique strengths and set our own course to become the best James Madison University that we can be. The country is looking for something fresh and responsive from higher education, a new class of institution that can help lift society. I believe that with our signature strengths, JMU can become that new "something." Along the "Why Madison?" Listening Tour, I have begun using new terms to talk about JMU and its future. Together, I believe we can make JMU the national model for the Engaged University.
 
This college has made outreach and recruiting programs a particular strength
Our programs have recognized that one of the most fruitful ways to prepare more STEM graduates is with robust programs that reach out to students while they are young. They have developed programs that are successful in recruiting students to study in these areas. Our departments run a series of groundbreaking summer camps for K-12 and under-represented students, including heralded programs like Chem-Tech, College for Kids, Saturday Morning Physics, 4VA collaborations, our interdisciplinary STEM Education Outreach Center and more.
 
Extending our reputation for science and math teacher preparation nationwide
I was pleased to hear that JMU is becoming known as the prime university in the commonwealth for preparing science teachers. I would love for us to extend our reputation nationwide, as preparing science and math teachers is a nationwide priority and exemplifies the strengths of an Engaged University. This achievement is testament to the work of this entire college. Mathematics and Statistics and Geology and Environmental Science are especially strong. In fact the Earth Science B.A. has become a hallmark program for producing future earth science and science educators, while summertime initiatives support current teachers in becoming better earth science teachers. Mathematics education is a particular strength for Madison. This department has harnessed the creative power that comes from the collaboration of our mathematicians and mathematics educators in the College of Education. Physics is also undertaking new methods for increasing the production of top physics teachers, and of course biology and chemistry also contribute mightily to our reputation on this front.
 
Putting "high school science teacher" on students' career radar earlier
I find it interesting that, while students might come to JMU knowing they want to be an elementary school or math teacher, they don't usually enter college with the intent of becoming a high school science teacher. They evolve into that. My wife and I love to ask high school students what they're thinking about studying. We hear a lot of pre-med, pre-law, and pre-business responses. Some want to be teachers, but high school science and math teachers are different animals. So how do you as an institution with our strengths prepare to attract students for these programs? I think it's an interesting challenge
 
Medical School isn't always the most popular option
Likewise, I understand that we have an influx of freshmen—400 or so each year—who say they want to go to medical school, often because they are not aware of other programs that they ultimately find to be more interesting. During their Madison career, many transition to other programs. JMU has a respectable contingent of students—80 last year—who apply each year to medical school. Our progression standards offer students an opportunity early in their college careers to assess their standing and to adjust or develop new goals with different majors.
 
Delivering that Madison Experience is becoming more challenging
The leaders of these stellar science and math programs tell me that it is becoming more and more difficult to deliver that vaunted Madison Experience—that close faculty-student mentorship, early research and instrumentation experiences, internships and hands-on practica, service-learning opportunities, all of which address real-world problems. Our faculty is talking creatively about finding ways to continue to deliver that hallmark JMU educational experience. I know they will be exploring the use of technology to help in that endeavor. When I asked whether we can use the summers as instructional opportunities so that we can take the pressure off of space and alleviate the student-faculty ratio, I heard that biology is exploring that concept and that summers are already well utilized in the sciences. Our students and new transfers are enrolled in our May, June and July terms. Our REU programs occur in the summer, and faculty and students are in the labs and conducting field work and in-depth scholarship.
 
Chemistry grows up demonstrating how to produce the best of both worlds
I think the chemistry department head highlighted well the place JMU finds itself today. She said the department has always prided itself on being a small, liberal arts college department in the midst of a big university. It is now regarded as among the best in the nation. The program has grown up demonstrating how to produce the best of both worlds—personal attention and opportunity. And yet with the recent rapid growth of the university and the growth in STEM and the health sciences, I am hearing that the chemistry faculty is seeking creative ways to avoid a fundamental shift in its long-held values. The department head explained that JMU has built its program relying in large part on past NSF grants, which have enabled chemistry to purchase sophisticated instrumentation (that is now starting to age). For 22 years, the Research Experience for Undergraduates program has been the cornerstone of JMU's summer program. The fear among the faculty is that NSF might not look at Madison as it did 30 years ago and instead choose to help a new small department. That potential loss of funding would be a major concern.
 
New facilities for the sciences east of the interstate
On the positive side, the nation's emphasis on producing STEM graduates has meant new facilities on the east side of the interstate for chemistry, physics and biology, which just moved into the new Biosciences Building. The facility was designed collaboratively to accommodate how today's life scientists are teaching, researching and learning. There is interactive teaching going on, and faculty members have arranged themselves in lab/research communities. The entire building was designed with an organic and naturalistic feel.
 
Wishlist of financial resources
The need for financial resources has been a common theme of my visits with academic units. This college was pretty united in its wish list: faculty for additional teaching and mentoring, advising professionals so faculty can concentrate on mentoring, faculty support, faculty and student research funds and stipends, grant application assistance, the space to accommodate the surge in STEM enrollment, and facilities and equipment maintenance and upgrades. The science and math administrators agree that it would be helpful to have a grants office resource to focus on looking for sources of grant funding and notifying the faculty about current opportunities, new funding areas and foundations.
 
Biology is one of JMU's largest programs
Biology has historically been one JMU's largest programs, and that continues. Today it serves more than 1,000 (and growing!) biology and biotechnology majors, plus that many again who are nonmajors—from the health sciences, pre-professional programs, nursing, kinesiology, GenEd and Interdisciplinary Liberal Studies. Biology's growth in majors is outpacing JMU's overall growth. With more than 20 honors thesis students mentored in biology every year, the faculty is known for teaching excellence, innovative teaching strategies and assessment. The biology faculty includes some renowned researchers who publish routinely in high-impact journals, who are the recipients of some incredibly competitive NSF and NIH grants and who incorporate both undergraduate and graduate students in their research. The graduate program has increased dramatically, and graduate stipends are desperately needed so that our graduate program can compete nationally. It will be important for us to find a funding source to overcome this shortage.
 
Physics and Astronomy is among the nation's largest programs
I was incredibly impressed with the Department of Physics and Astronomy, which prides itself in being among the 30 largest of the country's undergraduate physics programs—graduating about the same number as Duke and the University of Southern California. Our program is a powerhouse of top scholars and teachers with external grant funding of more than $4 million; research and hands-on learning for undergraduates; external collaborations; multiple concentrations (materials science, astronomy, nuclear and particle physics), a diverse faculty, and a robust outreach program that supports its recruiting efforts.
 
Physics is innovating and seizing opportunities
Two programs under consideration would add still further to the breadth in this department—an interdisciplinary robotics minor (with mathematics and statistics and others) and applied nuclear physics (made possible by the inheritance of equipment from Rockingham Memorial Hospital cancer center), which would really distinguish JMU's program. This department's innovation is characterized by its experimentation with flipped courses (in which the lectures are consumed at home and the labs and other engaging exercises occur in the classroom with the professor).
 
Geology and Environmental Science meets the challenge of high enrollments
In addition to preparing future teachers, Geology and Environmental Science has done some groundbreaking work to deal with the increased enrollment in the sciences. It has focused some of its new faculty to handle very heavy teaching loads, incorporating active learning exercises in large-format classes, which has actually become one of the strengths of the program. This program offers a tremendous diversity of upper-level courses at the undergraduate level and extraordinary success in moving students to graduate programs.
 
Taking advantage of the geologic features of the Shenandoah Valley
One of the strengths of the Geology and Environmental Science department is the Shenandoah Valley itself, which was certainly one of the things that attracted me to JMU. Our geology faculty and students are out virtually every week among these beautiful geologic features in vans with the department name painted on the side. Students are required to conduct research or fulfill an internship to graduate. During my visit, I was able to see two Geological Society of America undergraduate best-poster awards for research that our faculty members have supervised and that were funded by national competitive grants. Three-D visualization work, a six-week field course and teacher's course in Ireland and a geology/ecology course in the Bahamas are distinctive aspects of our program. Foremost on this faculty's list of needs is to move from Memorial Hall to be closer to the rest of the sciences east of the interstate.

Math and Statistics travels light and achieves big
Mathematics and Statistics is one of our departments that travels light and achieves big. Since math lives in the realm of the theoretical, the need for lab space and equipment—aside from the computational power of computers—for our faculty's research agenda is much less complex than for the sciences. The department just recently acquired its first faculty member needing an actual wet lab to conduct some biology research. Just as with other College of Science and Mathematics departments, our faculty is conducting some groundbreaking research, and faculty research with undergraduates is one of the hallmarks of the math and statistics program. In fact, I have come to understand that Madison's math education is equivalent to what students would receive at a selective liberal arts college, and yet JMU is large enough that the math program can offer a range of courses that appeals to many of our minors here. This faculty boasts a wide range of specialties. It has some definite needs in terms of staffing, given the expanding enrollments in IDLS and engineering. Like other departments across campus, faculty retention is a major concern for math, even though the department is very competitive. Many of the new faculty members are truly interested in working with undergraduates.
 
Interdisciplinary collaboration a hallmark strength
We spent some time talking about the benefits of one of JMU's hallmark strengths in higher education—interdisciplinary collaboration. One terrific example is the Center for Materials Science, which has involved faculty and students from all the sciences, math and engineering. This kind of collaboration occurs beyond the sciences as well--with the arts, for instance. At some institutions, researchers insist on their own labs while at JMU the approach is "gee, if we can get four people together who can all use a clean room, let's save money and do it." There's a very collegial attitude among the faculty. I was heartened to hear that this is an attitude these administrators want to guard—through hiring the right people, by calibrating the faculty rewards system, and team recognition for grants. I agree that we must work intentionally to keep this approach on track so that we do not devolve into turf battles. We will have to make deliberate choices as an institution to accomplish this.
 
Creating greater visibility for grant funding
We spent some time talking about how to experience greater success in an area that will rise in importance for us—grant funding. While we have had some noteworthy successes in obtaining high-profile grants, it has been challenging for JMU to get noticed. It's a challenge when you're not a research-intensive university. I sit on an advisory council for the National Heart, Lung, and Blood Institute of NIH, and I'm always fascinated to see the same institutions getting these grants over and over. In order to create greater visibility for JMU, we discussed increasing the contingent of our students we send to research conferences and encouraging our faculty to serve on panels so that the granting organizations and other institutions get to know JMU as the top-quality researchers we are and for our undergraduate research capabilities. I would also like us to visit some of these granting institutions and invite some of them to campus so that JMU becomes a known entity inside those halls.
 
JMU's hallmark collaboration has a big payoff
Our hallmark collaboration will bode well for JMU, since funding agencies are beginning to require multiple investigators on their awards. The science faculty and administrators recommend putting in proposals with other institutions in a tiered mentorship arrangement, with Ph.D. students at other institutions and with JMU as the undergraduate component. It gets our faculty involved with faculty at the R1 institutions, but more importantly it gets our students involved with those faculty and those students there. I agree that efforts along these lines are really quite useful and symbiotic, because JMU has the expertise in training undergraduates that the R1s lack to obtain these NSF grants that are designed to create broader impact. Some of this could grow out of the 4VA initiative.
 
Transfer students from community colleges are an opportunity and a challenge
We spent quite a bit of time talking about community college students who transfer into our science and math programs. We can expect the numbers of transfers to increase, given the Commonwealth of Virginia's emphasis on this pipeline. We are completing articulation agreements with the state's community colleges, and finding that many community college students are not prepared to complete their JMU science and math coursework in two years. The science and math courses they take in community college are not up to JMU standards, and so these students really struggle, and our faculty struggles along with them. We do not want to turn our backs on this route of admission to JMU. After all, our community colleges open a door to diversity for JMU—through transfers who tend to be first-generation college students and students of myriad backgrounds, including the great range of immigrant communities in the region. We must be able to scale up our excellent transfer advising program so that community college students are counseled effectively about preparing for entry into Madison.
 
Inviting community college faculty to partner with JMU faculty
I was so enthused by this group's creative problem solving. In addition to influencing course development at nearby Blue Ridge Community College, the physics department head today suggested bringing community college science faculty members to JMU for some summer professional development opportunities—including asking them to teach a JMU course or conduct research at JMU with our faculty. I really like this idea. It's a way for the community college faculty to feel like peers and avoid defensiveness. The experience would calibrate them to JMU expectations in the sciences. I think we could do something like this in a variety of disciplines. This sort of summer academy would allow JMU to deliver on the commonwealth's direction and to open doors to NSF funding geared to engaging community college faculty.
 
The future: Fundraising and alumni engagement
Just as we will be concentrating on increasing grant funding, we will also be focusing on private fundraising. We can no longer depend on Richmond or constantly raising tuition to to meet all of our resource needs. We must count on our alumni, 97 percent of whom say they are happy with their Madison Experience, to give back financially in much higher numbers. Just 7 percent of them give back, so we must do a better job of asking for their support—including alumni in our burgeoning science departments.
 
Alumni love to reconnect through their major programs
Alumni increasingly are going to be a very important resource for us in terms of jobs and networking for students and for an increased emphasis on charitable giving. I was pleased to hear that several of our departments have robust alumni guest lecture and alumni award programs. These efforts bring in science and math alumni who present an array of success stories to inspire our students and fund scholarships. Some of our programs are forming alumni advisory groups, which can really get our alumni involved in the life of our academic programs. This resonates well with alumni. All along the "Why Madison?" Listening Tour I have been hearing that people enjoy these intergenerational connections, enjoy coming back to campus and feel like reconnecting to renew their own Madison Experiences. Advisory boards across the university play a very valuable role in volunteer leadership development and can lead alumni to become major donors to the university. These relationships will be the wave of the future.
 
Increasing the awards we present to our alumni
I encouraged the science and math department heads to explore ways to increase those relationships with alumni. One way is to increase the number of awards we present to alumni—and students and faculty too. We have just a handful of university-level awards for alumni, and that is something we must really increase. Receiving these awards means a lot to our alumni, coming as they do from their departments who once mentored them and seeded their success. I would like us to talk about developing additional awards across the university, to take an inventory of the awards we present on the departmental level and see how we can coordinate them and raise their visibility.
 
Faculty member are ready and willing to participate in fundraising
I was pleased to hear that the science and math faculty are willing to work in this realm and that they would like some guidance about how to develop their conversations with alumni into some fruitful areas—whether lecturing, volunteering or making a gift. There are plans in process to have University Advancement identify and train some faculty members who are already conducting some of these relationships. The development officer for science and math programs is a ready resource for anyone who is interested. It will be critically important for our academic programs to share news about faculty relationships with alumni to University Advancement. The development officer will be glad to communicate that information, which in the long run can help us make fundraising connections for our programs for major donors and also our student telefund callers talk more in depth about these relationships.
 
Recognizing that students are fundraising catalysts
The science and math department heads reiterated what I've been hearing all along the "Why Madison?" Listening Tour—from faculty and alumni alike: I agree, we must identify ways to educate our students—when they are students—about the importance of giving back to JMU after they graduate in order to make the Madison Experience better for future students. I welcome more ideas on this front, as this will be very important for the future of Madison. Our current students can also serve as catalysts with our prospective donors. Our best ambassadors are our students because alumni want to give our undergraduates the same (or better) opportunities than they have experienced. One of our science departments is making preparations to send copies of students' research posters to donors. This is just the kind of personal stewardship that our donors appreciate and that can strengthen these relationships.
 
Ideas for improving our efforts and meeting some of our challenges
I want to thank the administrators and faculty of the College of Science and Mathematics who met with me and Provost Benson today. They have offered some very feasible ideas for improving our efforts and meeting some of our challenges. I hope they will keep the ideas coming. Our time together has really been helpful, and I appreciate the work of this stellar and dedicated faculty. If we work together, there is nothing we cannot accomplish.
Published: Monday, January 14, 2013
Last Updated: Wednesday, May 24, 2017