News
Why Madison Presidential Listening Tour: College of Health and Behavioral Studies
---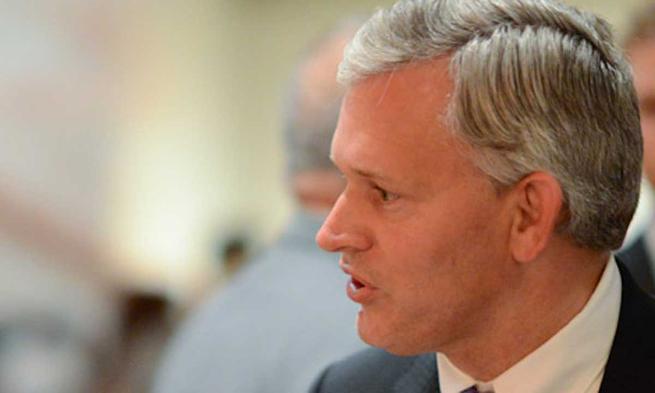 President's Journal —
College of Health and Behavioral Studies, Burruss Hall, Nov. 19, 2012
I had the pleasure today of meeting with the College of Health and Behavioral Studies, which just recently spun off into its own college to more coherently focus on the education of our students in the fast-growing disciplines of communication sciences and disorders, health sciences, kinesiology, nursing, undergraduate and graduate psychology, and social work. This college has undergraduate programs as well as doctoral programs.

JMU's signature strengths are especially strong in this college
The Institute for Innovation in Health and Human Services offers this faculty a unique avenue to express its commitment to the ideal of academic and clinical excellence and public service. JMU's other hallmark strengths rose quickly to the fore today in our discussion—the family feeling, interdisciplinary collaboration, faculty-student interaction, hands-on education, and the liberal arts foundation, to name a few. As I have visited with the academic units of the university and with alumni around the country on the "Why Madison?" Listening Tour, these strengths have consistently emerged in our discussions. I have emphasized that this is an opportune time to discuss as a community how we preserve and enhance these strengths as we work together to chart our future. The central question of "Why Madison?" has also allowed us to identify the challenges we will need to overcome.

Enrollment growth is straining health disciplines
As we face some of these challenges, it was obvious almost immediately that this college is really straining at the seams because of pressing societal demands in the health fields. The fast-growing enrollment highlights the crucial juncture where JMU finds itself today. Several department heads in this college mentioned that we cannot overlook, for instance, that—while JMU has an enviable overall 16:1 student-faculty ratio—faculty hiring has not kept up with student enrollment in the fast-growing health fields (and some others). The ratio is dramatically higher in this college, making it necessary to give very large class sections to a handful of carefully selected instructors who can handle them. Exercise science, for instance, has grown 75 percent in five years. One of the health programs has the same nine faculty members to attend to 1,150 students. This growth has made it more challenging to sustain some of JMU's signature strengths—the faculty-student interaction and hands-on learning experiences that require faculty supervision, for instance, as well as upper-level seminar courses that have become uncomfortably large.

Projective planning will be key to maintaining quality in the health fields
I heard very clearly that we need to keep an eye on growth so that we can sustain what is so special about JMU. I also am aware that the health professions will continue to expand with the aging Baby Boom population, so it will be imperative for us to do projective planning by anticipating future needs, looking at health policy and the Affordable Care Act, monitoring think tanks, the Bureau of Labor Statistics, and more. The faculty mentioned how important it will be for this college to remain flexible, to be able to scale up some programs and phase out others as the marketplace demands, just as it will be imperative to produce graduates who can be flexible, critical thinkers with intellectual skill sets, interprofessional collaboration, and cross-training that make them contributing citizens.

Being the best JMU we can be
These challenges highlight a rather intriguing conundrum that we have begun to grapple with along the "Why Madison?" Listening Tour. On the one hand we have many of the characteristics of a small liberal arts college and on the other many opportunities associated with a research-intensive university. And yet we are neither. One of the consistent points I have been making on the tour is that JMU—with its distinct educational culture—should not try to become the next U.Va. or the next William and Mary or the next Swarthmore, where I went to college. Instead we must focus on this particular hybrid, this niche that we occupy in American higher education, where we combine those strengths in our own unique way to become the best JMU we can be.

Technical competencies and critical thinking skills come together
In the College of Health and Behavioral Studies, this concept has particular relevance as JMU's future health professionals will not only have top technical expertise and competencies of their disciplines but also the invaluable teamwork skills that come from interprofessional collaboration and critical thinking skills that have come from JMU's liberal arts foundation. On the listening tour, alumni have repeatedly brought up how valuable those critical thinking and teamwork skills have proven to be in their careers and personal lives today. They are telling us that JMU is not just preparing students for the first job, but for a a lifetime.

Health and Behavioral Studies embodies the "Engaged University"
I have noticed that this college is so connected to the surrounding community that it exemplifies what I have been calling "the Engaged University" for the 21st century. In Graduate Psychology, for instance, graduate students and faculty members offer an extraordinary number of hours of counseling services to the university, the community and the schools. Our nursing students volunteer at senior centers to enrich lives and and present an underlying health message. The Institute for Innovation in Health and Human Services is a clearinghouse for an enormous amount of university-community activity. These are stories that JMU needs to be sure to tell. The community would be amazed to know how much service our students do. I know that Outreach and Engagement is coordinating the creation of an inventory of our university engagement activities. I would also like to use that information to tell a very rich story about JMU's level of public service. That story has implications for community relations, fundraising and student recruitment. When local community members become aware of our students' and professors' work in the community, we can begin to break down some barriers. The Greater Madison board has been very interested in carrying that story out to different groups.

Clinical placements are an enormous part of the HBS education
The clinical placement demands for the College of Health and Behavioral Studies are intense for both students who must have the real-world experience and for the faculty who must follow them all over the state for evening and weekend shifts and for the faculty who must coordinate the placements. This kind of growth is happening across higher education so that now there is competition for colleges to get their students the needed clinical placements. The college needs to work on opening more doors at more clinical sites.

Arrangements for clinical placements require faculty cultivation
Circumstances for clinical placement of our students are very much in flux currently. While nursing students are very much in demand at some facilities, some clinical sites now charge universities to provide clinical placements. As the health care field continues to grow and puts more pressure on these educational experiences, facilities could begin a pricing war as colleges bid to place their students. These clinical partnerships are the result of JMU's top reputation as well as personal cultivation of field placement directors. Our department heads and faculty spend much of their time cultivating relationships and offering benefits like CEUs [continuing education credits] in return to agency partners so that our students can get these experiences.

Health and Behavioral advisory council will be crucial
This college is so new—having subdivided from the former College of Integrated Science and Technology—that it is just beginning to work on a mission, vision, and values statement. It is happening at an opportune time, as it coincides with the launch of our strategic planning process. I will be interested to watch as this college rebuilds its advisory council and sustains the synergy from its previous council iteration. Advisory councils play a critical role in the life of a university. They offer a vehicle for alumni to engage with the university and also help the university make new professional contacts and relationships and establish opportunities for students. They also act as vital advocates and ambassadors for the university. As the health fields continue to expand with America's growing aging population, a council for the College of Health and Behavioral Studies will be essential.

JMU needs to educate students and alumni about the importance of giving back
We spent some time discussing what JMU can do to raise our 7 percent alumni giving rate as it certainly does not align with JMU's 97 percent alumni satisfaction rate. Several faculty members pointed out that our success might be working against us. The quality of the graduates that we produce, and the beautiful and well-maintained campus, all add up to send an inadvertent signal to some people that JMU must not need private funding (which of course is not at all true). We need to find subtle ways to educate our students while they are here as well as today's alumni so that they understand how important giving back is. An insightful faculty member pointed out that although students and alumni really love JMU, they don't understand how unique the Madison educational culture is as they have no opportunity to compare it. Educating students and alumni will be very important as we prepare for an upcoming comprehensive campaign. We need to be able to say, "We know that you liked your experience at JMU. There's a reason for that."  The alumni I have spoken with on the "Why Madison?" Listening Tour seem very receptive to giving back. Now we need to reach out.

Emerging data can help us make the case for alumni giving
I was intrigued to hear that one of our faculty members is leading a project to research alumni transcripts—with permission—to determine whether there is a correlation between certain kinds of JMU learning experiences and whether alumni go on to attend graduate school. There will be some preliminary data next semester, but it could be helpful. Taking that project a step further, data that ties alumni success and happiness to specific JMU experiences could be used to help make a case for alumni giving. Already alumni are telling us anecdotally that faculty-student interaction, the liberal arts foundation and undergraduate research opportunities are experiences they valued at JMU. The more we have data that informs us, the more successfully we can make the case with alumni.

We need to open doors at grant-funding institutions
One of our discussion points was opening up other revenue streams by increasing grant applications to some prestigious foundations. The college has come close several times to obtaining grants for some groundbreaking programs. IIHHS has received a couple of great evaluations—but no funding—from the Robert Wood Johnson Foundation, for instance, to fund a program that takes health care to the homeless population of Harrisonburg. Department heads says they find it hard to balance grant writing with administering their departments and would appreciate additional experienced grant writing support that might pay off in a program of sustained grants. Landing those grants can be an uphill battle, however, when granting institutions don't know JMU. I'd like us to study how we can open the doors at some of these foundations. I have worked with several foundations and can attest that the same universities often get the grant awards over and over again. For one thing, I'd like to make a point of going to visit some of these foundations, cultivating contacts and introducing JMU with a nice summary that provides a succinct overview of JMU and its attributes. Then when we apply for grants in the future, we will be a known quantity. I'd also like to explore how University Advancement can play a role in our grant writing as well.

Looking at different partnership models with the corporate world
External companies also offer a variety of funding streams. The University of Michigan when I was there was tied to the automotive industry. At JMU we already have a strong relationship with SRI. It is important to avoid co-opting academic or research programs, but if we establish careful parameters, those kinds of relationships have a lot of potential. We must be true to ourselves and our educational culture and integrity, but as resources dry up, we have an obligation to explore all types of opportunities.

Setting up an internal pool for grants to increase competitiveness
Another faculty member suggested that JMU follow the University of Rhode Island's lead and establish a program to offer competitive internal grants. When faculty compete for these internal grants, they also become more competitive when they seek external funds.

Connecting across JMU is becoming more challenging
I have heard in several of our internal "Why Madison?" listening tour visits with academic departments that our faculty would appreciate being able to connect with one another more easily. While JMU is known for its interdisciplinary collaboration, it is getting increasingly difficult, especially for younger faculty members, to get to know one another and to learn what research their counterparts in other departments are conducting. Many say they want to connect and would appreciate a scholarly news update or some kind of communication. I would also add that JMU has a powerful role to play by convening around issues or topics of common interest or research where faculty members can come together to talk and form connections—say, around environmental sustainability, or the fiscal cliff, or health care. Another college suggested asking CFI to look into coordinating these kinds of sessions, perhaps over a long lunch.

This faculty maintains a positive attitude
I enjoyed our discussion today. The conversation with this faculty has been extremely helpful. Despite having pressing demands of such a large enrollment in the health fields,  these professors still manage to maintain their positive outlook and commitment to preparing students. There is a lot going on in Health and Behavioral Studies that exemplifies the Madison Experience. It will be imperative to protect those hallmark strengths and enhance them as we go to the next level.
Published: Monday, December 10, 2012
Last Updated: Wednesday, May 24, 2017