News
Why Madison Presidential Listening Tour: College of Education
---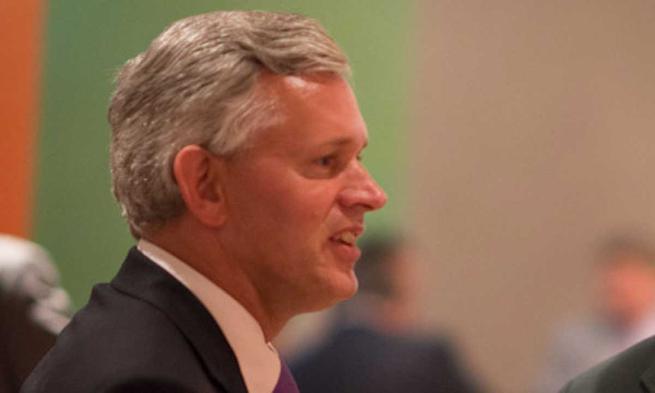 President's Journal
"Why Madison?" Listening Tour
College of Education
Preparing teachers they would want for their own children
In my "Why Madison?" Listening Tour visit with the College of Education, I heard from a deeply engaged, collaborative and holistic faculty who, as several of them said, prepare the future teachers they would want to teach their own children. In the face of a challenging climate for our future teachers—in which their critical role does not always get the respect or appreciation it deserves—our faculty prepares a large portion of the most sought-after teachers in Virginia (as well as teachers who will serve in many other parts of the country).  These teachers will make a major impact on future generations and on the future of our country. 
More and closer community partnerships are possible
As a parent with a child in the local school system, I see firsthand the importance of JMU's presence and impact in the schools and that of the schools on our student teachers. During my meetings with school administrators and officials, I have heard they are interested in even closer partnerships. With the comprehensive scope and balance of our teacher education offerings—from the undergraduate level to a doctoral program, and with programs for lifelong learning and educational technology—the future is wide open.
Definition of community is worldwide engagement
It was clear to me that the college's definition of engaging the community is worldwide. For example, it has made a dramatic impact very close to home on the literacy of Warren County schoolchildren; its online autism program draws subscribers from well beyond Virginia; and it is rebuilding literacy in Baghdad.
Military science addressing needs of veterans' families
The College of Education's inclusion of military science sets it apart. Our award-winning ROTC unit is trying to cultivate STEM students and linguists. It partners across campus with the School of Nursing and beyond, by coordinating a Swahili language program for military officers with an in-country immersion in Kenya. I was intrigued to understand more about our focus on veterans' needs. Right now, our educators are preparing our teacher candidates to support the families of active duty service personnel and veterans. This is an example of how an engaged university can meet real needs. It will be important as we go forward to build on these strengths and to pull together all the threads of veterans' outreach efforts on campus into a cohesive and responsive whole for an even greater impact.
Faculty call preparing teachers a clinical profession
I was impressed by the College of Education's "clinical" approach—putting techniques into practice and documenting and assessing how they work and then refining them. They are really looking at what's happening in the schools and at how children learn and are talking to community partners and society.
The Lab School is a model for engagement that can reform education
An impressive case in point is the grant-funded Lab School, now in development. The model is a very carefully researched and documented on-the-ground collaboration with a Harrisonburg school—not an isolated lab school for the elite—where there is a high population of Hispanic students. It will teach all subjects to all students in both English and Spanish so that all students learn a new language, have the opportunity to embrace one another's cultures, and have access to academic achievement. With the College of Education working with teachers and students to implement, study, measure and refine techniques, this initiative has great potential for reforming education across the nation.
Attracting teacher candidates from diverse backgrounds a challenge and a priority
The faculty has expressed that the way to lift society is to tap populations of underrepresented and underprivileged individuals to become teachers—individuals who have the academic potential but not the access to succeed in higher education. This will mean expanding partnerships with schools beyond the local geography. As Dean Wishon acknowledged, although Harrisonburg is a critical test field for preparing our students, not all of society's ills are here. It will also mean funding scholarships for worthy individuals.
CoE can help us in our efforts across campus
The college has stepped ahead in several ways, including having developed an instrument to test and measure the cultural responsiveness of programs. It also collaborates across and beyond the university with Professors in Residence, faculty exchanges with traditionally black institutions, and a partnership with Morgan State that will put JMU student teachers in Baltimore schools. All across JMU, we will have to work hard to put that notion of a large, inclusive and diverse Madison family into practice, and I look forward to the College of Education taking a leadership role in that effort on campus. This faculty has the human understanding and the expertise in implementing programs to expand our family.
JMU can lead in teacher aftercare
While the legislative culture of Virginia and the challenging environment for teachers can be barriers, the JMU College of Education has the expertise and the dedication to innovate and show the rest of the commonwealth the path forward. JMU could have a real impact in aftercare for teachers, for instance. Leading efforts to keep teachers in the profession—with recertification and offering professional development—is something that no university has really claimed in a significant way. With the realities facing our teachers and our schoolchildren, it is important to do all we can to support them.
Inspiring marching orders for an engaged university
It will take a highly engaged university to help society overcome its ills, and my visit with the College of Education has filled me with optimism that JMU can be that engaged university. This group really dreams big. I wrote down what Dean Wishon said in our meeting because it was so inspiring: "We don't shy away from societal problems. We have people ready to march if we have the means. Given the resources, we would erase the boundaries of the university."
 
Published: Thursday, November 1, 2012
Last Updated: Wednesday, May 24, 2017