News
Why Madison Presidential Listening Tour: College of Integrated Science and Engineering
---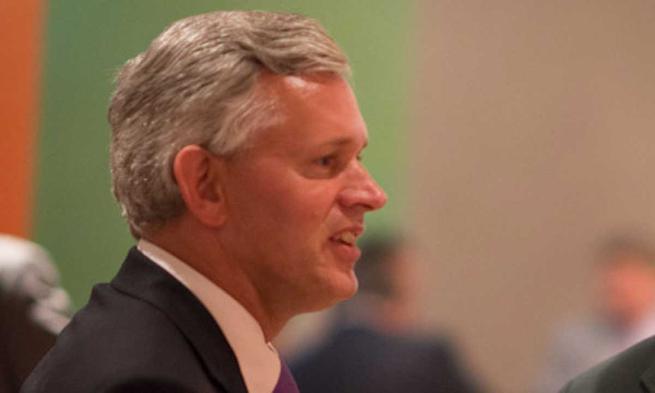 President's Journal —
College of Integrated Science and Engineering
Programs are outward-facing because that is where the problems are
I met today with the College of Integrated Science and Engineering ("CISE"), a truly innovative and connected group of faculty who have structured a curriculum that encourages students to apply science and technology to solve human problems. CISE programs are outward-facing, one leader said, because the problems that need to be solved come from society. Whether in engineering, ISAT, computer science or information technology, their graduates rise quickly in a variety of fields into leadership positions because of the training they receive in working in teams and their ability to consider the political, social and economic ramifications of their work. Our innovative engineering program, focused on sustainable design rather than solely on technical know-how, is already gaining a lot of attention among employers.

Forty terminal degrees create a multidisciplinary "free-range faculty"
I was intrigued to learn that the ISAT faculty comprises more than 40 different terminal degrees, making this multidisciplinary team able to get its arms around a variety of issues. Coming from Michigan and Rutgers before arriving here at JMU, I am struck by the opportunities for collaborative research beyond the specialties of our individual faculty members. I am hearing the same from faculty members who have come to JMU from some prominent R-1 universities, where their research is very restricted to subspecialties. One ISAT professor mentioned today that she finds it to be a strength at JMU that she easily and quickly can find a willing faculty collaborator in psychology, for instance. At another university, she might be penalized for collaborating—while at JMU, she rarely publishes a paper on her own. One leader called that phenomenon "free-range faculty." This theme has come up in other departments at JMU. I really value this culture and am interested in understanding more about it. What's the reason for that culture here at JMU? How can we further foster it? How can we structure a faculty reward system that further encourages this interdisciplinary research?

Student research addresses real-world problems and starts early
When I asked about JMU's selling points in CISE I heard that freshmen can get into labs and address real-world problems; they don't have to wait until they are juniors or seniors or graduate students. The faculty actually turns to undergraduates to help with research; you don't see that in typical R-1 universities. A lot of JMU faculty members are here because they want to teach undergraduates. Other strengths include the 16:1 student-faculty ratio, the broad multidisciplinary perspective, and a dedication to the undergraduate and to public service.

Welcoming atmosphere is a signature strength of Madison
I have heard all across this university and seen for myself how open and accepting it is here. I am hearing that from faculty members who have come from other universities, where that welcoming atmosphere does not exist. It really is rare and something to be nurtured and preserved. The faculty is committed to finding new ways to help students learn and excel, to undertake new research ideas, and to extend that family atmosphere to students. It will surprise no one that alumni and parents and students are telling me the same thing, whether they have been out two years, 10 years or 40 years.

Maintaining that educational culture of generosity
The educational culture of generosity vs. territoriality has come up in conversations with other academics units. It is important. I want to make sure we have a university-wide conversation about maintaining and enhancing it. I also want to include a conversation about the faculty reward structure that encourages the continued emphases on interdisciplinary collaboration in teaching and research, mentoring of undergraduate and graduate research and hands-on projects, applied learning and service. Obviously there can be unevenness across units, but I consider this culture a strength of JMU.

Madison's hallmark strengths are labor-intensive
I am also struck by the notion of collaborative teaching and how willing we are to undertake it here at JMU. I witnessed team teaching in action when I visited a session of CoB300. It was so rich and deep and beneficial for students, yet it is also labor-intensive. It delivers multiple perspectives to the classroom and opens up those collaborative research opportunities.

"Why Madison?" helps preserve what makes us special
The faculty felt strongly that these are qualities we need to maintain or JMU will lose what makes us special. The biggest threat to maintaining them, professors have said, has been our recent rapid growth spurt, which has taken us to an enrollment of almost 20,000. This SWOT analysis is fundamental to our "Why Madison?" listening tour. The question enables us to identify the strengths we seek to preserve and then focus and prioritize as we chart our course for the future.

A CISE education is right in step with the marketplace
CISE is one of the leaders at JMU in emphasizing hands-on projects, collaboration and teamwork. It is strong in the very qualities alumni and employers along the "Why Madison?" Listening Tour are saying are valuable—that our graduates bring teamwork and critical thinking to the table. Our engineering and ISAT students don't approach a problem thinking just about a widget.  The faculty says that the students ask broader questions—although they understand the technical aspects too. That is a real value for us. Other engineering programs emphasize producing graduates with a particular technical skill. Our graduates can adapt quickly because they are not so strictly focused.

CISE faculty embraces GenEd as crucial
Reinforcing that approach, CISE leaders and faculty say they consider General Education to be an integral part of their majors' education. In fact, their integrated perspective comes in part from that liberal arts foundation. Further, CISE faculty members teach many of the GenEd courses. I was thrilled to hear one leader say that the CISE curriculum wouldn't make any sense without GenEd.

Faculty ask whether GenEd structure can be more flexible
The majority of faculty members appear to agree with the breadth of General Education, and yet some wonder whether the very prescribed structure can be more open. While acknowledging the logistical concerns involved in assessing impact, there were suggestions that the menu of courses be broadened to include any course that meets the relevant learning objectives. This might allow students to be more self-directed learners by picking and choosing the courses about which they are passionate. That might help students to focus on the experience of the courses rather than just getting through them.

Alumni appreciate their liberal arts foundation
In my discussions with alumni during the "Why Madison?" Listening Tour, I have heard over and over how much our graduates—no matter what their career path—appreciate today the broad liberal arts foundation they received as students. And yet many of them admitted they did not quite have that same appreciation when they were students. Perhaps we can find ways to cultivate that appreciation in real time by talking about some options in the General Education Council and the Madison Future Commission. I have heard in several meetings with academic units that simply removing the "G" from the course descriptors would also help remove a psychological barrier. Cross-listing some science courses for critical thinking requirements would be helpful too. I hope this is an active ongoing conversation in GenEd Council.

CISE looks at creative approaches to JMU's challenges
Among the challenges I head from this college, many were the same around the university—lack of scholarships, the space and facilities crunch, equipment costs, and faculty compensation. When it comes to administrative grant support, I heard that the faculty wants to engage students, not paperwork. The faculty also introduced some solutions that came up in other "Why Madison?" Listening Tour sessions. Differential tuition was one of those ideas that might help address resources in equipment-intensive programs. And yet the faculty acknowledges that higher tuition in STEM would no doubt introduce an even higher cost barrier to access among the students of underprivileged backgrounds we want to attract to JMU.

A comprehensive campaign to raise private gifts will be a high priority
Despite our faculty's love and enthusiasm for what they do—for teaching and mentoring and guiding undergraduate research—the strain is showing. This is a real concern, because these committed faculty members are the reason for Madison's distinct educational culture, and for the innovation and outreach that occurs. We must address this concern in part through a future comprehensive campaign. Our endowment is modest, and there are many reasons for that—our university is young, our rapid growth has occurred recently, we lack a long-established culture of philanthropy, and our campus is so beautiful that the needs are not immediately visible. There is no question that we have a lot of work to do on this front. The need for giving has been a consistent theme in the conversations I have been holding with alumni during the "Why Madison?" Listening Tour. Clearly the times have changed—all across higher education. We can't solve all of our problems by going to Richmond for state support or by continuing to increase tuition. We must think creatively and act firmly to raise philanthropic gifts, seek new grants and partner with corporations and foundations. Our alumni are responding positively to this message, so they will be open as we continue to educate them about our need for resources.

We must broaden our Madison family to be more inclusive
Faculty, students and alumni have been telling me consistently about that warm family feeling that exists at JMU. Our challenge is to make sure our family is reflective of the world at large. CISE, like most other JMU programs, finds it challenging to attract students of underrepresented and underprivileged backgrounds. Yet it is helpful for everyone for a university to have faculty members and students from all backgrounds in our classrooms, in our research projects, in our collaborations. It is a challenge that will take special effort for James Madison University to overcome. Diversity teaches us all how to compete globally and how to work together.

CISE outreach programs offer a strong start
CISE has some great advantages in its strong outreach programs. I look forward to discussing how we might connect with and fund other university outreach programs in a way that will encourage at-risk students to dream big and stay in school. It will mean that all of us at JMU will have to dream big. For instance, we created a program at Rutgers to reach out to at-risk students in middle school, promising them a full ride at Rutgers if they could meet the admissions requirements. It's intensive and expensive, but it has worked. Every one of those students has stayed in school. I'd like us to start thinking along those lines. How can we help students start the process of earning scholarships while they are in middle school? This is a university-wide challenge and a societal challenge to which I have devoted much of my career. While there are disadvantaged students right here in our backyard, we will also need to look farther afield and establish a presence in areas like Richmond and Virginia Beach.

Must all learning be shoehorned into three-credit-hour boxes?
I was so glad to hear a CISE faculty member wonder aloud why American higher education shoe-horns every course into a three-credit-hour box. It has been on my mind for years. While many aspects of higher education have changed, our time units have remained the same: "This is what a semester is. This is how long a course is." From a pedagogical perspective, that is really interesting. It is quite a tantalizing possibility, even if from a logistical perspective, it might appear a bit nightmarish at first. I don't have an answer today, but it is important to take a fresh look at some of these age-old assumptions and think creatively. As another faculty member suggested, we might be able to offer micro curricula or share learning modules among courses or even allow students to take their own path through courses. Ideas like these could lead to exciting innovations.

Can CFI lead new collaborative efforts to develop academic innovations?
This leads to the obvious question: How and where do we get all the interesting ideas around the university on the table? I would love to find ways to share those experiments and those things that are working for some of us. Not all experiments will translate across disciplines, but it would be very useful internally for faculty members to share and get feedback. We must find a forum that helps us overcome social and institutional inertia and responsibly foster experiments. These CISE faculty members are an imaginative and innovative bunch. As soon as I threw these questions on the table, a faculty member suggested creating an academic collaborative or clearinghouse, perhaps within the Center for Faculty Innovation, which could provide us some structure and consistency and motivation for pushing the envelope.

JMU can become a place for convening
That idea of a non-bureaucratic collaborative reinforces another that I have been promoting on the "Why Madison?" Listening Tour—that of JMU becoming a place of convening. Whether on topics of academic experimentation or on topics that pull in pockets of similar interest around the university—and even the community—there is a lot of power in these kinds of very visible, very dynamic, inclusive conversations. I'd like to see JMU host some kind of lunch hour discussions concerning topics of shared interest—on how we want to work with veterans, for instance. Sustainability education was another topic that came up today. It is clear that we address sustainability in many ways across the university, but today the question was raised, "how can we pull them all together even more holistically?" As an important signature theme for JMU, sustainability education would be a natural topic around which to convene.

Taking JMU's innovative ideas nationwide to the academy
This faculty pointed out that JMU's pioneering might itself be the topic of academic convening and study. There are so many innovative educational efforts happening here at such a high standard that, with time and resources, these signature strengths could be published and attract recognition and grants. Efforts that might be fruitful include, for example, our successful team teaching, research collaborations, public service, and dual ISAT/MS program in sustainable energy resource management shared onsite with the University of Malta (a model from which we might learn for future partnerships). This time together has really been beneficial. What a creative inspiration. This group is a breath of fresh air.
Published: Monday, November 26, 2012
Last Updated: Wednesday, May 24, 2017