News
Why Madison Presidential Listening Tour: Dallas
---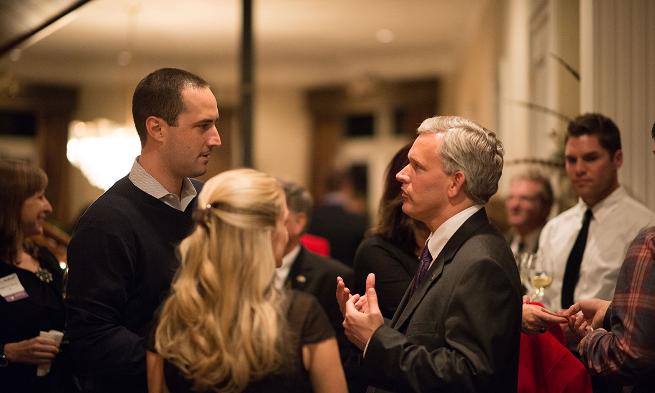 President's Journal —
Dallas, Texas, Home of Pat and Emmitt Smith, Dec. 10, 2012
We're here tonight in Dallas at the home of Pat ('92) and Emmitt Smith. What a treat it has been to come together with alumni and friends in this beautiful home. It was so gracious of Pat and Emmitt to open up their home to us for our "Why Madison?" Listening Tour for Texas alumni, who have come here from Dallas, Austin, Houston, and points in between.

Both Pat and Emmitt Smith spoke eloquently and passionately about the role of Madison in preparing students
Both Pat and Emmitt (who is not a Madison alum) spoke eloquently about higher education and the role of Madison in preparing students for the future.  Pat shared what a difference JMU had made in her life, and how it had provided her with opportunities to explore and grow as a person.  She spoke passionately about JMU as a community in which she felt respected and cared for.  Emmitt served as the surprise "closer" for the evening.  After he had been listening along the entire evening, Emmitt came up front and shared how he had been moved by what he heard and the sense of the importance of JMU in people's lives.  Both of them were extremely inspiring, sincere, and thoughtful, reflecting the very best of the Madison spirit and the impact JMU can have.

These kinds of events rekindle that Madison spirit among farflung alumni
Our "Why Madison?" stop here is Dallas is among the events that are the farthest away from campus that we've held. We've been to California, for example, and now here we are in Texas. Alumni have come here from other parts of the country and settled in Texas because of the opportunities here. They've talked about how challenging it can be to stay connected to Madison when you can't get back to campus as often as perhaps others might. An event like this really rekindles the flame and reconnects people with each other. It was a wonderful moment that reminds us all that we're part of a larger JMU community with national and international reach. We must ask our alumni chapters to think about what they can do to keep that spirit, that sense of the JMU community, going for alumni far from campus—whether they settle here in Texas or in Wisconsin or in Mississippi. For example, what can we do to help young alumni or recent graduates of JMU who might be looking to resettle in Dallas or Houston or Austin? We had representatives of all of those chapters here tonight and we talked about what they can do to help some of our recent graduates. It's really exciting to see that alumni network getting stronger and to have people thinking about how they can work with that next generation of alumni.

Faculty-student interaction is one of the hallmark strengths we need to preserve
It was interesting tonight to hear people talk—once again—about the importance of faculty-student interaction—including, by the way, a former JMU faculty member who was here. One of the questions that came up was as follows:  as JMU becomes more and more well known nationally, isn't it going to be a challenge, temptation, or concern to want to go for well-known faculty who might bring in a lot of research dollars but who don't care about teaching, or who don't want to be involved with undergraduates? My answer was that what based on what I have seen and heard in my many visits with faculty across campus (in all of our academic units, which have also been included in the Listening Tour), we tend to bring and attract people who want to teach, and who want to interact with students (particularly with undergraduates). That's one of JMU's hallmarks in American higher education, and I believe that reputation has spread nationally. It was good to hear the perspectives of people who've graduated two, 10, 20 or 30 years ago all talking about why that's important, and to have that same priority reinforced as we continue to talk with students and faculty on campus today.

Athletics is very much integrated into the total Madison educational experience
Many alumni who are far away have mentioned that athletics is one way in which they can connect with the university in a visible, tangible way.  Our athletics program is very much a part of our educational program.  At JMU we want to have a very good, strong athletics program—but we must always remember that our student-athletes are students first. That's an integral and ingrained strand of the Madison educational culture. It's part of who we are as a university, and I think our alumni understand that point. So certainly we understand that athletics can bring a lot of visibility to an institution.  It can help to connect alumni, and provides a reason for people to come back to campus. But actually Emmitt Smith himself talked about it best when he said, "You know, it's not so much about football, but it's that you're all part of a community and a family. The football is just a manifestation or an example of that." He was reflecting what he was hearing in the conversation, and what he had learned from Pat about the impact of JMU on the lives of its students and alumni.

We must be constantly making our Madison family more diverse and inclusive
I was very appreciative that Zie Rivers ('02P) was here tonight.  Zie is a former Board of Visitors member who's been a very strong and loyal supporter of JMU. He mentioned the importance of providing access and opportunity, particularly for students from less advantaged backgrounds and first-generation students whose parents perhaps didn't go to college. That's what the Centennial Scholars program is all about at JMU. We need to expand on that idea and do more along those lines to fulfill our mission and our potential as an institution.  We talk about opening doors at JMU both literally and figuratively, since our people open doors for each other on campus and our institution opens doors for people throughout the rest of their lives.  A lot of heads were nodding in the room during this part of the conversation.  I think people understand that when we talk about a sense of family and community, we must be constantly evolving and becoming more diverse and inclusive so that people of all backgrounds know that they can come to JMU and thrive. Indeed, they can become part of this family for the rest of their lives. We need to be very intentional about reaching out, sending those signals, and creating opportunities--including scholarships and financial opportunities—to make that possible for people of all backgrounds. Zie has done that, and in a very meaningful way through the Centennial Scholars program. We hope we'll see much more support by alumni for that program and other similar efforts in the years to come.

One of our alumni made the point that everyone can contribute at some level
I always appreciate when we have an alum who stands up at our "Why Madison?" Listening Tour stops as Dean Leipsner ('87) did tonight and talks very forcefully about the need for alumni to give financially to JMU. He was specific about the need for alumni to not just talk about giving, but at the end of the day to actually write that check. The point was made that not everybody can write the big check for an enormous program, but everybody can give as they're able. We talked about the reality that everybody can participate at some level, and that it's really important to have everybody participate. That's how we move that needle from the current 7 percent alumni giving rate toward the 97 percent of alumni who tell us they loved their JMU experience. Hopefully these Listening Tour conversations will inspire more people to give as they are able.

Together we can accomplish our hopes and dreams for the future
Alumni will be inspired to give if they can reconnect and be involved in the life of JMU. That's when they begin to understand that there are real and specific needs and opportunities that they can support, and where they can make a difference. That encouragement to participate is part of the idea of the Listening Tour. So too is educating our alumni that Madison cannot get all of our funding from the state anymore—or from tuition for that matter. We need strong alumni support to support our most innovative and promising programs and to achieve our hopes and dreams for the future.  The good news is that alumni have loved their experience at the university.  When they hear about how much JMU continues to need them, I am confident that they will step up to the plate. Together, we can accomplish great things.
Published: Monday, December 10, 2012
Last Updated: Wednesday, May 24, 2017