News
Why Madison Presidential Listening Tour: Liberal Arts Alumni
---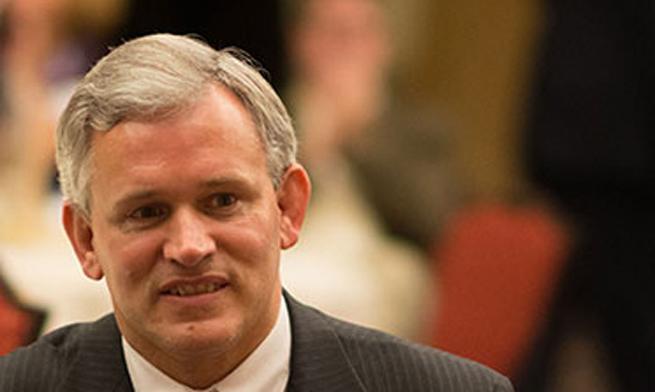 President's Journal —
Liberal Arts Alumni, Joshua Wilton House, Harrisonburg
Nov. 12, 2012
We discussed the lifelong benefits of the liberal arts
Tonight, I enjoyed visiting with local liberal arts alumni and faculty at the Joshua Wilton House in Harrisonburg. Our "Why Madison?" Listening Tour event was hosted by the Liberal Arts Advisory Council. We were able to talk in a warm and personal atmosphere about the lifelong benefits a liberal arts education provides for our alumni.

Alumni and employers report they appreciate that educational foundation
Having gone to Swarthmore for my undergraduate education, I have an allegiance to a sound liberal arts education, as you might imagine. While the alumni who attended tonight can attest to the role of the liberal arts disciplines in their own lives, the "Why Madison?" Listening Tour is helping to highlight the important role they play in the fabric of JMU as well. They contribute to General Education, which all of our alumni study in addition to their majors—whether business or science or music. Alumni I have visited with around the country report that they appreciate that foundation now, even if they did not feel so kindly toward it when they were students. Employers are also telling us they value our graduates' critical thinking, and the analytical reading, writing and teamwork skills, much of which are a product of our liberal arts education.

Our graduates have the skills to thrive in careers in many fields
We had many faculty members attend this evening who ascribe to the belief that a liberal arts preparation is not only helpful in that first job out of college, but it is also an essential foundation for a career and lifelong learning and personal fulfillment. So our students are getting the critical thinking and communication skills and flexibility of mind that are crucial to every career and every field of study. Our liberal arts alumni are business owners, Hollywood screenwriters and producers, teachers, researchers, attorneys, doctors, politicians, peace activists, military leaders and more. They provide the knowledge and wisdom and skills to critically assess information, and make contextually grounded decisions.

The "Why Madison?" question will help us chart our future
We began this "Why Madison?" Listening Tour because we want to have a broad opportunity for the Madison community to talk about where we have been as an educational institution and where we want to go together. So we came up with "Why Madison?" as the central question to help us identify our strengths, our culture, and then talk about how we preserve and enhance them and go to the next level.

How will we describe the JMU of the future?
One of the challenges I've been relating to alumni and faculty along the tour is how we will describe James Madison University. As is clear tonight, we have many aspects of a small liberal arts college. But with close to 20,000 students, we're not a small liberal arts college. We have many of the opportunities associated with a research-intensive university, but we are not an R1 university. When I asked how many professors in the room tonight have guided or mentored undergraduate research, most hands of the faculty went up. That's not the case at other institutions.

A university with a heart and a conscience
Instead of trying to emulate another college or university, we must acknowledge our unique mix of opportunities and strengths and become the best James Madison University we can be. As you might have heard, I have been using the appellation, "the Engaged University," which is, essentially, the opposite of the isolated ivory tower. I believe this describes the learning occurring inside our classrooms and being applied outside our classrooms—in the local and international communities, for the benefit of P-12 schools, and to improve the lives of disadvantaged people. A lot of schools talk about it, but it is really happening here. This is a public university with a heart and a conscience. Our faculty and students really care about civic engagement and what it means to be a democratic society in the 21st century. These are hallmarks for us going forward, especially as we think about our tie to James Madison the person.

An Engaged University in action at Cedar Creek and Montpelier
Just a few days ago, I saw that Engaged University in action. I had the privilege to accompany Clarence Geier and his students on a cold and blustery Saturday morning to the archaeological dig at Cedar Creek, where the research JMU is doing is rewriting our understanding of that pivotal American Civil War battle. That work is a great example of the Engaged University in action. A group of us also went together recently to Montpelier, the home of James Madison, where JMU has been crucial to establishing and interpreting the historical legacy of James Madison and the enslaved population there. We met with the leaders of Montpelier to talk about intensifying our ongoing relationship. It was a wonderful interdisciplinary conversation that I'm confident will bear a lot of fruit in the future.

Preserving that special Madison educational culture
Gatherings like tonight's conversation—where alumni and faculty come out together to share their experiences and ideas--are very helpful as we chart our future. They also help foster in alumni a renewal of those relationships that are the life breath of the Madison Experience—the  faculty-student interaction. We need to protect that going forward, and it is going to take resources. 

Alumni ambassadors can make a difference
I can't say strongly enough how important and valuable to JMU it is for our alumni to act as ambassadors of the university. They know better than anyone the difference JMU has made in their lives and are best positioned to share their stories—in their workplaces, at social functions, as they travel around the world to conduct business. Alumni really can make a big difference—as volunteers, by mentoring students, conducting resume reviews and mock job interviews for our students, or offering jobs to our students.

Taking these actions can help
I was happy to see a flyer tonight that actually enumerated some ways in which liberal arts alumni can act as Madison ambassadors. I'll recount them here because I believe that the university as a whole can benefit if all alumni follow these steps.
• Make contact with your old professors and bring yourself up to date on what's happening in your major.
• Work with your place of employment to offer an internship to JMU students.
• Offer advice on career paths to students.
• Join your college's or department's Facebook page.
• Make a gift to JMU, perhaps in honor of a professor who made a difference in your life.

We need to increase our 7 percent giving participation rate
Taking these actions—as well as others—will also help us address a troubling disconnect that shocked some people tonight. Ninety-seven percent of JMU alumni report they are happy with their educational experience.  That 97 percent statistic is virtually unparalleled in higher education. But then the other shoe drops—only 7 percent of our alumni make a monetary gift to JMU.

Do alumni realize the rarity of their educational experience?
One gentleman tonight insightfully suggested reminding alumni of their positive experience and asking them to preserve and enhance it by making a gift to JMU or to their programs. I heard earlier in the day at another meeting that our alumni might not realize how rare their particular educational experience was because they have no other university experience with which to compare it. So part of our challenge will be to educate our alumni and then make a meaningful ask that connects to things alumni feel positively about.

Tonight's ideas will be funneled to the Madison Future Commission
The ideas that were discussed tonight will be shared with the Madison Future Commission, which will chart our course for the future of James Madison University and help set the priorities for our next capital campaign. This process helps us think about how we will focus our energies.

We can accomplish a lot more together
While those of us in leadership at the university are certainly reaching out to spread the word about JMU, we cannot do it alone. Alumni can help tell the story about the needs and the magnificent opportunities that exist at James Madison University. It is an exciting time at JMU, and we can accomplish a lot more if we can do it together.
Published: Monday, November 12, 2012
Last Updated: Wednesday, May 24, 2017