News
Why Madison Presidential Listening Tour: Philadelphia
---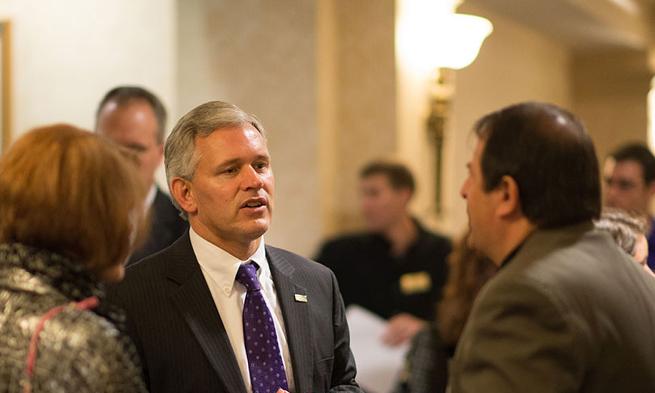 President's Journal —
Philadelphia, Nov. 9, 2012
It was a special treat to ponder the connection to James Madison, the Founding Father
Tonight we have brought the "Why Madison?" Listening Tour to Center City Philadelphia, to the Courtyard Marriott—where, by the way, the general manager is a JMU alum. It's a beautiful setting and a historic venue—not least because it is the site of the Constitutional Convention, at which our eponym, James Madison was the key player. It has been such a treat to be here to make that special JMU connection with Madison alumni and parents in the area. We had a gracious host in Jeff Gammage, our Pulitzer Prize-winning alumnus, who was able to take an evening off in the midst of post-Sandy and post-election coverage from his life as a Philadelphia Inquirer reporter.

Alumni far from home want to reconnect
Even though we're several hours from JMU, people are talking about how they long to connect and reconnect. That's fun—and promising. They are offering many ideas about how to do that. They've also put that idea into practice by becoming active in the Philadelphia-area alumni chapter. They are recreating—or should I say organically extending—that sense of JMU hospitality they knew and loved as students. They are creating that sense of JMU community several hours away in a major city on the East Coast. It's not only fun, but it is helpful to JMU, to see these chapters grow and become stronger. They will become the focal points for new ways of engaging our alumni in the life of JMU today.

Alumni offered ideas to engage alumni
To that end our alumni gave us suggestions for events and activities that would further engage them in the lives of our current students. We discussed tonight that intergenerational learning, and alumni mentorship of our students, are helpful connections.  Given the energy that we felt tonight, I look forward to seeing more alumni reconnect with one another, remember and renew their special Madison Experience, get excited all over again and reach back to help today's students. That needs to happen, not just here in the Philadelphia area, but all over the country where we have JMU alumni and students.  We discussed the many ways to become involved in the life of JMU. The purpose, of course, is to preserve and enhance that special JMU educational culture that alumni experienced so that today's students will benefit from similar experiences. Tonight alumni and parents were interested in learning more about the opportunities to do so. First and foremost is the need for alumni to act as ambassadors for JMU. We heard examples tonight of alumni and parents who have gone to college fairs and have spoken on our behalf, individuals who have served as mentors to our students, or who have developed internship programs where they work or where they have an opportunity to employ JMU graduates. There are so many ways that alumni can be involved and engaged in the life of the university. We appreciate them all, and we encourage other alumni and parents to take their cue from the Madison community that has been established in the Philadelphia area.

JMU LOVE recreates the civic and volunteer life students knew at Madison
One of the opportunities for Madison engagement that came up tonight was the JMU LOVE program. It connects Madison volunteers with volunteer opportunities at JMU. That program is a great opportunity for alumni and parents to extend the engaged culture of James Madison University—the same culture they or their children experienced as students. Life as a JMU student is intensively social and civically involved. The JMU LOVE program facilitates that same culture for alumni. It highlights the many volunteer opportunities that exist at JMU, so alumni can put their energy into advancing the cause of James Madison University.  Our alumni can make such a difference in the lives of our students, and intergenerational relationships lead to enhanced education and opportunities for both students and alumni.

Parents are just as involved—perhaps more so
As we've seen tonight, these engaged JMU relationships are not restricted to alumni. We've had Parents' Council members here tonight, and that's one of the things I really love to see. Parents, when they see the difference JMU has made in the lives of their sons and daughters, want to take an active part in our community.  We need to get the word out to both alumni and parents about how they can get involved in JMU through JMU LOVE. What we heard from them tonight is, "We want to do it. We'd be happy to do it. Show us how and tell us how."

Keeping business and employment data up to date
A great question that came up tonight concerned the quality of our alumni database. Yes, we may have lists of alumni and hopefully information about where they live, but one of the key pieces of information is what they are doing with their lives and with their careers. The more we know about where alumni are working, the more possibilities there are for determining whether they can hire new graduates or serve as mentors to students or young alumni, or even to conduct informational interviews in their fields. There are so many ways that information is valuable to us in the different academic programs. One of the other things we've heard tonight is that when people want to connect to JMU, they want to connect through their disciplines or their fields of study, whether it's the hospitality program, communications or some other field. Alumni are looking for those specific kinds of connections with their programs back at JMU or with other graduates or students who are in those programs today.

At JMU, students are able to initiate life-changing ideas
We heard tonight that our uniquely engaged culture empowers students to initiate life-changing endeavors. We heard some examples tonight of some Alternative Spring Break projects that have been student-initiated. Through these projects, our students show us that they long to be part of something bigger than themselves. We have examples of student organizations like Safe Rides, a student-initiated program that has made a big difference on our campus and in our community. Time and time again it's the students who come up with new and creative ideas. And that's a phenomenon we need to nurture and support as students make the transition to alumni. We need those alumni-initiated projects that will benefit JMU and continue to inspire and empower our students.

JMU says "yes" rather than being stuck in old notions
I have been hearing all along our "Why Madison?" Listening Tour that JMU is a community that tries to say "yes," rather than saying, "No, we've always done it some other way." When we get these new and interesting and creative ideas, we try to be supportive as a community. We're willing to be innovative and try new things, which encourages our students to do the same—at JMU and later as alumni in their new communities. We see that spirit of innovation in our students, in our faculty, and in our staff. It helps JMU grow as an institution. That's what makes it a vibrant community.

The faculty adds that personal touch
And of course we cannot close an alumni event without acknowledging the fundamental and nurturing relationships fostered by our faculty every day in the lives of our students. Alumni here tonight—as in all previous "Why Madison?" Listening Tour stops—spoke about the critical role of our faculty and faculty-student interaction that is central to JMU's educational culture. We draw faculty who really want to teach and who really want their students to learn. In fact, one of the individuals who participated tonight was a recent graduate in our assessment program, which is renowned as a leader in the field. We are an institution that is known to study how students learn, and that helps our faculty figure out how to teach better in new and different ways, to try new pedagogical techniques. That helps students learn in multiple ways and take advantage of new forms of technology and communication that can aid and strengthen what we do both in and outside the classroom. That commitment to constantly improving what we're doing and studying how we can add value in the educational process has already established us as a leader in both teaching and assessment. We draw faculty who want to teach and who really care about their students' learning. We heard people say the faculty was one of the things that drew them to JMU. They were enthusiastic. "We want you here," they said, "and we want to learn with you." That spirit pervades JMU and its faculty. We really value that in our faculty and we want to nurture that in the years ahead.
Published: Friday, November 9, 2012
Last Updated: Wednesday, May 24, 2017