News
Why Madison Presidential Listening Tour: CoB Executive Advisory Council
---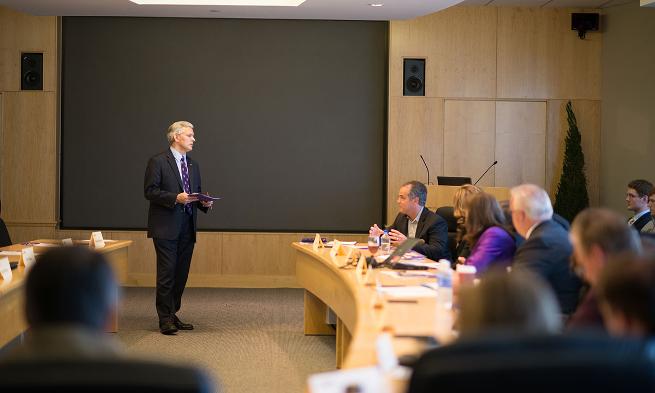 "Why Madison?" Listening Tour
President's Journal
Nov. 8—CoB Executive Advisory Council

This entrepreneurial group is full of energy and ideas
Today we were with the College of Business Executive Advisory Council—the EAC—as they call it. What a great group of engaged alumni—and at least one equally engaged friend of the university who has had many family members come to JMU. This group is the prototype for advisory councils at the university and I believe was the very first one established at JMU. Subsequently it has served as a model and indeed even helped us launch advisory councils for other colleges at JMU. This group is so full of energy, ideas, passion for the university. It is perhaps not surprising that with all the entrepreneurial spirit in the College of Business, the advisory council idea would have started there first. These are people who are helping us to dream big—to think about what we do at the university and how we can engage our alumni when they graduate. They had so many good ideas; I just wanted to bring them along with me for several weeks as we visit with alumni around the country on the "Why Madison?" Listening Tour.
Bringing alumni back to re-experience that special feeling on campus is key
Many of these business alumni said one of the things that got them reengaged was when they had the opportunity to come back to campus and re-experience the energy and that special feeling that they said exists only on this campus. Several of them said that alumni tend to get busy with their lives, but that first visit back (and all since) reminded them why they came to JMU as students in the first place and made them want to be part of JMU again. Then, when they were actually back in the classroom or mentoring students and making those intergenerational connections, they were sold on the idea of being deeply involved in the life of JMU. They said they wanted to stay engaged because they could see what a difference it was making in students' lives.
Intergenerational relationships are meaningful for alumni and students
Our business alumni—like all alumni around the university—have so much value to add to our students' educational experience. It was quite fitting today that we had students here in the room watching this very high-level impressive conversation with members of the EAC who are modeling what we were talking about. I thought that was great for the students. One of the students even said, "I want to be on the EAC when I'm an alumnus. You've inspired me." And I think the people around the table realized what an impression they can make on the students, how they can add value directly. So getting people back onto campus and engaging with students in meaningful ways has to be a priority for us going forward.
Business alumni say it was the personal touch that made them want to reengage with JMU
One of the messages that we heard clearly today is the importance of the personal touch. As we were going around the table, every single one of these business alumni mentioned how somebody had reached out to them, to engage or reengage them with the university. Somebody asked them to be involved in some way, and that made a difference--that personal touch. Bob Reid's name came up several times as someone who reached out to people, who took a chance, who traveled around the country, who introduced himself to people, and said, "Will you get involved with us? Will you be engaged with us?" It was the personal touch of our former College of Business dean as he went around the country and got to know people. And now look at the fruits that have been borne from those interactions. We certainly owe him tremendous gratitude. He has been a great model for other deans and for all of us on how to be an ambassador for JMU.
Alumni ambassadors can tell the JMU story better than anyone
So certainly I want to do my part as president, but it's got to be a team effort; and what better team is there than this all-star lineup? These are people who today can be ambassadors in their workplaces, in all the different places they visit around the country and around the world, to be ambassadors, to talk about JMU, to say what's happening here, to talk about what a difference it is is making in people's lives and how it needs support from other people. What better way to hear than from people who have been successful and care deeply about the university? They can tell the story better than any of us can because they they are living examples of the difference JMU makes in people's lives.
In business, teamwork is what it's all about
Just as we've heard the word "teamwork" come up many times on the "Why Madison?" Listening Tour, we heard it very clearly today, because in business that is what it's all about. Nobody's going to accomplish very much in this global economy without a good team around them. Business alumni understand that good teamwork starts in your educational process. The College of Business has really learned that and taken that to heart. One of the best examples, of course, is the CoB300 course that we are very well known for nationally. I had the great opportunity to see that course in action earlier this week—to observe a team of students with their business plan being critiqued by a team of faculty from different disciplinary perspectives. It was an amazing experience to watch, very different than had it been just a one-on-one interaction or if one student had just been getting feedback on a paper. There were teams on both sides of the table, if you will, which is a great experience for our students. They get that in the classroom, outside the classroom, and in their student activities and organizations.
Employers notice the distinct skill set of our graduates
Employers notice that our students know how to work in teams; that they know how to look beyond themselves; that they have those interpersonal skills that are so important and valuable in the business world; and that they have that sense of ethics that is going to be the focus of our Quality Enhancement Plan. These are skills on which we need to focus going forward and that can be a strategic advantage here at JMU. We also want very intentionally to focus on that hallmark entrepreneurial spirit, that can-do spirit, that we really cultivate here. That "let's try it and see how it works" attitude encourages us to be innovative—producing, for instance, our very unique CoB300 or our alumni-student mentoring program. We are a relatively young university and we have that spirit of entrepreneurship, not just in the College of Business, but across the university, and we will want to be very intentional about cultivating it further as we go forward.
We must sustain those strong Madison values that JMU legacy families have experienced across the years
We had a number of examples of business alumni and friends around the table who had multiple family members at JMU. Their experiences were remarkably similar in some ways across the generations, even as the university has changed and grown. People have experienced that sense of family and community here at JMU, the close faculty-student interaction, that entrepreneurial, spirit, the can-do attitude, and the value of teamwork. We need to make sure that we not only maintain those strong values, but that we find ways to enhance them going forward. We need to recognize what has made this institution what it is today and then nurture those strengths as we look toward the future. That's the heart of the "Why Madison?" question that these business advisors answered so eloquently today.
We need more advisory groups like this pioneer CoB Executive Advisory Council
This group really is a pioneer. Members have shown us how this kind of advisory council can work for the university in terms of giving us feedback, creating and generating ideas, and providing different perspectives around the table. They fed off one another, and one idea led to another in just that short amount of time. Their time is incredibly valuable. Across the university I want to find ways to develop more groups like this. We will want to do a lot of listening so that we can hear what the Madison Experience means to them. How can we strengthen it further? And how do we tell the story? They are great spokespersons for the university.

Increasing diversity on campus is important to prepare students for a global marketplace
I was very pleased that someone from a business perspective raised the importance of diversity and the global context in which we all live and work. We think about global competition and the diverse marketplace that our students are entering as they graduate. He made the point very clearly that if we can become more diverse as an institution and provide access and opportunity for students of all backgrounds, we can provide a better educational context. Students can learn more from each other when they have different perspectives, experiences and backgrounds. That interaction will prepare them better as they enter the workforce and compete globally on diverse teams and in diverse markets. So we have a need and an obligation as a university to provide a richly diverse educational environment. I was so glad they brought up this important issue, and it will be a central focus for the university in the months and years to come.
Published: Thursday, November 8, 2012
Last Updated: Wednesday, May 24, 2017