News
Why Madison Presidential Listening Tour: Faculty Emeriti Association
---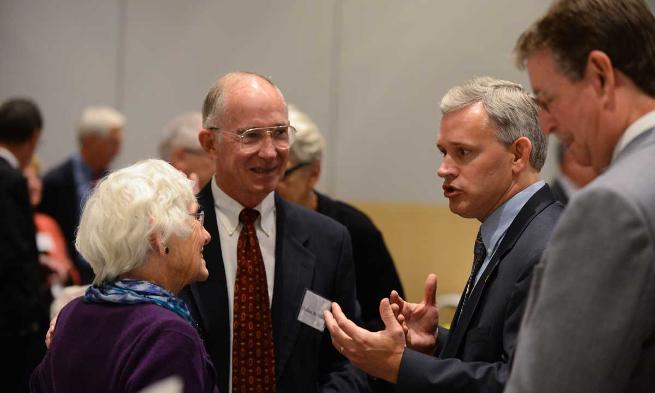 "Why Madison?" Listening Tour
President's Journal
Oct. 11—Faculty Emeriti Association

It was uplifting to speak with individuals who helped build the JMU culture
It was truly uplifting today to speak with members of the Faculty Emeriti Association. During their careers they exemplified the priorities of teaching and the professor-student relationship as central to JMU's educational culture. Some today said they hope that increased pressure on young faculty members to publish will not have a deleterious effect on that longstanding strength. When we talk about JMU—as a hybrid combining elements of the small liberal arts college and the research-intensive university, we must think about that critical balance - in teaching and research, faculty workload and work/life—not by trying just to emulate what another university is doing, but doing it in the right way for Madison. To maintain and enhance our own unique culture and identity, I think that's one of the really important challenges we face.
There were strong opinions about maintaining the live classroom experience
Retired faculty members offered strong opinions on the live classroom environment as the basis of the Madison Experience. One acknowledged that online courses have their place. Here is yet another issue of balance for JMU to study. While there is pressure on universities to rely more and more on technology for instruction, one thing that I have heard as a countervailing point from a lot of parents is, "You know, by the time my child gets to be 18, I actually would like them to get some personal interaction and not just to be home in front of a computer." I actually think it's more important than ever to have the personal interaction. I have a 13-year-old. I see other teens spending so much time with the technology, but not relating to one another. Those are hard questions about the future of higher education with which we need to struggle.
These retired professors are still in touch with their past students
We have been hearing consistently along the "Why Madison?" Listening Tour—and we've heard it again today—that one of the greatest strengths of JMU has been that the faculty gets to know the students as individuals and people. In the classroom, as mentors of research and also through advising, these relationships are a result of time and effort by the faculty. It was even suggested that professors could perhaps cultivate these qualities in an online instructional environment. Maintaining that personal connection is important as we go forward, and will be the key to making any kind of instruction effective. When I asked for a show of hands for how many retired faculty members are still in touch with past students, almost every hand in the room went up. That is really remarkable. There are a lot of other institutions where you'd see a very different result. That's a great example of the Madison culture and identity in action.
The desire for improvement motivates JMU's penchant for change
One of our newly retired professors mentioned today that change comes about because the faculty is constantly trying to improve the curriculum for the students. The result, she said, "is change for the good of the students, to make them better, to make them stronger, to make them more marketable." And that's something I really noticed too. The attitude at Madison is not just to say, "Well, we've always done it this way," but it's to try and ask those questions—about assessing what we're doing and constantly thinking about innovation. That's certainly been very evident to me so far, and I really appreciate that positive attitude. The discussions that make these improvements occur is what we are trying to tap for the "Why Madison?" Listening Tour.
 
Fundraising suggestions will help us perpetuate the Madison culture
This group seems to know better than most, that in the past the assumption was, "Well, the state will provide the resources that we need, and we'll just keep raising tuition." We know now that to fulfill our hopes and dreams for the future that those sources alone are not going to be sufficient. We need to think about other sources of revenue, and other forms of support for the university. We have a strong base of alumni, 97 percent of whom say they are happy with their JMU experience, and yet just 7 percent make a gift to JMU. So I asked the Faculty Emeriti group for ideas, since they taught these alumni and know them, for suggestions on building that culture of philanthropy. Not only did these retired professors say they would help in any way they can, they offered concrete ideas. Their ideas including asking graduating classes to challenge one another to raise funds, focusing efforts on both spouses for the days when the university was a woman's college only, and encouraging alumni to make a gift in honor of a living professor. There was discussion about events the Faculty Emeriti group might organize at which retired professors and alumni can come together and renew their relationships. Lastly, there was a very good suggestion that we ask our freshmen to be of service to JMU in the same way we ask them to be involved in the larger community. JMU is also worthy of their service and in the future, of their financial support. These kinds of specific examples are very useful.
I found spending time with these retired faculty members personally inspiring
I'm struck by what fantastic role models for our community these retired faculty members are. This event was inspiring to me personally, to hear the stories of faculty emeriti and to think about all that they contributed and continue to contribute to JMU. I am optimistic about the future when I think about everything that they've done, and the legacy they have created here.
Published: Thursday, October 11, 2012
Last Updated: Wednesday, May 24, 2017