News
Why Madison Presidential Listening Tour: Parents Council
---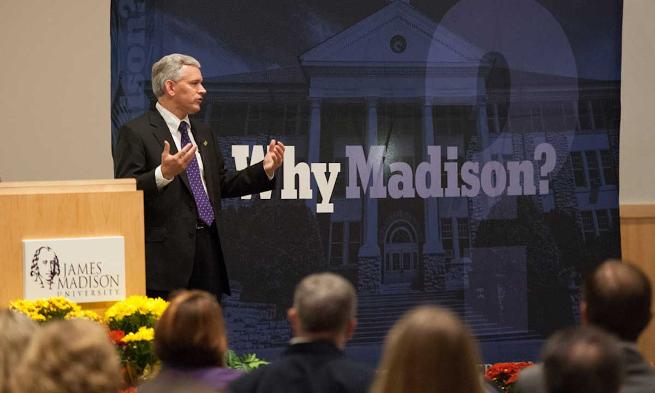 President's Journal —
Parents Council, Festival Ballroom, Family Weekend, Oct. 5, 2012
Parents say their students call JMU 'home'
What a thrill to be with the Parents Council today here in the Festival Ballroom during Family Weekend. These parents were full of energy, excitement and enthusiasm and are so supportive of the university, which they are experiencing in a very personal way through the lives of their children. It was great to be with them today. We heard from parents that some of their students refer to JMU as home, and that really says something. For parents sometimes that's hard to hear, but it shows we're doing our jobs well at JMU. Students come here and they feel very much a part of this community. All of us want what's best for our children and to see them thrive, to know that our sons and daughters are feeling so embraced by this community, that they can think of it as home, actually is a great thing to hear.
 
We keep hearing about the positive impact of the Madison culture on their students
These parents have seen firsthand in the lives of their children the impact of JMU. We kept hearing about that today and about what a difference JMU has made in their lives. They've seen those changes in their students and talked about how the culture has been so appealing and exciting. A lot of our parents sounded like they were ready to sign up and come back to school. It was really great to hear their energy, their enthusiasm. They're going to continue to be great ambassadors for Madison.
 
Alumni parents say their students chose JMU for the same reasons they did
Many of our parents today were also alumni, and it was very interesting to hear them say, "Well, we wanted our sons and daughters to make up their own minds; but we really hoped they would choose James Madison University." And, lo and behold, once their students came here and had a chance to see it for themselves, they did make JMU their choice. They made that choice because a lot of values that the parents experienced are still very true today in terms of the kind of atmosphere we provide, the learning experience inside and outside the classroom, the chance to be involved and engaged. Those were words that we were hearing from the parents and we're now hearing it from the next generation.
 
Family has been a theme all along our "Why Madison?" listening tour
We've been hearing throughout our "Why Madison?" listening tour that the JMU community is really a family. It's great on Family Weekend to be celebrating that reality with our JMU parents. Now, our university is a big and diverse and inclusive and constantly evolving family, but that's really what JMU is all about. One of the things we want to do going forward is to make sure people of all backgrounds feel like they can be part of this family and of this community. Certainly we heard today from a lot of people who can talk to others about what that sense of family means -- that, yes, this is an institution that has grown, that has matured and changed in a lot of ways, but it still creates and cultivates that sense of family that goes right to the heart of who we are.
 
Madison parents reiterate that students are being well prepared for the job market
One of the things on parents' minds is, "Will my son or daughter get a job after they graduate?" Especially in liberal arts areas, they are often concerned about what will this mean after someone graduates, but what we've heard consistently today from parents is these students are being very well prepared for the workforce. That's what I've heard repeatedly from employers, from people who've hired our alumni as well. What they have told us is that JMU alumni will roll up their sleeves. They're good at collaborating. They're good at teamwork. They have leadership skills. They're creative. They're innovative. Those are skills that are cultivated in their experiences here at Madison through the humanities, social sciences and sciences, and particularly through the General Education program, when they learn critical thinking and communication skills and how to see problems from different points of view. They get those experiences outside the classroom, as well, in all the student organizations and through civic engagement and community engagement opportunities that so many of our students participate in. I think our students are really well prepared for the workforce. That's what we keep hearing from people and now we must get that message out more and more to employers.
 
Madison culture of seeing the world beyond self resonates with our parents
The Madison culture came up over and over in our conversation with the Parents Council today. What we hear is that you know it when you see it and when you experience it. You know it when you set foot on this campus and you see how friendly people are. You sense that JMU is a real community. It's not just a place where people come as individuals and focus on themselves; instead they are part of a learning community, which means everyone has something to learn and something to contribute to our community. Parents value that kind of culture—where there's a spirit of giving back, where there's a spirit of participating in the community, seeing your world as something beyond just yourself and your own future. They recognize those qualities in their students and they get excited as they see their students grow in that way. The JMU culture is something we have to keep focusing on, though. We can't take it for granted as we go forward because that culture is a very important facet of what makes JMU a unique educational experience. So as we think about strategic planning, we need to think about how we protect and enhance that culture going forward so we can be a national model.
 
It's nice to hear parents vouch for the value of the JMU educational experience
It was really nice to hear parents talk about the value of the JMU educational experience. These are people that are on the front lines writing those tuition checks and, of course, many of them are also supporting the university above and beyond paying tuition. We really appreciate their support. They're great ambassadors for us, great examples and role models. When you think about the value of what a JMU education provides, what we heard from our parents is, "Look, we need to tell the story even more that tuition and state support are crucial, but we know we can't rely on them going forward to achieve all of our hopes and dreams, especially for those special touches that make this such AN exceptional environment." We heard them talk about the fact that, yes, this is a great value, but to keep it that way, we all need to participate. I was really grateful to them for raising that point with one another. I hope they'll continue to talk about that with their friends and neighbors.
Published: Monday, October 15, 2012
Last Updated: Wednesday, May 24, 2017