News
Why Madison Presidential Listening Tour: San Francisco
---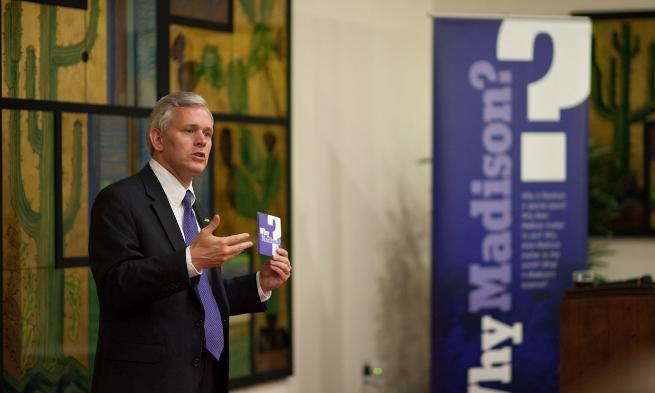 President's Journal —
San Francisco, Sept. 20, 2012
 
Bay area alumni expressed a real longing to be engaged in Madison
Tonight we are here at the City Club of San Francisco, a beautiful, historic building right downtown. We've drawn people from around the Bay area. They've shown a lot of energy and a lot of enthusiasm—wanting to grow and enhance their chapter, to stay connected to JMU, to be even more connected out here on the West Coast. It's a great feeling and a real longing that people have to be engaged and involved in JMU.
 
Alumni are passionate about JMU and what we can do together
People brought up the word "energy" tonight, and they are absolutely right. Energy is a word that describes JMU—the students, the faculty, the staff, the alumni, the parents. We are certainly feeling the energy at these "Why Madison?" Listening Tour events. Tonight it was a real presence in the room—that sense that people are passionate about JMU and that they are passionate about what we can do together. They want to get involved. We had people stand up and say, "I'm ready, sign me up to be more involved and engaged with JMU, to help work with our current and prospective students." The energy was very evident in the room tonight across the generations.
 
The sense of home alumni talked about reflects JMU family
The sense of home alumni talked about tonight really reflects JMU as a community and a family. Now, when we say "family," that's a large, diverse, inclusive and constantly evolving family, but that is the way we think about our university. We need to be very intentional about helping people to feel connected and to stay connected throughout their lives—not just for four or five or six years, but for the rest of their lives. I think that's something we heard tonight—that even though they move far away from JMU, alumni still want to feel connected and feel a part of that family.
 
West Coast alumni want to extend hallmark JMU hospitality
Alumni want to bring some of that feeling with them out here to San Francisco, that hospitality that JMU is so known for. We heard people talk about how we can bring more of that hospitality to each other and to students and new alumni who might want to come out to San Francisco. It was exciting to hear about that sense of home, that sense of hospitality and how we as a community can build that—not just in Harrisonburg or on campus, but all around the country and indeed all around the world, wherever you can find Dukes.
 
Alumni want to continue the JMU involvement they lived as students
It was great to hear recent grads say how their involvement in the university made such a difference in their education. They felt they wanted to be engaged, they wanted to make the world a better place. So then when they graduate—what happens next? What we heard is that people want to continue to be involved, not just in their local community, but also with the JMU community. We need to keep talking about how we can help them do that and to develop opportunities where people can stay involved and also make a financial impact on the university. People are at different stages in their lives and careers, and there are different ways they can give back.
 
Now we must harness that alumni energy and enthusiasm
Giving back reflects that sense of family—that once you become part of the family, you have a responsibility for those next generations. It comes full circle. People can make an impact not just on themselves and their future, but on future generations as well. It was very exciting to hear that conversation and to hear that people want to do that. So now we just have to harness that energy and that enthusiasm and figure out ways to keep our alumni engaged and involved.
Published: Monday, August 20, 2012
Last Updated: Wednesday, May 24, 2017