News
Why Madison Presidential Listening Tour: Alexandria
---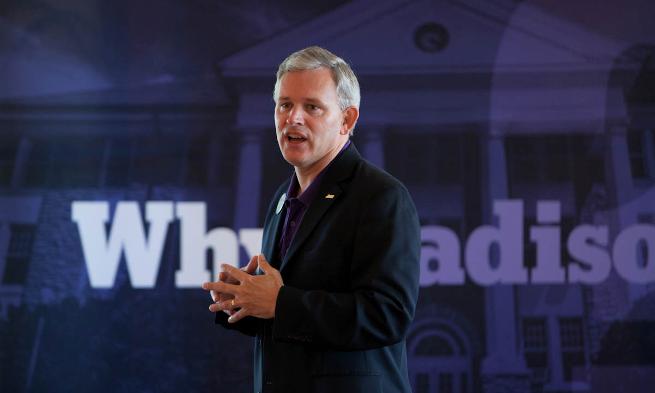 President's Journal — Sept. 15, Alexandria, Va.
Alexandria alumni made a picture perfect day
This is our second "Why Madison?" listening tour event in Northern Virginia. We are at the absolutely beautiful Belle Haven Country Club here in Alexandria, just across the river from Washington, D.C. It is a fantastic setting, we had a great turnout, with great energy—a picture perfect day.
Alumni say their General Education is a lifelong asset
I was pleased this morning to hear about General Education and how that laid a foundation that gave our alumni the ability to think in different ways as they solve problems and think about the issues in the world. They said that no matter what field students end up in, general education lays a foundation they can use for the rest of their lives.
We keep hearing that experiences with top-notch faculty members made all the difference
As our reputation has increased, as it has grown as an institution around the nation and around the world, we are recruiting top-notch faculty, the best in the country, the best in the world, people who could go anywhere. We want to make sure that we can maintain that kind of quality at JMU because what we keep hearing from people is that it is those interactions with faculty members that made a huge difference in their lives, that the faculty touched them, faculty helped them to think about what they could do with their lives and their careers. Those inspirational stories that we keep hearing are something we really need to pay attention to.
We're also hearing that we must continue to give the faculty the time to spend with students
Going forward we need to make sure that we can recruit and retain the absolute best faculty, that we can and also give them the ability to teach and spend time with students both in and outside the classroom. That's something we historically have done well, but we need to pay attention to, as we get bigger. We need to make sure that students can still have that kind of experience and that very close interaction with the faculty that we are known for.
People are enjoying the opportunity to reconnect to one another and to JMU
This listening tour has prompted a lot of ideas—suggestions that have emerged almost organically just from having these events. The events themselves have been an opportunity for people to get together, to connect, to have a meaningful JMU experience. Whether it's been Harrisonburg, Richmond, Virginia Beach or now up here in Northern Virginia, I think they've enjoyed the opportunity to connect to the JMU family.
Alumni and parents say they want to act as Madison ambassadors
They have also talked about the need for they themselves to be our ambassadors. That was a theme tonight, the impact that alumni and parents can have as ambassadors for the university as they talk to their friends, their family members, their colleagues—about what the university means, the kind of educational experience it provides, and to get other people excited about JMU and involved with JMU. No one person can do it alone, but when we have that collective responsibility and that kind of teamwork and include our alumni base and our parents, we have a tremendous potential. It's very exciting to hear that people are ready and willing to be engaged in that way.
I'm excited to focus on the 21st-century relevance of James Madison, the man
Having had a background in Constitutional law as well as American history, I was excited to hear insights tonight about our being a university named for James Madison, the man, the Father of the Constitution. It's one of the themes that I want us to think about and focus on as we move forward. What does that mean as we talk about citizenship and civic engagement going forward? The lessons from James Madison, the man and the statesman? And their relevance in the 21st century for our students and for our alumni? We are looking very deliberately at how we can cultivate that relationship to our heritage, to that legacy, but also to make sure we get people to see how it is relevant in today's world and to the future.
JMU can be a real model for civic engagement and civil discourse
I think we can be a real model when think about civic engagement, when we talk about producing citizens who will be engaged actively in their communities around the world. We can model the kind of civic discourse that we think is so important for our society and that's often in short supply. We want people to debate, to discuss, to bring forth different points of view. That's what higher education is all about, to do that in an environment where people respect each other and where they understand it's important to have different points of view. That all relates back to that wonderful legacy of James Madison, the man, and that's what we want to cultivate.
The happiness factor is just so striking at Madison
I looked over at my daughter when I heard the comment that JMU is the happiest place on earth—that it beats Disney World—because she loves Disney World. She's having that similar experience in and around JMU as she spends more time on campus and in the community as well.  It is just so striking when you talk to people both on campus and who have graduated from JMU about what a happy place it is—that people have a sense of belonging, a sense of community, a place where people care about each other and look out for each other. We open doors for each other. We say "hello" to each other. There is an atmosphere on campus that's immediately noticeable, and you just don't feel that on a lot of other college campuses.
People at JMU take pride in each other, the campus and the educational environment
It's important for us to think about how we continue to cultivate that kind of atmosphere on campus. I think people can learn better when they feel part of a community, when they feel valued, when they feel respected, and when they feel we care about the place. We take care of our facilities, we take pride in the work that we do and the educational environment that we're creating together.
Published: Saturday, September 15, 2012
Last Updated: Wednesday, May 24, 2017