News
Why Madison Presidential Listening Tour: Reston
---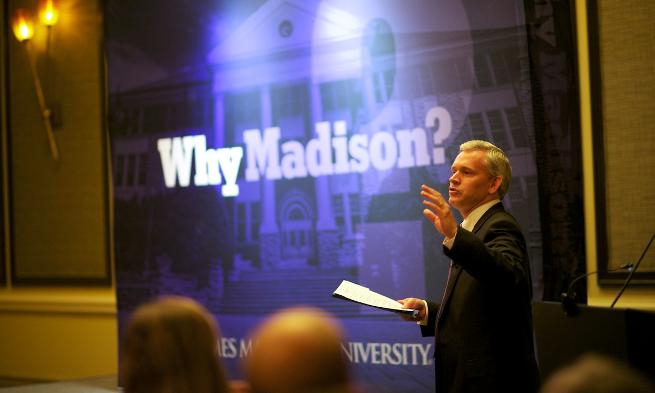 President's Journal — Sept. 13
Reston, Va.
Employers say they want JMU students and alumni
It was great to feel the energy here tonight in Reston, in Northern Virginia, where we have so many employers and so many opportunities. I loved hearing from people who work at different companies and organizations who said, "We want JMU students and alumni to work for us because we know that they understand teamwork, they understand collaboration; they care about the world beyond themselves. They are good workers. They roll up their sleeves," as someone said. It was great to hear that we prepare them so well.
 
Your career success stories assure prospective parents and students
The alumni career success stories that we heard tonight are really important to us as we talk to parents and prospective students about "Why Madison?" and what they can you do with a degree from JMU. Whether your major is geography or biology or English or philosophy, we're hearing examples of great things people have done in their careers. Those examples are great role models for us.
 
I heard consistent themes among generations
Once again it was great to see the intergenerational connections right here at this event. We had people attend who were meeting up with each other from different class years, different generations—some in the same family—who had gone to JMU. Some were reconnecting with their RAs. Others said they wanted to give back and be involved with our current students, to help them see what they could do with their lives and how they can be the change. It was wonderful to hear that perspective from people of all different class years. We had quite a mix here tonight, and we heard a lot of consistent themes about what JMU has meant to them and how it changed their lives.
 
Students, alumni and parents repeatedly credit JMU's distinct educational environment
At every stop we have heard alumni and parents talk about Madison's distinct educational environment. Tonight was no different. We heard that's one of the things that makes JMU a special place. We know that we're not a small liberal arts college, and we know that we're not a major research-intensive university. We're something unique. We combine the best of those worlds, and that's why we have opportunities for undergrads to work directly with world-class faculty members, to engage in research in a whole variety of disciplines. Those are opportunities that you can't find at most institutions.
 
Alumni lived the Madison Experience; they can help me articulate it
Since I've come to JMU I've sometimes struggled with how to sum up the Madison Experience. Luckily I don't have to do it by myself because we have the voices of the people here who have described it from their own experiences at JMU. It's great to hear how people articulate that and say further that Madison gave them opportunities they wouldn't have gotten any place else. They can say it better than anyone else because they lived it.
 
Positive experiences will translate into support
Another theme we heard tonight was not just how so many alumni loved their experience at JMU, but that they know now we have to translate that into support for the university financially and through volunteerism. We certainly saw that here tonight. I found it encouraging that people said, "Yes, I understand the need for that. We understand the need to give back." And, "this is a new era for the university." We need to think about our university as a family—and when you become part of that family, you're part of that family for life. That means you give back to the next generations that come after you. I heard people say tonight that they wanted to do that and that they were ready and willing to do that. I hope we'll see that enthusiasm translate into alumni giving in the future.
 
These conversations will help us chart our future
It's so important when you're a new leader, especially when you're coming from the outside, to listen first to get to know the community—its hopes, its dreams, its aspirations. The great thing about this listening tour is it's a moment in time for us collectively as we get ready to plan our vision for the long term. We can reflect together on where we've been and where we can go together. Our future course will only be successful if it reflects our collective wisdom and vision together. That's why I think it's very important to have these conversations. They will help us chart our future.
 
Published: Thursday, September 13, 2012
Last Updated: Wednesday, May 24, 2017