News
Remarks on president's Election Day visit to Montpelier
---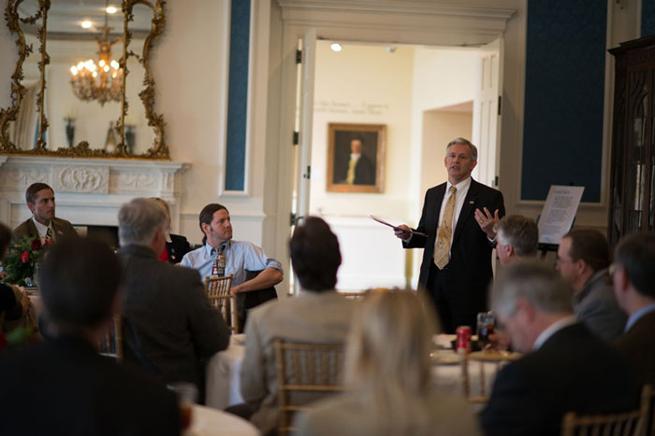 Visit to Montpelier, the home of James Madison
Remarks to the faculty and staff of Montpelier and James Madison University
Nov. 6, 2012
Election Day
Good morning. What an exciting day. And thank you for the wonderful tour of Montpelier this morning. One of the things that I really appreciate and am excited about today—when I think about the faculty that we brought here from JMU and the kind of expertise that you all have at Montpelier—is the interdisciplinary nature of the conversation. We have people who understand the science and the archaeology and anthropology and political science and history. All those different aspects are being combined in our conversations about how we can work together to enrich and expand knowledge going forward. I think that's a really exciting component of what's happening today. I hope we can think about that interdisciplinary kind of discussion as we go forward.
One of the themes I've talked about for JMU and one that I think would relate directly to our partnership going forward with Montpelier is the idea of being the Engaged University. As we talk about James Madison University, we talk about being engaged with ideas—absolutely, learning the theory. I was thinking about this, envisioning being in that room [at Montpelier] where James Madison himself was reading all of those books and absorbing so much knowledge. But, of course, he was also applying that knowledge in a very real way to the problems around him of his time. And that's what the university does as well, that idea of being the Engaged University, being engaged with those great ideas from the past and the present but also thinking about how can we apply this knowledge to the challenges that we face as a society.
So I think translating that very Madisonian experience to all of us today is something I'd like us to think about together. For us at the university, we talk about producing educated and enlightened citizens and the importance of citizens who are going to be active participants in a democratic society. Our students talk about, as you probably know, making a difference in the world. Using the motto of Be the Change, they are learning not just for the sake of learning, but so they can do something to be of service in whatever discipline, whatever field they're engaged in. There's a very strong sense of community and of civic engagement at JMU. I can tell you, having been at other universities, it's really palpable and immediately noticeable at JMU—throughout the faculty, throughout the staff and throughout the student body.
So what does that idea of engagement and reflecting our legacy as James Madison University mean as we think about citizenship in the 21st century? We talked earlier about the importance of having educated citizens to keep a democracy thriving and the importance of having all the different institutions, organizations, corporations, non-profit organizations play a role as people come together in communities. Those are themes that I think we can explore together. One other thing I would add to that is the importance of education. There are teachers here today, which is very fitting, on Election Day. At JMU we produce, as you probably all know, lots of K-12 teachers. So for JMU the higher education component is important—our faculty, our students, the research they're engaged in. But we're producing that next generation of teachers for around the commonwealth and around the country. Those linkages of K-12 education, higher education and continuing lifelong education as reflected by a the home of James Madison really is living history. I think it would be really valuable to explore those linkages and what we can do together on the educational continuum front. I hope what we can do in this conversation is to think about how our organizations, our institutions work together and envision a new kind of partnership given our unique roles in the United States.
I do think that JMU has a special opportunity and obligation as James Madison University to make people aware of that legacy. Who was James Madison? What were those ideas and ideals that he stood for? What do they mean today? How do we wrestle with those questions today? How do we help other people think about that? There's a national and international component to that as we think about the idea of democracy as it spreads around the world. So I believe it is very valuable to have those conversations about how James Madison University and Montpelier can work together—about how we can collaborate on particular projects or initiatives that we might develop taking advantage of those unique strengths of our organizations.
I am excited that today we are exploring some important ideas—and this is just the beginning—about how our institutions can collaborate in three important areas. What are some new opportunities for learners? What are new opportunities for research and faculty engagement? And what are some new opportunities to bring greater attention to the legacy of James Madison and the importance of enlightened citizenship in a democracy?
Thank you.
Published: Friday, November 16, 2012
Last Updated: Wednesday, June 8, 2016