News
Alumnus Kurtis Hagans (philosophy, '14) publishes article
---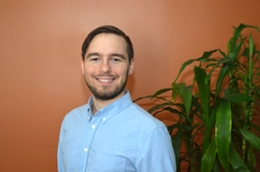 Congratulations to alumnus Kurtis Hagans (philosophy concentration, '14), who recently published his first article (entitled "Do We Have Reason to Be Moral?") in the September 2016 issue of Dialogue, the journal of Phi Sigma Tau (the International Honor Society for Philosophy). Hagans is a former co-president of Phi Sigma Tau at JMU.
Hagans' article is based on a paper he wrote in his Spring 2014 Advanced Moral Philosophy class, which was focused on morality and self-interest. In the article, Hagans argues that people do not have any non-preference-based reasons to be moral when doing what is immoral will better serve their interests and they have excellent reasons to think that they can get away with being immoral. Hagans argues that any reason to favor one normative domain (morality) over another (self-interest) is grounded in personal preference.
Kurtis is currently working as a Senior Marketing Specialist at Fedbid, Inc. Congratulations again to Kurtis on his successes!
Published: Thursday, November 17, 2016
Last Updated: Saturday, February 10, 2018