News
Rating system shows promise assessing campus transportation, generating solutions
---
Cross-campus collaborations focused on creating design solutions to make the Grace Street area safer and more sustainable is one of the benefits coming from an analysis and rating system JMU has tested.
In the summer of 2013, JMU became the first university to begin a pilot test of STARS, which stands for Sustainable Transportation Analysis and Rating System. The second-generation system, initiated by the Sustainable Transportation Council, provides a customizable "lifecycle approach" to evaluate an array of transportation related projects and their level of sustainability.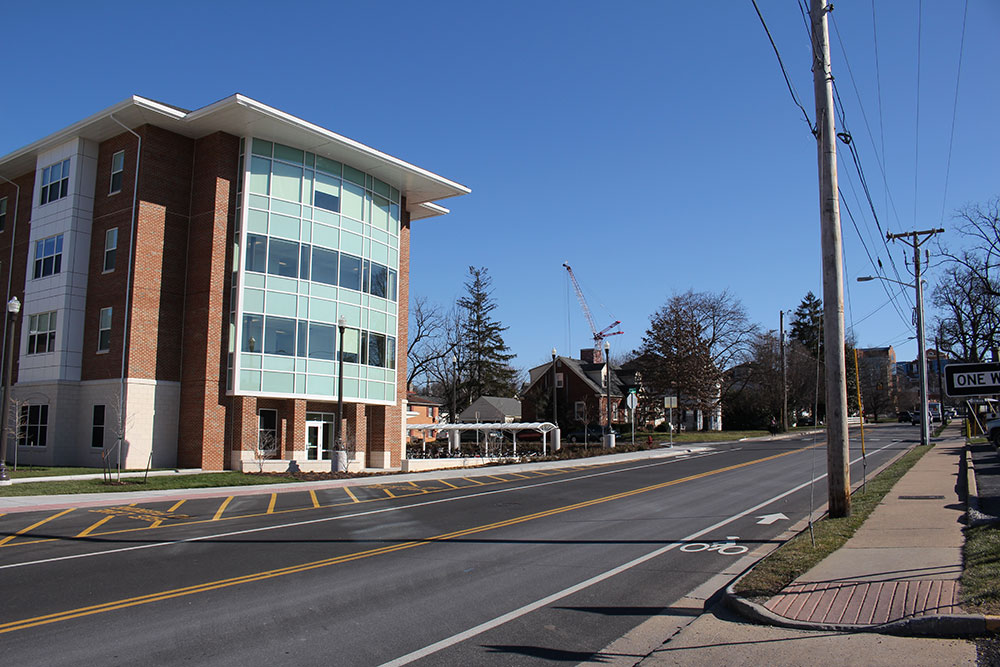 Photo by: Katelyn Quinley
Dr. Elise Barrella, assistant professor of engineering, helped organize the STARS pilot in partnership with Dr. C.J. Hartman. "Most people are familiar with the rating system called LEED, which is a rating system for buildings," Barrella said. "Similarly, in transportation, a variety of organizations over the past five to 10 years have started to develop rating systems that are more geared toward transportation and development projects."
The STARS system offers a variety of customizable "credits" that organizations can choose from in order to receive certification. For example, two JMU departments offered a collaborative course during spring 2014 that helped to achieve a community engagement credit. The STARS initiative was part of the larger Grace Street Project which fostered cross-disciplinary interactions among engineering, geography, health sciences, public administration and industrial design.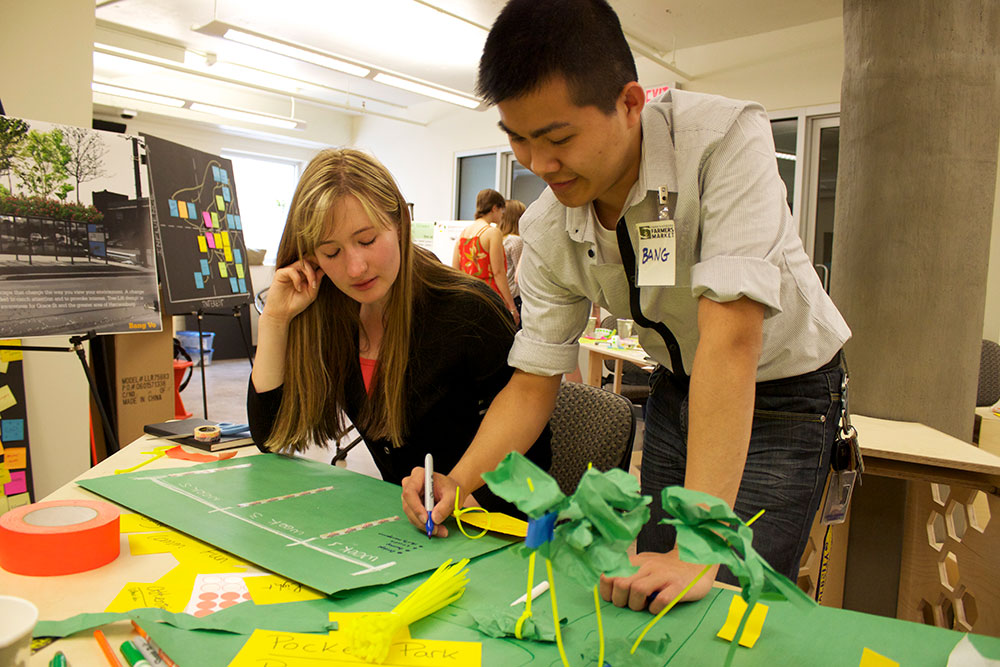 Photo by: Danielle Epifanio
A key aspect of the course, taught by Barrella and Audrey Barnes, assistant professor of industrial design, was creation of a "Community Design Charrette" — a workshop for multiple stakeholders to "collectively come up with a vision and alternative ways you could achieve that vision" for sustainable transportation solutions, Barrella said. Open to anyone in the Harrisonburg community — students in the collaborative course, other JMU students, JMU faculty and staff and Harrisonburg residents — the workshop provided a space where ideas on how to improve transportation and reduce environmental impact were generated.
"Some of the ideas from the course have led to further development and temporary testing, including wayfinding and bicycle parking solutions on campus," Barrella said. "Last spring, a senior capstone team tested a bicycle parking structure that was a temporary pop-up structure. So, the ideas are still there. Some of them could be implemented short-term, while others would take much longer to figure out."
Data collection and analysis, and some new methodologies were developed and supported by faculty, staff and student research. "Because STARS is customizable, there are some recommended practices and analysis, but depending on what project you're trying to study and certify, you are going to have some different needs . . . Specifically, we were looking at a very small area, the Grace Street corridor, which was and is in transition with a lot of traffic," said Barrella.
The Grace Street corridor is a prime example of what makes the flexibility of STARS effective. "In that area, we already had a large number of people who are walking, biking or taking the bus," Barrella said. "A lot of methodologies for data collection focus on vehicle or car trips, and we knew that was part of how people were getting to that area, but that wasn't the full story. When we did data collection, we found that over 50 percent of trips were being taken by walking or bicycling in the corridor. So, we had to adapt the methodologies to better fit those conditions. The benefit of that is that we can apply a similar methodology to other locations on campus, or to campus as a whole."
Engineering major Kelsey Lineburg was one of the student researchers and contributed to the overall initiative for two years. "I performed a system analysis on the transportation network surrounding Grace Street to better understand the pre-existing interaction between the corridor and its users," she said. "This involved performing traffic and parking analyses to evaluate the behavior of transportation users at JMU. I also had the opportunity to evaluate several trip generation models to make recommendations for future transportation infrastructure decisions based on development proposals." Lineburg sees the initiative as having a positive impact on the JMU community "by encouraging active transportation among students and reducing the need for additional vehicular transportation infrastructure."
While it was just a pilot, the data collected from the STARS project will help JMU as the university looks for sustainable transportation solutions in and around campus. "Part of what we're looking at moving forward is how we could use a framework like STARS to inform campus planning for transportation," said Barrella. Innovative solutions to the transportation needs on campus — particularly solutions that fit the university's sustainability goals, such as the campus Environmental Stewardship Action Plan to reduce greenhouse gas emissions — continue to be explored.
Story by Katelyn Quinley ('16M)
Published: Thursday, February 11, 2016
Last Updated: Wednesday, January 24, 2018