News
Master plan continues paving the road to progress
---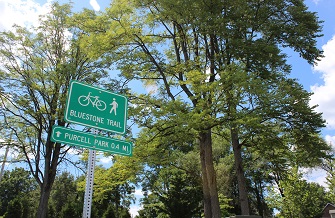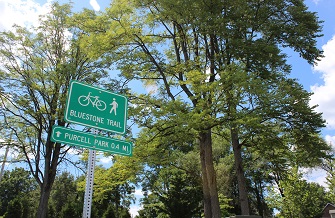 Projects from the JMU Bicycle and Pedestrian Master Plan, completed in April of 2014, continue to be implemented across campus and throughout the Harrisonburg community. For JMU, the goal of these bike and pedestrian infrastructure improvements is to build upon collaboration with the city to achieve inter-connectivity, encourage safe and active transportation and promote sustainability on campus.
Transportation Demand Manager Lee Eshelman said the projects are centered around the "5Es"—Engineering, Education, Encouragement, Enforcement and Evaluation—part of the "Bicycle Friendly University" rating system developed by the League of American Bicyclists. Eshelman established the Bicycle and Pedestrian Advisory Committee in 2013 to develop the Master Plan and to help implement projects outlined in it.
"We've developed five subcommittees—one for each of the 'Es.' What we're now working on is implementing what each of these cover," said Eshelman.
Engineering:
The first "E"—Engineering—covers the design and construction of infrastructure on campus, such as the extension of the Bluestone Trail. The Bluestone Trail begins in Purcell Park just south of JMU and connects with campus at Newman Lake. Plans call for extending the trail north through the JMU campus and continuing it all the way to Eastern Mennonite University.
One of the difficulties in implementing infrastructure projects is how to fund them.
"It's easy to develop a plan of wants and needs, but it's another thing to get it done and to implement it, and to have money to do so," said Mike Dalmolin, sustainability coordinator at JMU.
One source of funding came through a revenue sharing grant opportunity with the city and the Virginia Department of Transportation (VDOT). Dalmolin and Eshelman heard about the grant funding that could be used to complete the Bluestone Trail extension and contacted the city to collaborate on a grant application. The city's assistant director of public works, Tom Hartman, coordinated the application process for the revenue sharing grant, which was approved in June.
"The revenue sharing grant is an application process through VDOT in which localities—cities and counties—can identify projects within their boundaries that would help aid transportation," Hartman said. "If that locality is willing to contribute 50 percent of the money, the state will contribute the other 50 percent." Since these funds can only be channeled to a municipality or county, JMU could not apply directly. However, JMU will provide the local contribution under a pass-through arrangement with the city.
"We've worked very well with JMU on previous projects that the city has designed and JMU has funded . . . so if that is any indicator, I think this will go very well," Hartman said.
The project, which will extend Bluestone Trail from Newman Lake to the intersection of Bluestone Drive and Carrier Drive, is due for completion next summer, said project manager Abe Kaufman.
"I believe the trail will be a valuable asset for both the university and the wider Harrisonburg community by providing a safer and easier means of connecting to campus by pedestrians and cyclists," he said.
Education and Encouragement:
Efforts to further educate and encourage students to practice safe biking and walking habits are also being implemented. In further collaboration with the city, a bicycle "comfort map" has been developed. In addition to showing where courtesy air pumps and bike racks are located, the map encourages students and residents to bike by providing color-coded street ratings to help them safely navigate through JMU and the community.
"It was a pretty significant undertaking," Dalmolin said.
JMU student Scott Brooks worked with Dalmolin on the project and collected data about streets on campus that helped create the rankings for the map. "This project was really born out of the city to promote bicycling," said Dalmolin. "We just wanted to help and have our campus streets included in that."
Educating JMU students as well as city residents is another initiative outlined by the Master Plan. Last summer, the JMU Public Safety Department developed a video that covers the rules and best practices for safe biking and walking. The video features President Alger, Harrisonburg mayor Christopher Jones, local business owners and current students speaking on the importance of safe biking and walking habits. All students will see a biking and walking safety video as part of orientation in the future.
Enforcement and Evaluation:
Currently, the university is considering best practices for enforcing safe biking and walking and evaluating the effectiveness of these practices.
"What are the rules going to be? Are we going to go beyond what the state requires? How are we going to enforce them—positive or negative enforcement?" asked Eshelman. "Evaluation looks at what works or what doesn't and examines what we could do better. That all has to be ironed out."
Thus far, JMU has invested approximately $2 million in the Master Plan projects, said Eshelman.
"I'm totally amazed that the University has spent the money and done what they've done already," he said.
While questions such as the availability of future funding indicate that it might take some time before more of the larger projects outlined in the Master Plan can be implemented on campus, significant strides have already been made in collaborating and developing joint projects between JMU and Harrisonburg. The investment is considered to be worth it to provide safe, inter-connected transportation facilities throughout the JMU campus and the community.
Story and photograph by Katelyn Quinley ('16M)
Published: Friday, December 11, 2015
Last Updated: Wednesday, January 24, 2018