School of Integrated Sciences
Rafting Trip Shows a New Perspective of Waynesboro Community
---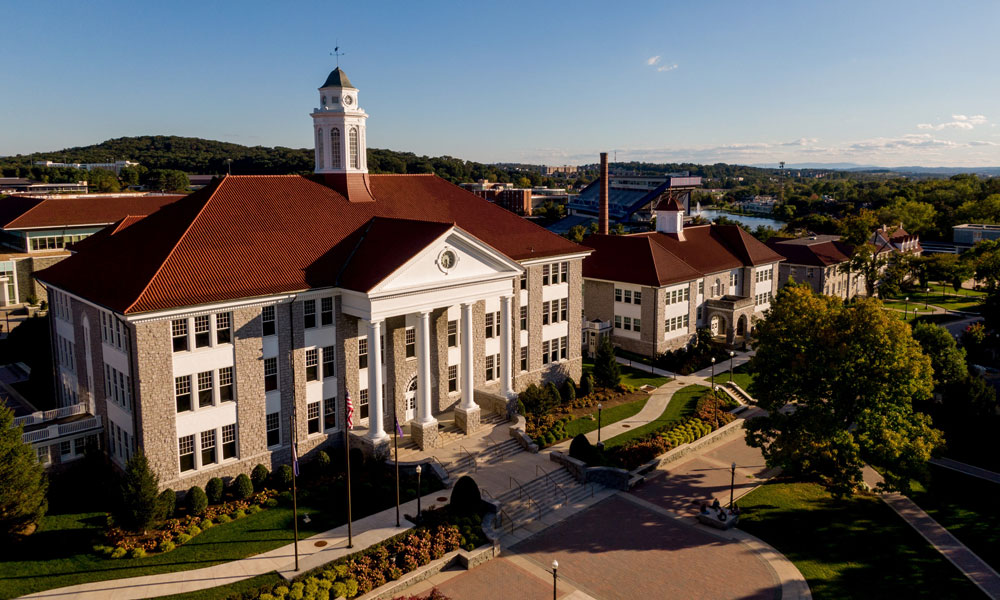 By: Julie Stern
Navigating the local waterways, Waynesboro High School students on April 13 experienced their community from a new perspective—the water.
James Madison University integrated science and technology professor Dr. Thomas Benzing led a rafting field trip for freshman earth science and ecology classes. The students rafted along the South River from Ridgeview Park to Constitution Park, visiting the site of the former Rife-Loth dam, the DuPont plant, and the recently developed South River Greenway and trout fishery.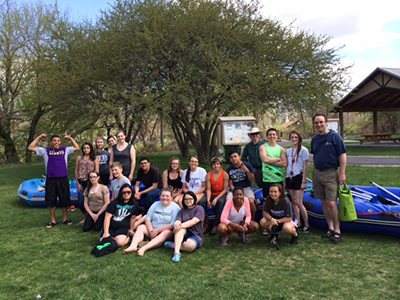 "The trip was really fun and we got to use what we learned in class and apply it on our field trip," said freshman Jessika Stover. "I learned about different rocks and about how the water in the river used to be way higher, and about how there used to be a dam there."
Dr. Benzing hosted the trip as part of the Professor-in-Residence program at the high school. The program seeks to promote the educational attainment and college aspirations of Virginia high school students, as well as provide JMU faculty with opportunities to share their educational experience, knowledge, and skills to high school students and teachers.
"As Professor-In-Residence at the school for the past four years, I bring my expertise in water resources research and management and have been working with the teachers and their students on understanding South River in their community," said Dr. Benzing. "The idea of the raft trip originated with me when I realized how close the school was to the river and, yet, how little the students were connected with it."
This is the first time the raft trip was offered. Through the trip, students learned the how the river shapes Waynesboro's past, present, and future.
"As we floated by houses, through a former dam site, and past industry, I think the students realized how all of those places are connected by the river," said Dr. Benzing. "I liked providing a different way to learn by doing."
Students agreed that rafting was a great way to learn about the South River. By exploring the waterways, they could better visualize the role that science plays in developing Waynesboro's community.
"With hands-on learning you actually get to touch and look at what you're learning about which makes learning more interesting," said Stover.
Each of the sites the group visited had social, economic, and ecological significance; for example, the century-old Rife-Loth dam was removed after negotiations among locals regarding the dam's effects on wildlife, tourism, and safety. This multifaceted experience allowed students to form connections between various school subjects.
"I have always been a kinetic learner and being able to witness these things hands-on appealed to me more than learning about it in science class," said freshman Thomas Ledford.
As the students discovered the history of the South River, they began to develop a fuller understanding of their community as a whole.
"I thought it was a great experience and opportunity to see the river from a whole different perspective," said Ledford. "The river is a beautiful place, and that makes me very fortunate to live in my community."
Published: Friday, May 1, 2015
Last Updated: Saturday, February 10, 2018