News
Pre-Med Student Interns at National Cancer Institute
---
By: Lori News
Posted: April 13, 2015
Have you ever wondered what it would be like to spend the summer working with nationally and internationally known doctors and researchers? Thanks to a stipend from the JMU Huber Endowment this became a reality for Ellie Jordan, a senior Pre-medicine, Economics Major and Biology Minor. Jordan completed a summer internship at the National Cancer Institute (NCI) working with Dr. Vance Berger, who is known for his research on biases and threats to the validity of medical studies, and especially clinical trials.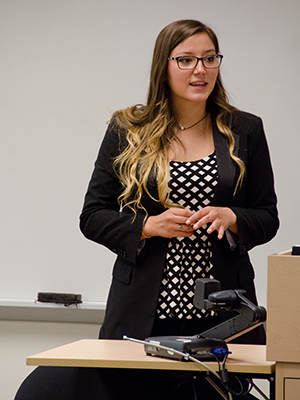 When asked what it was like to work with Dr. Berger, Jordan explained that it was an honor. "I was amazed by his level and depth of knowledge on all fronts, even outside of his specialty of clinical trials. He is one-of-a-kind and it is very humbling to work with him," she said.
Drs. Bill Grant, Rhonda Zingraff, and Sharon Babcock collaborated to identify Jordan for the competitive summer internship. Although the majority of students who successfully land internships with Dr. Berger are graduate students, Babcock, Jordan's pre-med advisor, still saw Jordan as "a student whose talents and interests made her exceptionally suited and competitive for a summer internship."
During the internship, Jordan was responsible for educating herself about clinical trial randomization, which is a method of experimental control used in human clinical trials and other biological experiments to prevent selection bias and insure against accidental bias. After she was familiar with the topic, Jordan was asked to analyze and integrate a large data set from simulated patient allocations into understandable results. She was also responsible for writing two working papers in the area of randomization and bias in clinical trials.
However, Jordan discovered how difficult it was beginning each paper. "I would review literature for hours in hopes of finding some legitimate evidence that would support my thesis. I probably wrote about 10 drafts of each paper, so it was also hard not to get frustrated." Though, she said, once she started writing it became easier. Jordan later presented this information to the Biometry Research Group at the National Cancer Institute.
Jordan explains that the most memorable part of the internship was having the opportunity to work with other interns from around the world. "One was from Brazil and studying pharmacy, and the other was from California and studying statistics. We all became very good friends and learned so much from each other and our respective areas of study," she said.
In addition to learning from her fellow interns, Jordan says she also learned a lot about how to conduct research, allowing her to enhance her professional writing and research skills. Because of her involvement with Dr. Berger's research and her own research development, she hopes to further contribute in changing the way clinical trials are run for the betterment of society.
"I also found it very valuable to be aware of bias in clinical trials not only because of my own health and exposure to medications, but also because of my ambition in entering the medical field," she explains.
Looking toward the future, Jordan has applied to a few medical schools; however, she said she is beginning to rethink her future path to gain more clinical experience. Currently, she is looking into working as a medical scribe or emergency room technician for a few years while taking additional classes. From there, her next step would be to possibly apply to either an accelerated nursing program or a physician assistant school.
Babcock believes Jordan's academic pursuits and decisions have allowed her to excel in the classroom under diverse disciplines. "She is a notable role model and mentor for her fellow Pre-Professional Health students," she said. "I value tremendously the impact of students who follow their academic passions and successfully navigate a college experience that reflects their interests and talents."
Jordan's advice to other students interested in pursing an internship is "to seek out internships that may seem intimidating because they are guaranteed to challenge you and teach you something/many things that will, no doubt, be valuable in your future career."
Published: Thursday, April 13, 2017
Last Updated: Wednesday, January 2, 2019