News
iTalks: student engagement in the community
---
Two JMU students will present how their experiences of engaging with people in the community through human service outreach changed the direction of their careers and lives.
The Institute for Innovation in Health & Human Services will hold its first iTalk from 4-5 p.m. Tuesday, March 28, in the Memorial Hall Auditorium. The interactive presentation will include live talk, videos and a Q & A.
The event will also feature "career fair" type displays and information about various programs housed at IIHHS. Refreshments will be served.
Anne Downing ('18, '19M), a special education major, will share her life-changing experience and work as a youth leader with the I'm Determined project of the Training & Technical Assistance Center. Allison Brandmark ('17), a psychology major, will talk about her work as a research assistant, student therapist and program coordinator at the Alvin V. Baird Attention and Learning Disabilities Center.
IIHHS engages students in career preparation by promoting scholarship, providing interprofessional learning experiences, and connecting the campus with communities through innovative programs that advance quality of life.
IIHHS is an active and vibrant Institute within the College of Health and Behavioral Studies at JMU.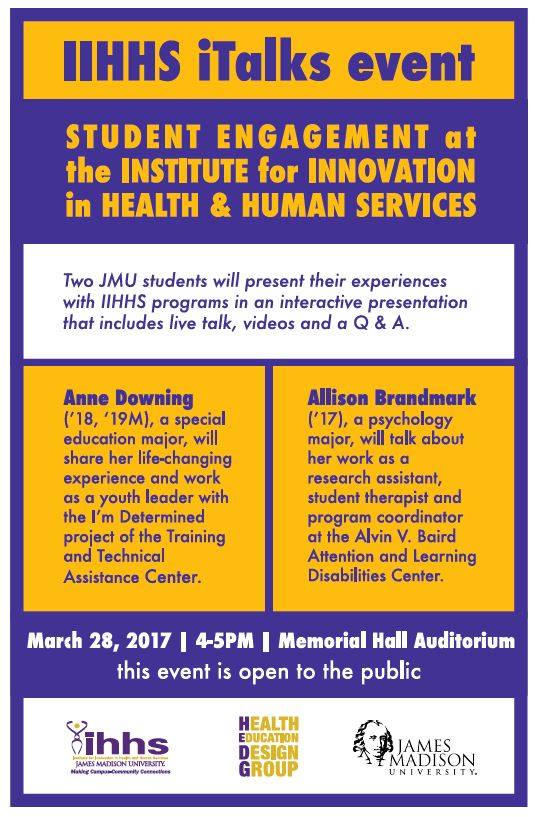 Published: Monday, July 3, 2017
Last Updated: Friday, July 7, 2017