You are in the main content
Dukes Step Up! returns to Orientation
By Molly Rossberg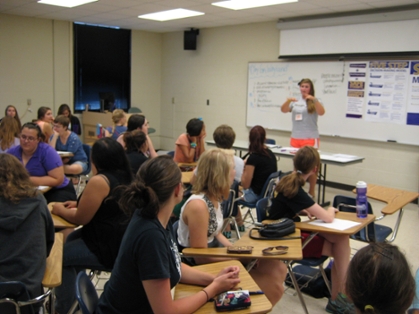 The Dukes Step Up! program is coming back to 1787 Orientation again this year. Though the program has been on campus in various forms since 2007, last year was the first time the program was tailored to fit into first-year orientation.
According to Tiffany Brutus, Director of Student-Athlete Affairs and the Committee Chair of the Dukes Step Up! Coalition, the overarching goal of the program is to empower students to step up and help a friend, a peer, or a classmate in a variety of different situations. "The overall emphasis [of the program] is to educate students in helping others through proactive methods," Brutus said in an email. "[By making this program part of 1787 Orientation, we want to] raise awareness of helping behaviors, increase motivation to help, develop skills and confidence when responding to problems or concerns, and ensure the safety and well-being of self and others."
During Orientation, small groups of first-year students, along with their FROGs, gather in classrooms with a student Dukes Step Up! facilitator to discuss how to accomplish the goals of the program. They practice skills by doing scenario work, small-group discussions, and other interactive activities.
Veronica Jones and Lesley Eicher, who are both health educators at the University Health Center, are responsible for recruiting and training facilitators, organizing the three-day training that facilitators attend in August, and helping facilitators out on the day of the program. Jones recognizes how the program benefits the student body as a whole. "The fact that it is peer-led makes it relatable and communicates what students expect from each other as part of this community, rather than an administrator stating what it means to be part of JMU," she said in an email.
If you are interested in being a student facilitator, there are still spots available. Contact Veronica Jones or Lesley Eicher for more information.