You are in the main content
Breast Cancer Awareness Month
By Maggie Roth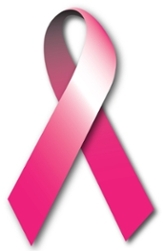 Although slogans such as "Save the ta-tas" or "I love boobies" are both catchy and silly, it is important to remember that breast cancer is a prevalent and serious health concern that directly and indirectly affects millions of people annually. According to the National Breast Cancer Foundation, "One in eight women will be diagnosed with breast cancer in their lifetime." Turning this statistic towards JMU would mean that out of almost 11,000 female students, about 1,375 of them would have breast cancer.
While these numbers may seem scary, those diagnosed with breast cancer now have a higher chance of survival than ever before. The American Cancer Society reported that "death rates from breast cancer in the U.S. have dropped 34 percent since 1990." This is due to the increase of education on early detection, rise of awareness, and advancement in research and technology. In order for those rates to keep decreasing, it is essential for everyone to join in the fight; and that is exactly what students at JMU are doing!
Student organizations, individuals, Greek life, and the University Health Center are actively participating in fundraising, spreading awareness, and partaking in service projects all in the name of cancer awareness and research, particularly breast cancer. Because October is National Breast Cancer Awareness Month, everyone's voices are louder than ever on the issue. 
Organizations such as Relay for Life and Colleges Against Cancer also work towards raising money and increasing awareness about cancer. JMU Relay for Life President Nicole Knudsen focuses much of her energy specifically on breast cancer because of the personal impact it has had on her life.
"I've had family and friends who meant he world to me that have been diagnosed," Knudsen said. "I fight every day for them so that we can find a cure."
While student organizations are making an impact, so are individual students here at JMU. Junior Alex Kris has found her own unique way to help the breast cancer community. For the past five years, Alex has hand-sewn heart pillows for breast cancer patients, which are given to them right after their surgeries.
"I make them and bring them when I go home with me to donate them to my mom's hospital's breast cancer center at Sibley Memorial Hospital in DC," Kris said.
Zeta Tau Alpha, one of the sororities here on campus, has a national philanthropy focused on breast cancer education and awareness. ZTA sponsored an Illumination Ceremony to kick off their philanthropy month. Along with their many events this month, they have also worked with the JMU athletic department to make the Oct. 12 football game "purple out for cancer awareness." ZTA's Race for the Ribbon 5K, which took place Oct. 5, had more than 600 participants and raised more than $10,000, surpassing its goal.  
"We couldn't have done it without the help of all our participants," said senior Hannah Foley, co-director of ZTA philanthropy. "We want to thank them for making this year's 5K a huge success."
The Health Center supports ZTA and is helping distribute pink nail files, satin ribbons, buttons, and free self-breast exam cards.
More JMU Breast Cancer Awareness Month events:
Illumination Ceremony - Oct. 1, 8pm, Festival lawn
5K Race - Oct. 5, 9am, Festival lawn
JMU Football Cancer Awareness Game - Oct. 12, 3:30, Bridgeforth Stadium
Breast Cancer Survivor Night - Oct. 23, 7pm, Festival Ballroom
Bake Sale - Oct. 27, 9-4, Kroger
T-shirt sales - M, T, TH, 12-2, Commons
Chocolate covered strawberries - Wednesdays, 12-2, Warren
For more information contact jmuzetataualpha@gmail.com