Hart School of Hospitality, Sport and Recreation Management
That's Racin'
---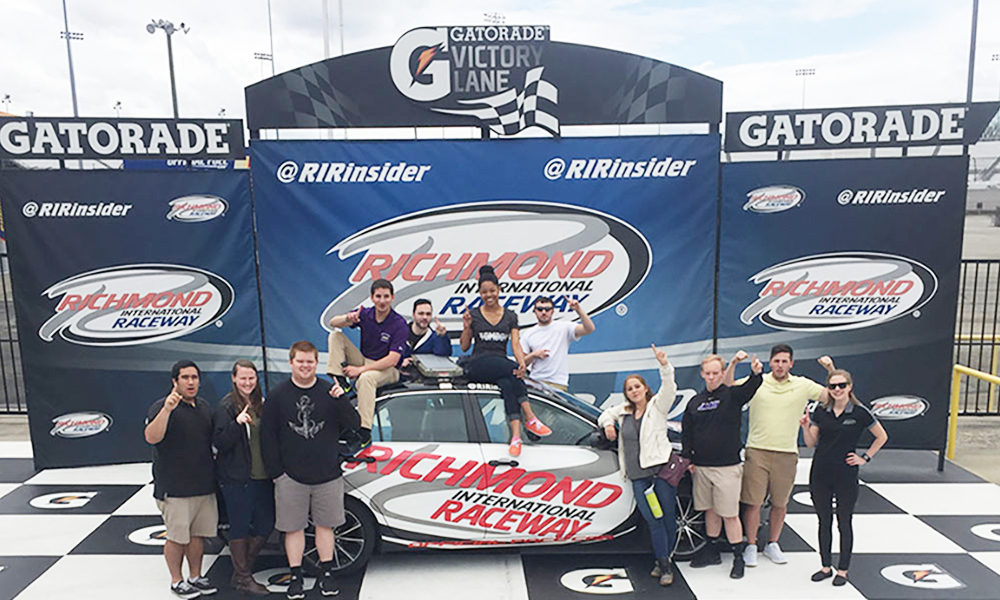 SUMMARY: The Hart School's strong bond with Richmond International Raceway resulted in an opportunity for sport and recreation management students to look behind the scenes at the speedway's operations.
---
A group of 10 sport and recreation management students recently had a chance to visit Richmond International Raceway (RIR) for a behind-the-scenes look at what it takes to organize two NASCAR races and other special events each year. Led by lecturer Tom Martin, the group visited the speedway on March 28 for his Facilities and Events course. 
The group was hosted by JMU graduate Emily Niedermaier '11, RIR's consumer marketing manager and a frequent guest speaker in Hart School classes. After a tour of the facility, including a few laps around the track in the pace car and a quick pit stop in Victory Lane, students had the opportunity to meet with Megan Hazzard, senior manager of event sales and service. She offered insight into the planning and execution of RIR's two NASCAR races each year--one in April and the other in September--and described the process of filling the facility for the remainder of the year. Niedermaier also talked about the marketing and sponsorship elements leading up to race days. 
"This trip was just the latest example of the strong relationship between the Hart School and Richmond International Raceway," Martin says.
Published: Friday, April 7, 2017
Last Updated: Friday, April 7, 2017