Hart School of Hospitality, Sport and Recreation Management
Themed Dinners Allow Students to Apply Concepts Learned in the Classroom
---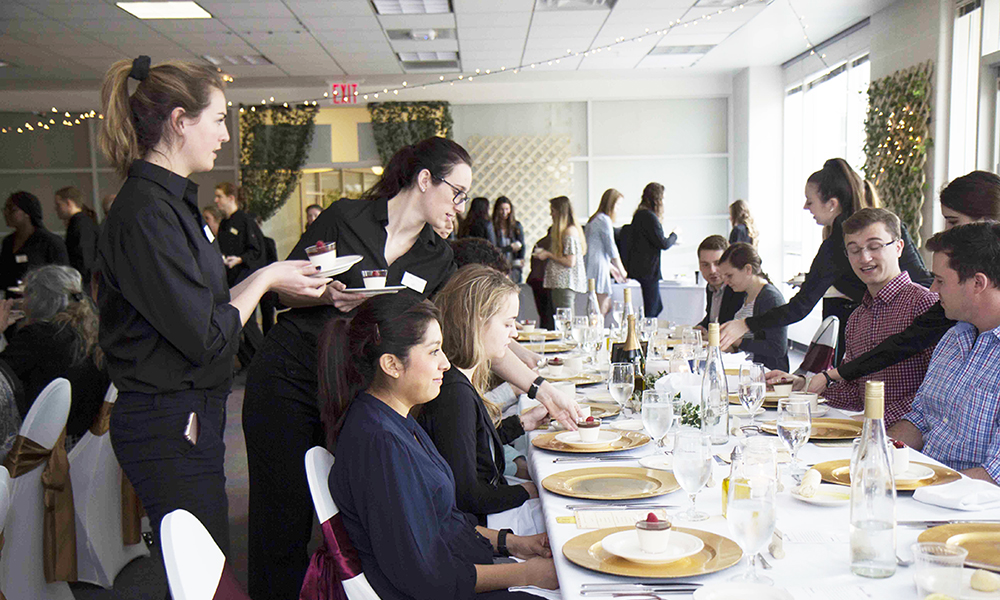 SUMMARY: Hospitality management students practice event management, from planning to execution, by hosting theme dinners.
---
Guests from the JMU campus and beyond were treated to themed dinners planned and executed by students in the Hart School's hospitality management program. Four teams of students hosted the events: A Taste of Tuscany, Dine Between the Vines, Chinese New Year and Super Bowl Sunday. More than 350 guests attended the events on Feb. 12 and 13. 
The students began planning the dinners during the fall semester, when they were enrolled in HM 317, Introduction to Event Management. Each team developed an event proposal that included everything from menu development, budget, décor and invitations to staff training, negotiating contracts, and marketing and promotion. They presented their proposals to a panel of faculty, industry professionals and Hart School Advisory Board members, who choose the four teams who would execute their plans as part of the spring semester course, HM 417 Advanced Event Management.  
"This hands on assignment enriches the students' knowledge of event management," says Theresa Lind, Faculty and PCMA Adviser for the Hart School of Hospitality, Sport and Recreation Management. "The activity helps them develop and hone their leadership skills, as well as learn more about exactly how they lead and manage."
Published: Tuesday, February 14, 2017
Last Updated: Tuesday, February 14, 2017