Hart School of Hospitality, Sport and Recreation Management
Ecolab visits HM 211
---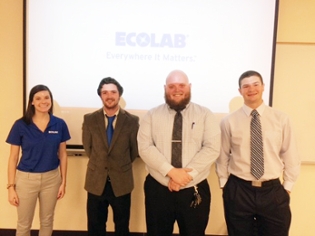 Ecolab College Recruiter, Jennifer Friedman and Territory Sales Manager Andrew Keys, along with HM Seniors, Josh Marshall and Jack Martin (future Ecolab Sales Managers) spoke to HM 211 about the opportunities Ecolab has to offer.
Ecolab is an international corporation, global leader in water, hygiene, and energy technologies and services; providing and protecting what is important: clean water, safe food, abundant energy and healthy environments. One of their biggest markets is in the hospitality industry. This company is a long time recruiter within our University and in particular among our HM program, also a typical participant at the JMU Career & Academic Planning Career Fair.
"During my experience working with Ecolab's Territory Sales Internship program, I was able to gain valuable knowledge and experience in all different aspects of the hospitality industry. It provided me with networking opportunities with Owners, General Managers, and Executives ranging from small time restaurants and hotels, to prominent brands such as PF Chang's, Marriott, and Hyatt to name a few. I was most impressed with the company culture Ecolab; they really care for and look after every stakeholder in their organization. After completing my internship, I was honored to be offered a full time position as a Territory Sales Manager with Ecolab upon my graduation in May 2016. The opportunities and benefits provided by Ecolab to JMU Hospitality students are endless, and I would strongly recommend them to anyone." - Josh Marshall.
Jack Martin was offered a job after his 2015 summer internship and accepted their job offer and will begin employment upon graduation.
Congratulations to all of them! Thank you Ecolab for your patronage and keep counting on our graduates!
Published: Wednesday, October 14, 2015
Last Updated: Saturday, February 10, 2018