News
JMU Wins HACK Competition
---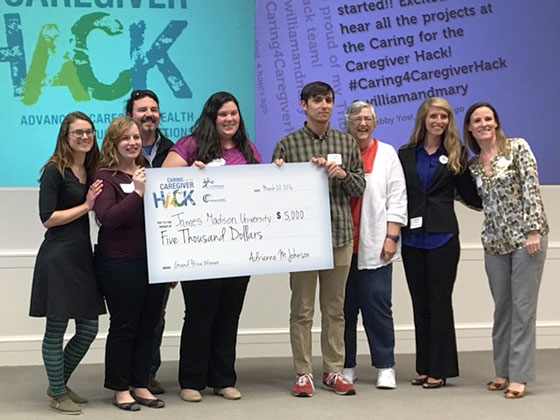 On March 19th and 20th, students from JMU joined six other Virginia-based schools to participate in the 2nd Annual Hack competition in downtown Richmond. Under the direction of a faculty coach, these multi-disciplinary teams of 5-6 students were challenged to spend just 25 1/2 hours developing a technology to advance the health and improve the lives of family caregivers.
The team representing James Madison University, included two Occupational Therapy graduate students, Christie Briskey and Kiley Petencin, won the competition's $5,000 Grand Prize, for "My Time", an app to encourage and remind family caregivers to make and take time for leisure during the midst of the caregiver's busy day. Additionally, the technology incorporates a transitional aide to assist the caregiver with grief if their loved one passes. 
The Hackathon challenge gave students an opportunity to create an innovative solution for a real world problem. With over 65 million family caregivers in the U.S. providing an average of 20-41 hours per week of care to their loved one, according to a National Alliance for Caregiving Study, finding ways to positively impact caregiver health is a growing opportunity to make a difference. "Family caregiving is truly the backbone of long-term care… making creation of tech solutions even more important to allow fewer caregivers to do more and to help care from a distance," said Dr. Richard W. Lindsay, co-founder and namesake of the Lindsay Institute. Adrienne M. Johnson, executive director of SeniorNavigator explained, "While caring for a loved one can be gratifying, they are likely to be juggling caregiving along with jobs, children, and a host of other responsibilities." The result of this juggling act is pervasive stress and a resulting downward spiral of health problems for many caregivers.
JMU's team of students made a significant contribution to helping caregivers achieve greater balance and ensure they are taking care of themselves and their loved one. The esteemed panel of judges selected the grand prize, second place, and third place winners based on the technology's originality, usability, feasibility, and how developed it was at the time of the presentation.
Published: Friday, April 1, 2016
Last Updated: Wednesday, October 25, 2017