News
Geology Students Honored with Awards & Scholarships
---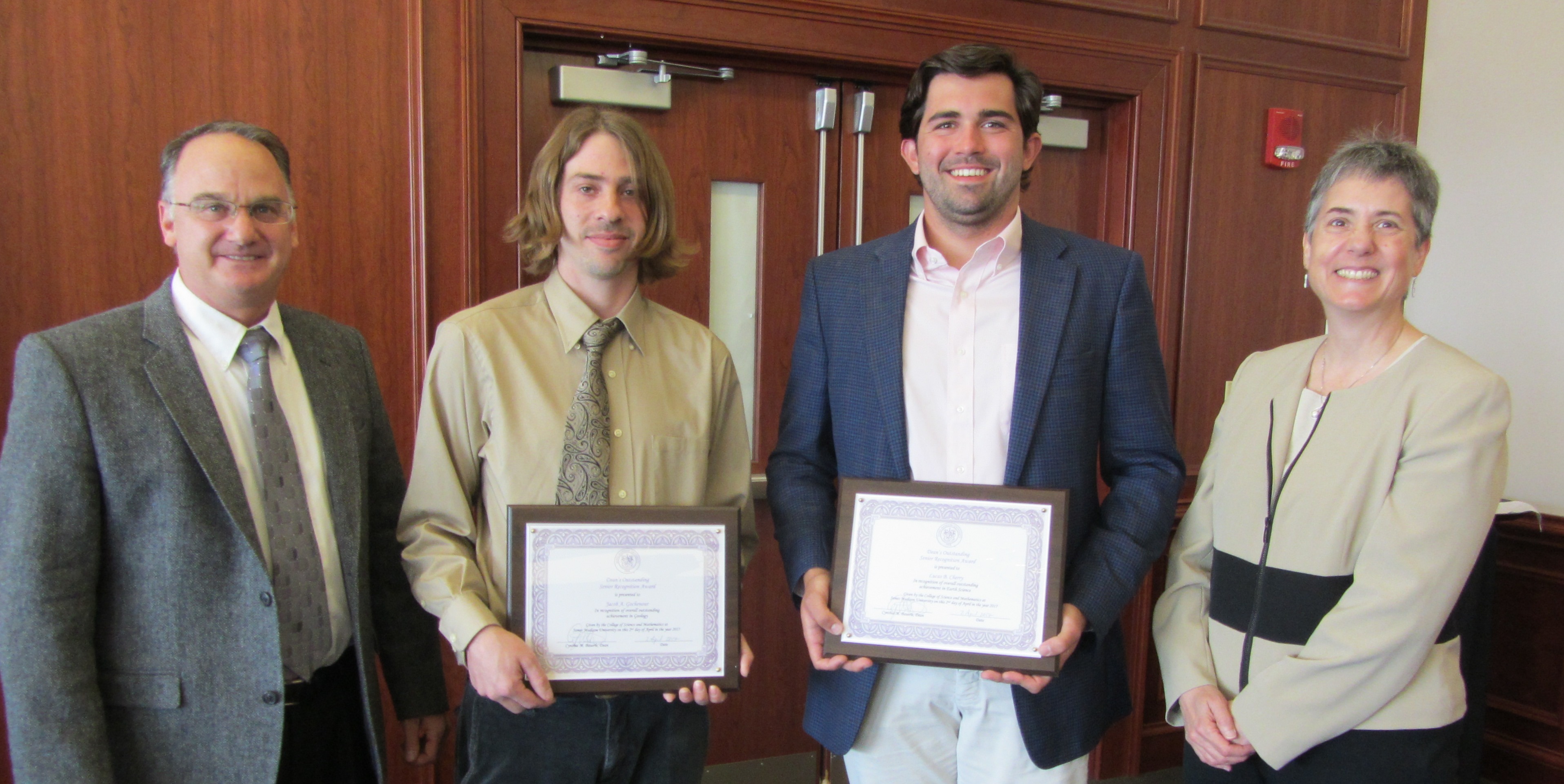 Geology students Jacob Gochenour and Lucas Cherry receive Dean's Recognition Awards from Dean Cynthia Bauerle and Geology Department Head Steve Leslie.
---
The JMU Department of Geology and Environmental Science held its annual Honors Night banquet in the Montpelier Room on April 2, 2017.  Sixteen Geology students, accompanied by friends and family, were honored with scholarships and achievement awards.  
Department Head Steve Leslie served as Master of Ceremonies.  College of Science and Mathematics Dean Cynthia Bauerle attended and presented the Dean's Recognition Award to outstanding Geology students in Geology and Earth Science.  
Visit the Awards and Scholarships page of the Department website for more information.  The Department is very proud of its 2017 award winners:
Catherine King-Frazier Scholarship:  Lindsey Monito
W.T. Harnsberger Scholarship:  Joshua Benton
MacDonald Doherty Scholarship:  Michael Stone, Michelle Proulx
Cullen Sherwood Scholarship:  Sarah Anderson, Joshua Benton
Roddy Amenta Scholarship:  Gregory Gosselin
William Frangos Scholarship:  Michelle Proulx
Most Promising Earth Science Teacher:  Aaron Grabinski
Philip R. Cosminsky Award:  Sarah Anderson
F. Howard Campbell Outstanding Senior Award:  Lucas Cherry
W. Cullen Sherwood Outstanding Senior Award:  Jacob Gochenour, Ben Suranovic 
Dean's Recognition Award (Geology):  Jacob Gochenour
Dean's Recognition Award (Earth Science):  Lucas Cherry
W.A. Tarr Award:  Michael Stone
John & Katherine Spade Field Camp Scholarship:  Morgan Wallace, Ben Suranovic, Whittney Spivey, Miljan Ruzic, Adam Nordling, Nathan Long, Matthew Gribbin, Gregory Gosselin, Jacob Gochenour, Allyson Boggess
---

2017 Honors Night awardees
Published: Thursday, April 6, 2017
Last Updated: Friday, July 21, 2017