News
Geology Students Go to Vegas!
---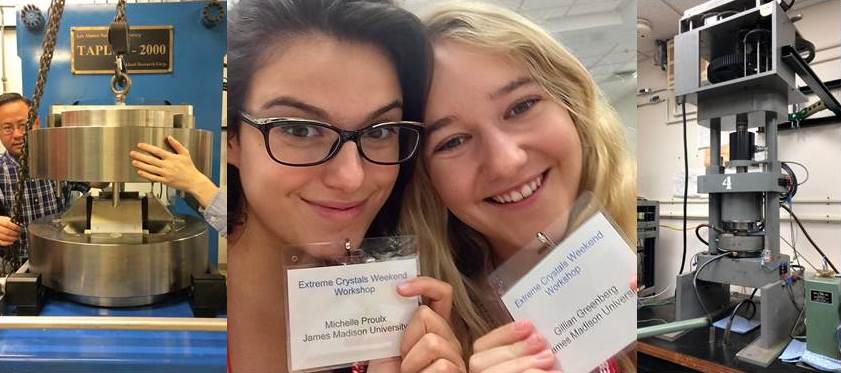 Geology students Michelle Proulx and Gillian Greenberg were awarded scholarships to attend the Extreme Crystals Weekend Workshop in Las Vegas on October 7-9, 2016.  The event was hosted by the High Pressure Science and Engineering Center at University of Nevada, Las Vegas, and was targeted at undergraduates interested in the physics and chemistry of solids at high pressure. 
As part of their all-expenses-paid trip, Proulx and Greenberg attended lectures on dense matter and crystallography and participated in hands-on experiments with cutting edge research tools.  The experiment topics included single-crystal diffraction with an x-ray diffractometer, deformation with a high-velocity pressure gun, using diamond with a multi-anvil cell, and superconductivity. 
Proulx said that she and Greenberg "explored fields of science not previously discussed in detail in our studies, and opened us up to the opportunities the high pressure science field has to offer."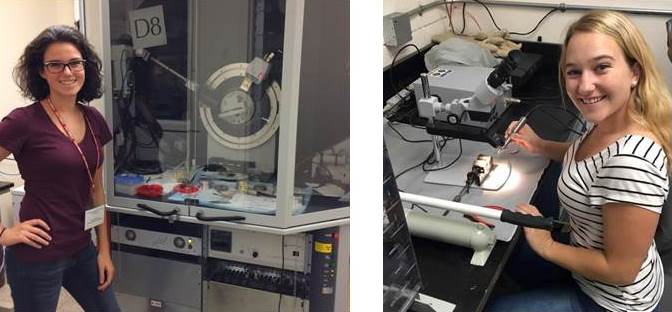 Michelle Proulx next to a single crystal x-ray diffractometer.          Gillian Greenberg uses a microscopic welder.
Published: Monday, November 14, 2016
Last Updated: Friday, July 21, 2017