News
Landscape's Mike Hott Helps Ensure the "Well-Beeing" of the Environment
---
The concept of sustainability for JMU FM bridges the notions of society, economy, and environment as dynamically inter-related issues deserving of attention. One person who exemplifies this notion of sustainability is JMU FM's very own Mike Hott in Landscape. In addition to his great work at the Edith J. Carrier Arboretum, Hott is also the owner of Hott Apiary and has been working with bees for over three decades.
Given the significant role bees play in our environment, Hott's business venture serves as a critical link in the food chain by supporting the health and size of the local bee population, which in the long run is essential to our survival. It is esti-mated that bees are responsible for pollinating about one-sixth of the flowering plant species worldwide, including about 400 different agricultural types of plants. In other words, bees pollinate one-third of everything we eat!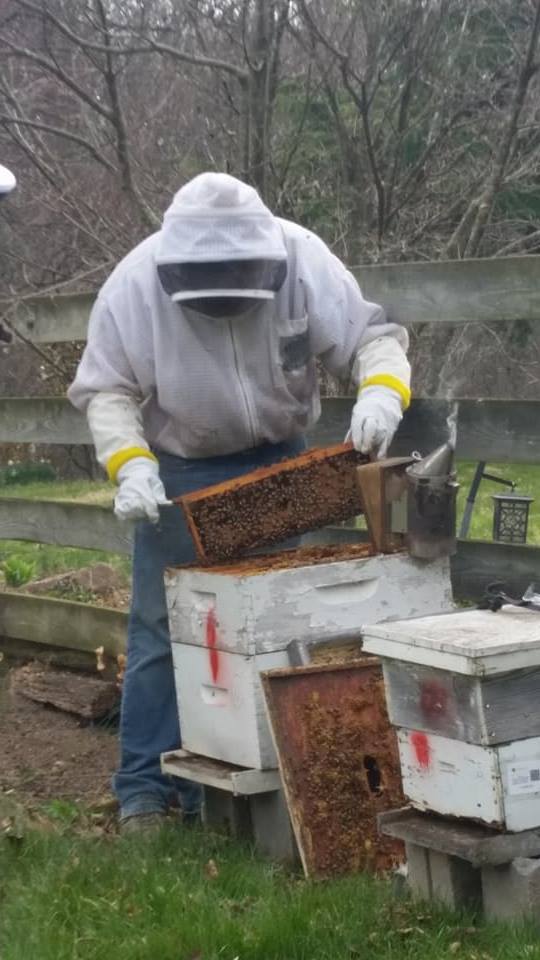 Bees also pollinate many other plants we do not eat but rely on for our survival such as crops for livestock and cotton plants. It has been estimated that the monetary value of annual global crop pollination by bees to be worth almost two billion dollars. 
Monetary value aside, the "well-beeing" of these creatures is also of tremendous importance to the natural world around us. The recent trend of "colony collapse disorder" has wiped out about one-third of all honeybee colonies in the United States since it first hit nearly a decade ago. It has been estimated that as many as 40% of colonies will continue to die each year as a result of this phenomenon. In light of these problematic trends, the work of Hott and fellow apiarists (beekeepers) is significant in combatting this issue and preserving the environment.
Beyond selling a range of honey-based natural remedies and beauty products, Hott Apiary also offers bee swarm removal and pollination services to the local community. You can even visit the Hott Apiary Farm Store in McGaheysville to purchase products or learn more about beekeeping and honey harvesting.
If you missed Hott Apiary's first annual Honey Bee Festival earlier this May, be sure to make plans to attend next year. This well-attended event is a great way to learn more about honey bees and their contributions to the world we live in while enjoying great food and entertain-ment at the same time.
Thanks Mike for doing your part in promoting sustainability and helping the environment!
Published: Tuesday, June 6, 2017
Last Updated: Friday, April 20, 2018