News
JMU professor reflects on experiences in the Galápagos Islands
---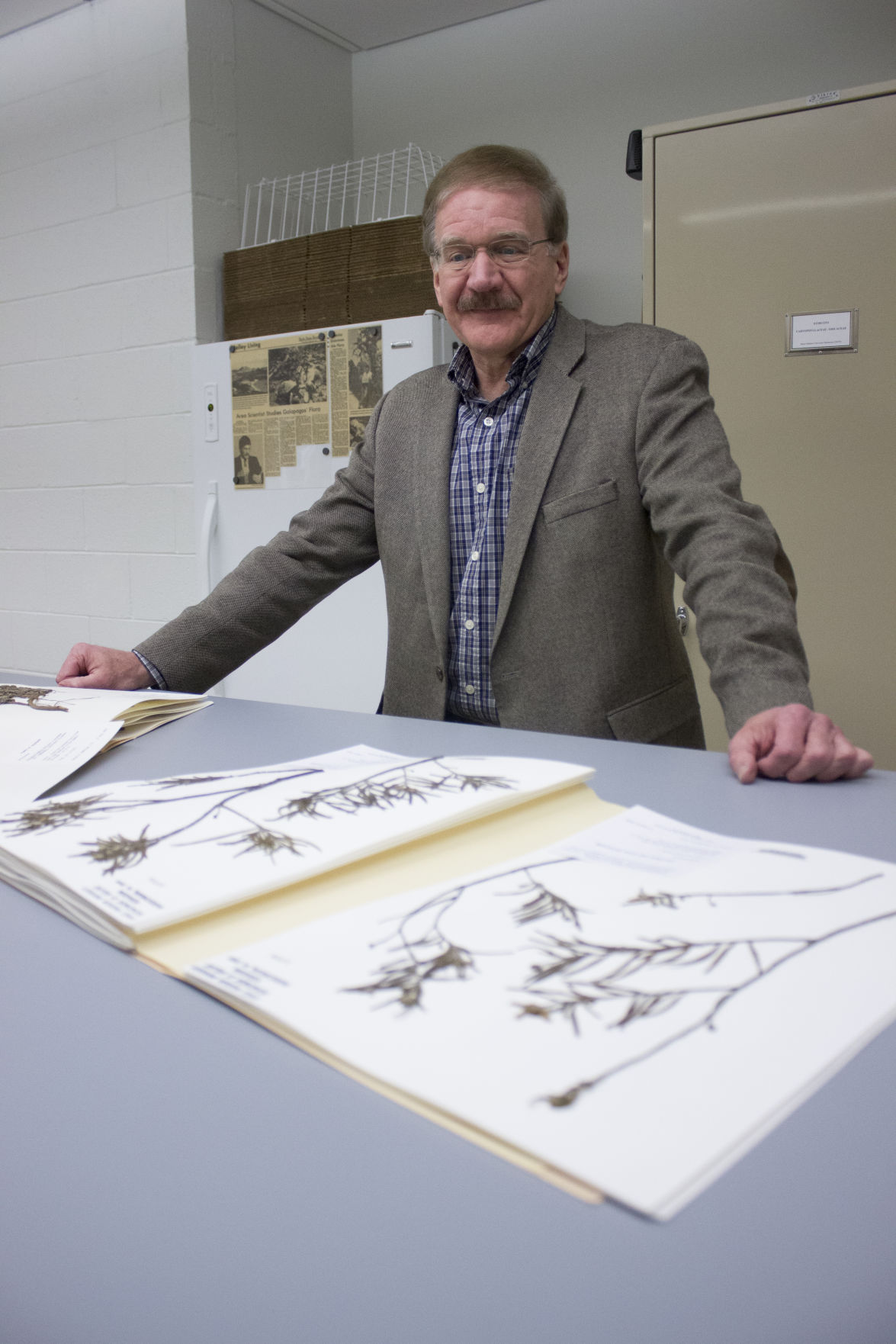 Conley K. McMullen steps into a high ceiling lab located in the bioscience building and points to a prickly-pear cactus that came all the way from the remote Galápagos Islands. What was once only an inch tall when he got it in 1984, now towers over him at almost 10 feet. 
"It's amazing what time will do to plants from the Galápagos," McMullen, a JMU biology professor, said. "But the Galápagos is far more than just cacti."
According to him, there are many problems The Galápagos Archipelago faces.
With the islands only 600 miles west of Ecuador, most of the profits made from tourism go straight to Ecuador's economy, leaving the Galápagos struggling to maintain its unique character. The 13 major islands and seven smaller islands are all volcanic, straddling both sides of the equator.
When McMullen first began going to the Galápagos in 1983, the population was much smaller. According to McMullen, there used to be around 5,000 residents and 12,000 tourists.  
"Now there are around 30,000 residents and there are about 200,000 tourists visiting," McMullen said.
As the population of residents rises to meet the demands of growing tourism, more and more invasive species appear each year. This poses a threat to the existence of native species. Blackberries, for example, have proliferated, leaving no room for indigenous species.
McMullen is a governing member of the Charles Darwin Foundation, which strives to conserve Galápagos Archipelago biodiversity and promote ecological awareness. 
"Some question why this matters but don't realize that most species found on the islands are the only one of its kind in the entire world," McMullen said. "So once they are gone, they're gone for good. And with most of the revenue coming from tourism, if these species disappear, there is no reason for people to come to the islands."
He added that the foundation struggles with conservation because most of the time they are on a "shoestring budget."
Dennis Geist, who is currently the president of the Charles Darwin Foundation in Washington, D.C., spoke about the importance of conservation as well. 
"The Galápagos are important historically, having had such an impact on Darwin," Geist said in an email. "And they serve as a natural laboratory for evolutionary studies today." 
Every day researchers examine the flora and fauna of the Galápagos and note any changes they see within the landscape, hoping to prevent extinction of certain species.
Some of these exotic creatures include the giant Galápagos tortoises, which can weigh over 900 pounds and can live to be over 100 years old. Along with them, would be marine iguanas which can dive over 9 meters into the water.
In the early 2000s, goats were the biggest threat to indigenous species of the Galápagos.
"They would send me off to my little island with a rifle and say, 'If you see any goats, you [have to] shoot them,'" McMullen said. "It was quite the eye-opening experience."
Luckily, McMullen never encountered any.
He explained that around 200,000 goats were eradicated at the time due to the competition of food between them and the giant tortoises.
"It was a complete burial ground of all bones," McMullen said.
At times, he explained that he and his team watched the plants for up to 72 hours straight to see if any insects would come.
"Those were two rough summers with just us on the island," McMullen said. "Oh man, we played a lot of cards. This kind of thing, just watching plants and checking off boxes, is not for everybody. But I personally loved the opportunity. Imagine having an entire island to yourself."
His fascination with botany all began back when he was an undergrad at Eastern Mennonite University, which was then called Eastern Mennonite College. He had to create a floristic, or catalog, of all of the plants of Rockingham County for a school project.
According to McMullen, at the time he stated that there were 1,095 species of vascular plants in the county. Later he then went to graduate school at JMU, continuing to explore his passion for conservation research. When the opportunity arose to travel to the Galápagos to do research with his predecessor, Norlyn Bodkin, everything seemed to click.
"He really inspired me to want to continue botany research," McMullen said. 
Twenty-five trips to the Galápagos later, McMullen is happy to now teach two courses this year on his favorite subjects, field botany and biodiversity.
One student, senior biology major, Sara Schoen, is currently enrolled in his Galápagos and Ecuador course, and opened up about how her perspective of the islands has changed. 
"I've become more open minded," Schoen said. "Before I knew that they were just a group of islands. Now I can see why it's so imperative to conserve the islands, all thanks to Professor McMullen."
She explained that McMullen conveys his passions for the islands through videos, pictures of his travels and storytelling. 
"He once joked saying the locals should call a nearby, unnamed body of water, 'McMullen Bay' for all of his efforts of research on the island," Schoen said. "He is always very lighthearted and enthusiastic. It makes us want to learn." 
As McMullen walks through a laboratory that he teaches classes in, he pulls out an old photo of him in the Galápagos. He smiles as he reflects on all of his adventures and achievements.  
"It sounds cliché but they always said you'll never work a day in your life doing something you love," McMullen said. "They were right."
Contact Nastacia Nickolaou at nickolnt@dukes.jmu.edu.
Published: Thursday, March 2, 2017
Last Updated: Friday, June 9, 2017