News
Duke squared: Mathematics professor discusses her time teaching at JMU
---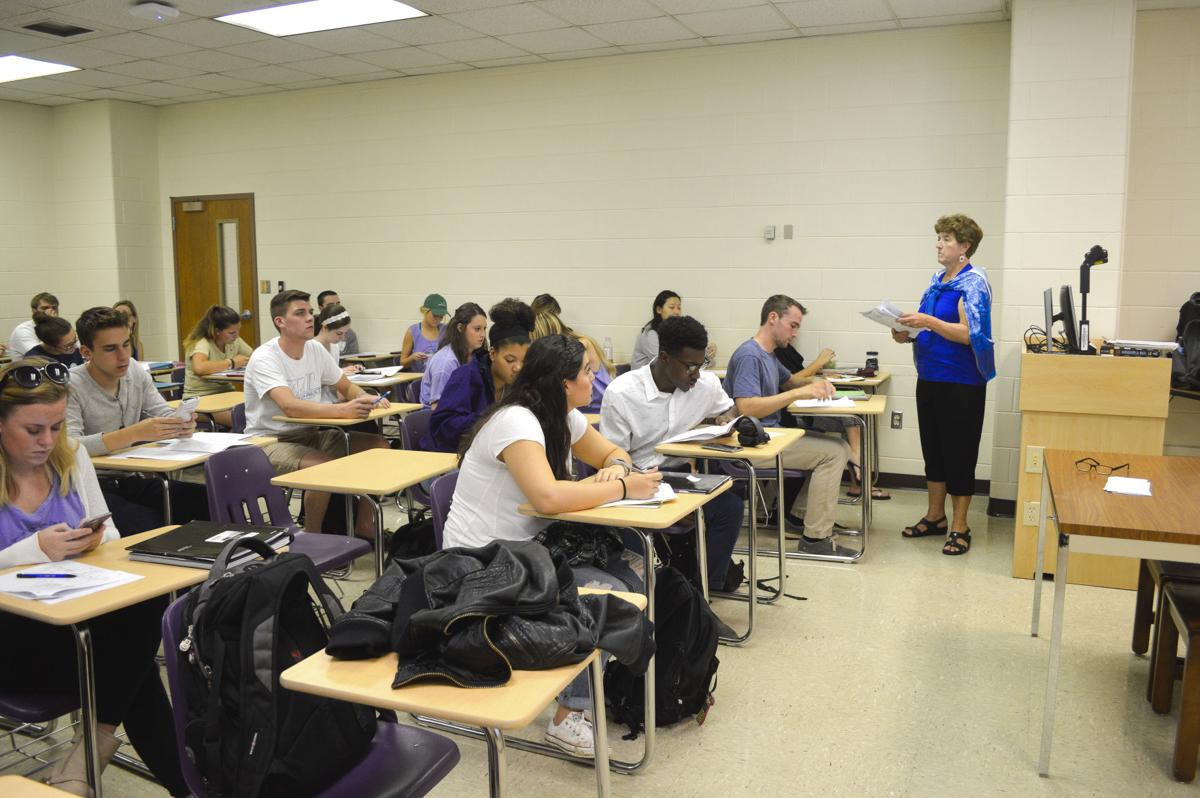 Mathematics professor Charlotte A. Saufley is a Duke Dog at heart. Originally from Elkton, Virginia, Saufley received her bachelor's degree in math education from JMU in 1975, which was called Madison College at the time. She then earned her master's in mathematics at JMU in 1978, and became a professor here in 2008. Saufley plans to continue teaching for as long as she can. 
When did you know you wanted to teach mathematics?
When I was in high school I knew I wanted to teach something. My aunt was a librarian so I thought that's what I wanted to do as well. Plus, I loved to read. But I ended up having a phenomenal math teacher. And it wasn't too difficult for me. Math was always much easier for me than writing papers, so it made sense. 
How long have you been teaching?
I started teaching in 1975 here at Madison College [which switched] to JMU during that time. So [in] 1975 I was working on my master's degree while I was a teaching assistant. So I was teaching a class very similar to the class I'm teaching today. After that I went into public schools. I retired from public schools in 2008, teaching high school mathematics for 30 years.
How have you remained positive and lighthearted throughout your 41 years of teaching?
I love what I do and I love who I get to work with and meet. I always tell students at the end of the year how much I have enjoyed having them in class. I always tell them, 'No matter where you go or whatever you do, I hope you find a career that you're passionate about. That you're not doing something that is a job because it's a job. That it's a passion and a calling, not a paycheck.' And I mean not everyone is able to make those choices. I was lucky that I got to do something I was passionate about.
How has teaching impacted your life?
It's an interchange of lives being impacted. As students are impacted, I am as well. It has given me a very rewarding and satisfying career through being able to connect with students and other professionals.
Some would say math can be a bit intimidating. Do you have any advice you would give to JMU students who may feel overwhelmed by mathematics?
I would say almost all professors are approachable. Now, that's just been my experience so I can only talk from my perspective, but I do also think we have a tremendous resource at the Student Success Center, at the Science and Math Learning Center. And here is the other thing: Reach out to somebody in your class. If you're not getting it from me, maybe reaching out to another person who does understand can work as a good resource to learn that way as well. I always encourage getting connected with other students.
What do you think makes James Madison unique from other institutions and universities?
If you need it, there's a wealth of support coming from JMU students and faculty. I have found JMU students being most respectful and pleasant. I've found in all areas and all disciplines, the atmosphere is overall great to work in. There's just tremendous support from the staff here at this university. In terms of things students are interested in, they give support in so many things and make it easy to get involved. There's just so much opportunity for individual growth.
Contact Nastacia Nickolaou at nickolnt@dukes.jmu.edu.
Published: Thursday, October 20, 2016
Last Updated: Tuesday, October 24, 2017