News
JMU's Master of Science in Biology Program Engaging in Discovery Research
---
JMU's Master of Science in biology program has kept pace with rapid developments in the discipline over its 45-year history, and continues to provide students with excellent opportunities for advanced training today.  The two year program integrates advanced coursework and teaching with faculty-directed research in a wide variety of areas.  This combined experience engages students as full participants in the biology community at JMU, and prepares them to pursue their own careers in the life sciences.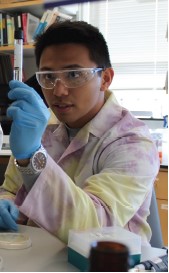 Next generation research advances disease tracking
Kevin Libuit completed his degree in Spring 2016 and leveraged his genomics research into a position in disease tracking as Senior Informatics Scientist at the Division of Consolidated Laboratory Sciences (DCLS) in Richmond, VA. Libuit's collaboration with the Center for Genome and Metagenome Studies (CGEMS) faculty and his summer work with Dr. Stephen Turner, Director of the Bioinformatics Core at the University of Virginia, prepared him for this position. Libuit is developing a software necessary to analyze next-generation DNA sequencing data for tracking epidemics.  This application of cutting edge sequencing technologies will increase the speed and specificity of identifying pathogens in tracking epidemics.
Giving back while pushing forward
Returning professional Thom Teears, Superintendent for the Montebello Fish Culture Station, forged a new collaboration between the Department of Game and Inland Fisheries and the graduate program in biology at JMU. 
Teears entered the M.S. program in 2014 as a part-time student, using his work experience to identify critical knowledge gaps in the science and practice of aquaculture.  His research led to a new understanding of the role of water chemistry in early life stage development of brook trout and the potential for local groundwater springs to produce sustainable populations in the wild.  Thom continues to be an extraordinary peer and mentor, involving JMU undergraduates in research and providing them valuable hands-on training in applied science.  In addition to nearly a decade of professional work experience, Teears is a proud father and served six years of honorable military service in the U.S. Navy.    
Published: Thursday, October 13, 2016
Last Updated: Tuesday, October 24, 2017