News
CS Department Connects Students to Leading Tech Employers
---
By: Dina Manco
In November 2014, the Computer Science (CS) Department began the Industrial Partners Program (IPP), an initiative to connect students with employers for internships and job opportunities. Participating companies make an annual donation that supports student and faculty research as well as allow the companies to hold tech talks and information sessions on the JMU campus. The program also hosts a CS job fair in the fall and spring exclusively for the partners to recruit students to the major.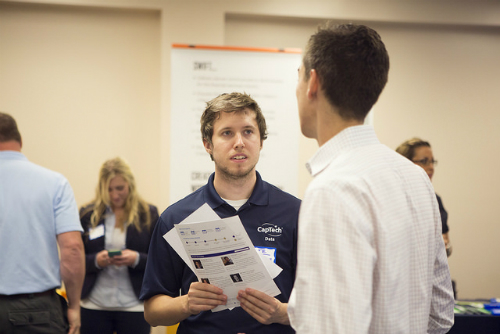 CS Department Head Sharon Simmons adds, "Our intention is not to have a large partners program. I think right now we have 11 members…So our goal is not to be big, but keep a close connection with industry as well as to our students." A few partners invested in the program include Accenture, CapTech Consulting, Deloitte Touche Tohmatsu Ltd, and Excelacom Inc. Required donations for companies to join IPP are based on their size and range from $1,500 to $3,000.
JMU CS students are competitive candidates for employment due to their training in computer programming and advanced technical skills. Excelacom Talent Acquisition Consultant Alexis Dalton says, "[Excelacom is] an IT Management Consulting firm, and our goal is to hire computer science majors who will ultimately provide technological knowledge to improve our client's business process. The students have a solid understanding of SDLC, C++, C#, Java, and SQL.  These are technical skill sets that we look for in our technical analysts."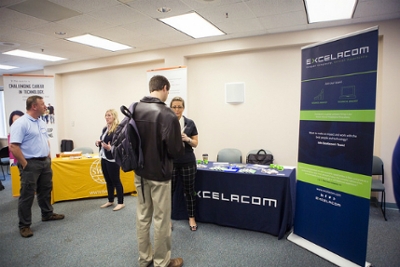 Excelacom has hired several students as a result of IPP. Dalton remarks, "The faculty and staff have cultivated relationships with employers and are able to reach us directly.  This benefits the students in regards to curriculum and career opportunities.  It not only equips them with the knowledge to be competitive in the job market but also gives them an inside connection at some of the leading tech firms."
Any student that has declared computer science as their major is eligible to attend IPP events. The IPP program has received positive feedback from the participating companies and related events are well attended by the CS student body. Simmons hopes for the program to continue its success by expanding post-graduate opportunities for JMU students.
Published: Wednesday, January 6, 2016
Last Updated: Monday, May 2, 2016