Management
JMU Student Team in National Wind Energy Competition
---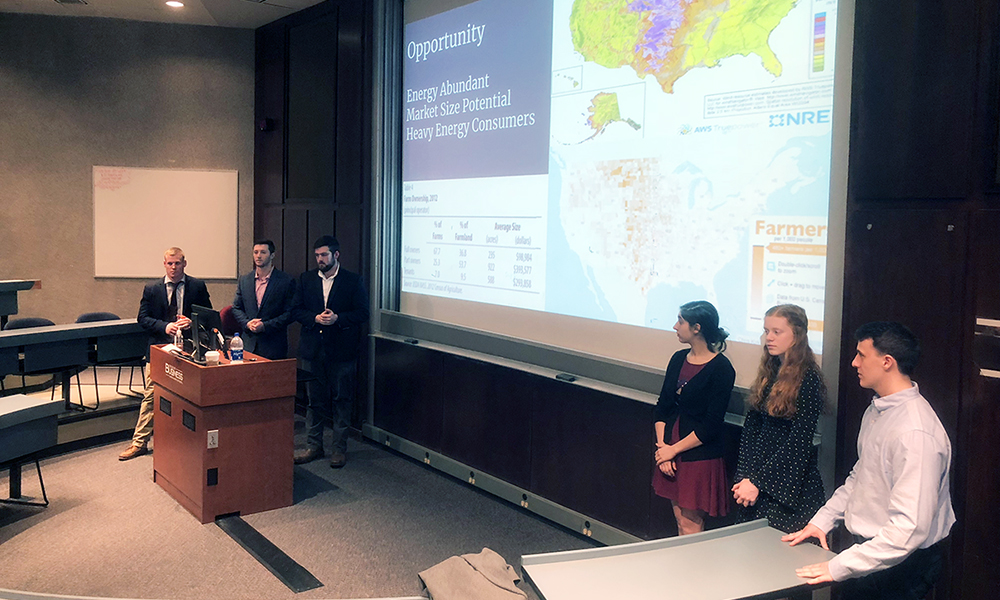 SUMMARY: Multi-disciplinary team heads to Chicago in May to participate in the U.S. Department of Energy-sponsored Collegiate Wind Competition.
---
Thirty motivated students from ISAT, Engineering, and the College of Business have combined their skills to plan and execute a wind-oriented energy project and bring it to the third biennial Collegiate Wind Competition. JMU ISAT and Engineering participated in the first competition in 2014, but this year they are taking a more comprehensive approach by adding student and faculty expertise from the College of Business, as an important component of the competition is focused on market potential and includes a business plan. 
The two-semester process began in the Fall of 2017, where the students gathered in ISAT/ENG 480 to study sustainable energy and develop several ideas for the wind energy project. In the spring of 2018, they worked in MGT 472 to narrow down their six ideas into the one deemed the most viable from both an engineering and a marketing point of view. From there, they developed and polished a strong business plan and began work on the smaller scale-model prototype. 
Several faculty are involved, but Dr. C.K. Lee (CoB), Dr. Jonathon Miles (ISAT) and Dr. Keith Holland (ENG) are heading up the initiative. Dr. Lee, in his first year as a professor at JMU, is impressed with the students' enthusiasm for the project. "I am very proud of our students who are going to represent JMU at Chicago this May," he says, remarking about their "endless passion and hard work on the project." 
Lee continues, "The knowledge and skills we have at the CoB can add value to this project. ISAT and Engineering students can learn how to write a business plan, and Management students can also learn about technology. The wind industry is growing, and participating in this competition gives them a great opportunity to get experience and engage with people who make wind energy."
Published: Monday, February 26, 2018
Last Updated: Tuesday, December 4, 2018