College of Business
JMU Lecturer Talks Virginia Wine on WVPT's "Un-Wine'd"
---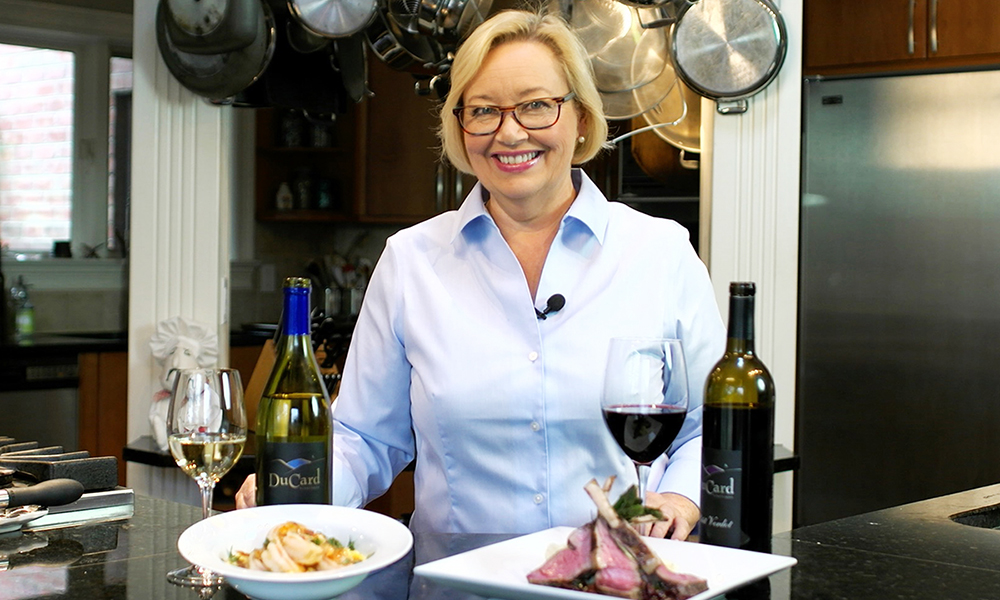 SUMMARY: Hospitality Management lecturer Tassie Pippert goes beyond the classroom to share her knowledge of wine and food with the community on WVPT's "Un-wine'd."
---
There has never been a better time to pour a glass of Virginia wine, according to Tassie Pippert, JMU Hart School lecturer and teacher of classes such as HM 419: Napa and Sonoma Wines and Cultures, and HM 498: Special Studies--International Gastronomy. "Virginia wine is really starting to take off. Wines are getting better and better, and they are competing against a lot of the wines from the historical areas, California, Washington State, and Oregon." 
The show, which is sponsored by the Virginia Wine Council, allows Pippert to bring her CSW (Certified Specialist of Wine) and her CC (Certified Culinarian) training and combine them with her 20 years of TV broadcasting experience into a wine and cooking program that, according to Pippert, "is watchable and easy to accomplish at home." In each of the 13 monthly episodes she visits a Virginia winery and discusses an aspect of viticulture or winemaking. She then takes two of the winery's offerings into her studio kitchen and prepares a dish to accompany each bottle. 
Her goal is to "stimulate the business economy of the state within the wine industry. Get people to understand wine a bit more, get them to travel outside their area a bit more, and to debunk the myths about pairing food with wine." It is important for her to not only share her knowledge, but to make it accessible, in a way that's "not obtrusive, not highbrow, just—let's make it some fun." So far this season she has visited Bluestone, Veritas, King Family, DuCard, Barren Ridge, Chrysalis and Barrel Oak, with another half-dozen wineries planned for spring and summer. 
Pippert has been involved with WVPT since she began volunteering there in 1975, and has done two other shows, including the long-running "WVPT Cooks". Her connection to JMU is also noteworthy—she is a Double-Duke, with two of her five degrees earned here (a B.I.S. in Hospitality Leadership and an M.Ed. in Educational Technology). For her, the classroom and the TV screen aren't that different. "If you know something, and it's sharable, you should share it, and you share it in an easy way that's not stuffy." 
"Un-wine'd" on WVPT:
https://www.wvpt.net/schedules/local-shows/unwined
Also on Youtube:
https://www.youtube.com/watch?v=4xFewlf2WtU
Published: Monday, February 26, 2018
Last Updated: Tuesday, December 4, 2018