Marketing
Digital Marketing Students Meet Working Alumni on the Job
---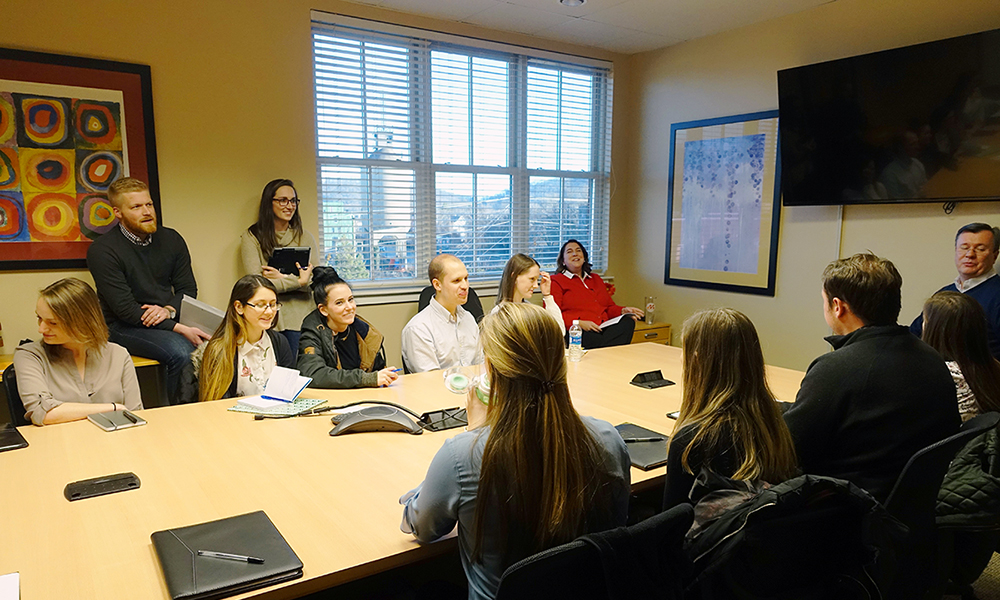 SUMMARY: The practicum students toured each office and learned about each company, and had the rare chance to interact in small groups with employees at each agency.
---
Co-author: Haley Nininger
Dr. Theresa Clarke's Madison Digital Marketing Experience (MDME) students in MKTG 477 recently went on two group learning excursions, where they had the opportunity to meet about 20 practitioners in the marketing field, with over half of them being JMU CoB alums. 
The first was a visit to Immerge Technologies, a website design, development and SEO company in downtown Harrisonburg that also works with 360° photography, which hosted a talk about optimization tactics and gave advice for how to handle client difficulties and time management. 
A second trip took the group to Charlottesville, where they visited Merkle (a data and technology based marketing partner for business) and were treated to presentations from a few JMU alumni and had an opportunity to ask questions about entry-level positions, interviewing strategies, and specialization within the industry. The next stop was at Marketing Mojo (a results driven digital marketing group), who generously provided quality time with the founders, who explained how they developed their business. 
According to Dr. Clarke, her "students enjoyed engaging with practitioners as they learned about the culture and work environments of three different digital marketing agencies." Student Haley Nininger said, "I thought this was an extremely constructive and beneficial way to get my feet wet in the industry. Everyone we met was kind, helpful, and exceptionally knowledgeable. It was even more interesting to learn that a few of them had once been a part of Dr. Clarke's Marketing Practicum, providing a relatable experience. The opportunities I've been given to meet with professionals and acquire their knowledge will undoubtedly prepare me for any career I choose to pursue."
Published: Thursday, February 22, 2018
Last Updated: Tuesday, December 4, 2018