Management
SIE Induction Ceremony
---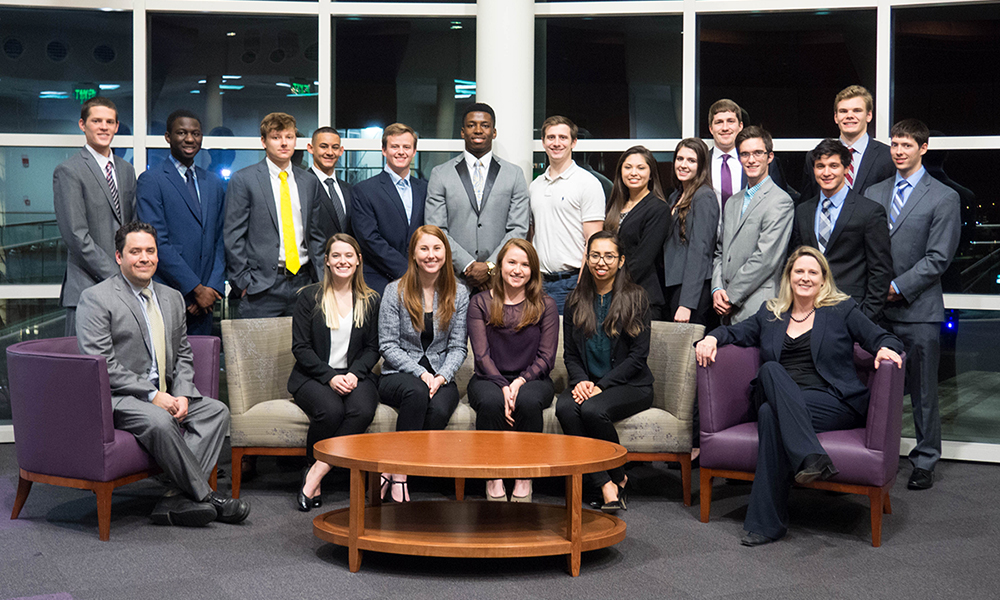 SUMMARY: CoB's Sigma Iota Epsilon professional management fraternity adds new members in annual induction ceremony.
---
Students and faculty advisors Christina Roeder and Dr. David Cavazos recently gathered to induct a group of the top management majors in the JMU College of Business into the Beta Upsilon Chapter of Sigma Iota Epsilon. SIE offers students opportunities to engage the management discipline as well as the community through a series of academic, professional and service activities. 
The ceremony included an inspiring video message from Eric Thornhill (class of '16), JMU's SIE inaugural president. After graduation, he pursued a graduate degree in Antwerp, Belgium, and now works as a recruiting coordinator for Google in San Francisco. 
In an age where machines are taking over many industries, Thornhill noted that SIE members "Stand as the embodiment of the things a machine could never replace—passion, ingenuity and effort." He went on to praise the community service efforts of SIE in the Harrisonburg area, and noted that the members have "The rare capacity to truly better the world we live in."
Published: Friday, February 9, 2018
Last Updated: Tuesday, December 4, 2018