College of Business
CoB Members Leverage Their Business Knowledge in Day of Service
---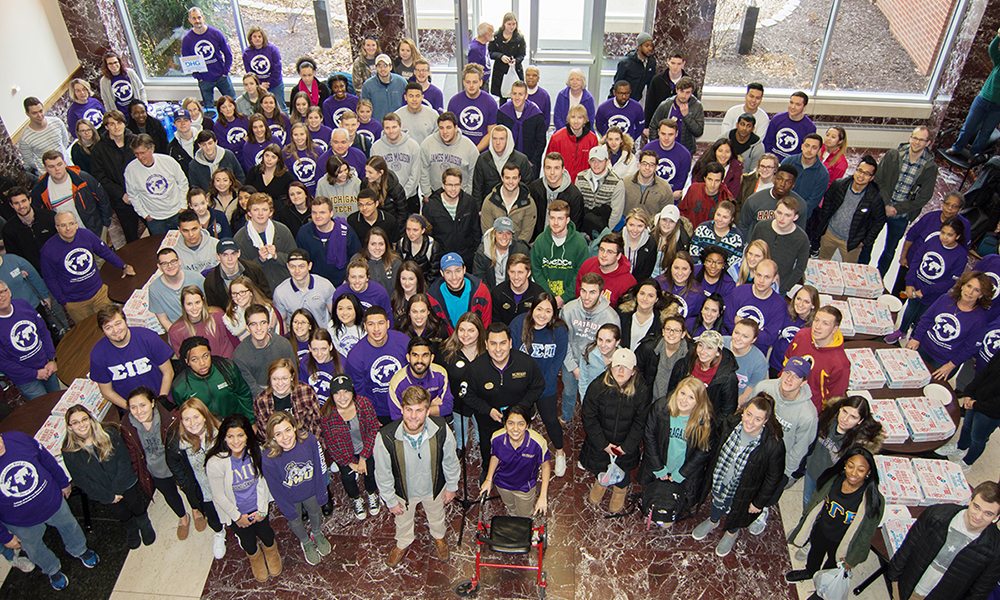 SUMMARY: Students and faculty came together in a community service project that made use of their individual disciplines that go beyond collecting food and clothing donations.
---
Organized by the College of Business (CoB) Diversity Council, the CoB Student Diversity Council and the CoB Student Advisory Council, the third annual Day of Service saw 1500 non perishable donations, as well as several hundred food items and over 200 jackets brought in to help this year's chosen recipient, Massanutten Presbyterian Church. But the CoB didn't stop there—they parlayed their skills into a series of sustained community engagement initiatives.
Dr. William Wood, professor of economics and director of the Center for Economic Education, along with student assistant Kristen Laprade, organized a website domain and security upgrade for the Sadie Rose Foundation, a small Dayton, Va. nonprofit that provides support for child, infant and pregnancy loss. From the Management Department, Dr. Bob Kolodinsky, along with eight student members of the Financial Management Association and twelve students in Interpersonal Skills (COB 202) classes, chose the Mercy House Thrift Store as a recipient of their volunteer efforts. The Marketing Department's Dr. Theresa Clarke and her Digital Marketing Practicum class (MKTG 477) used the Day of Service to launch a semester-long effort aimed at helping non-profits drive more traffic to their websites.
Corporate sponsor Dixon Hughes Goodman, a large regional public accounting firm with offices in 13 states, has proudly contributed to the effort since it began three years ago. Campus recruiter Nikki Kettenacker was accompanied this year by JMU graduates Michael Hanger (Accounting '01), now a tax partner in the Norfolk office, and Victoria DiMatteo (Accounting '16 /Masters in Accountancy '17), who works as an Audit Associate in the Richmond office. Nikki says DHG is "thrilled to participate in this great event and hopes to continue to do so for years to come."
Published: Tuesday, January 30, 2018
Last Updated: Tuesday, December 4, 2018