College of Business
College of Business Community Collects Thousands of Items for the Salvation Army
---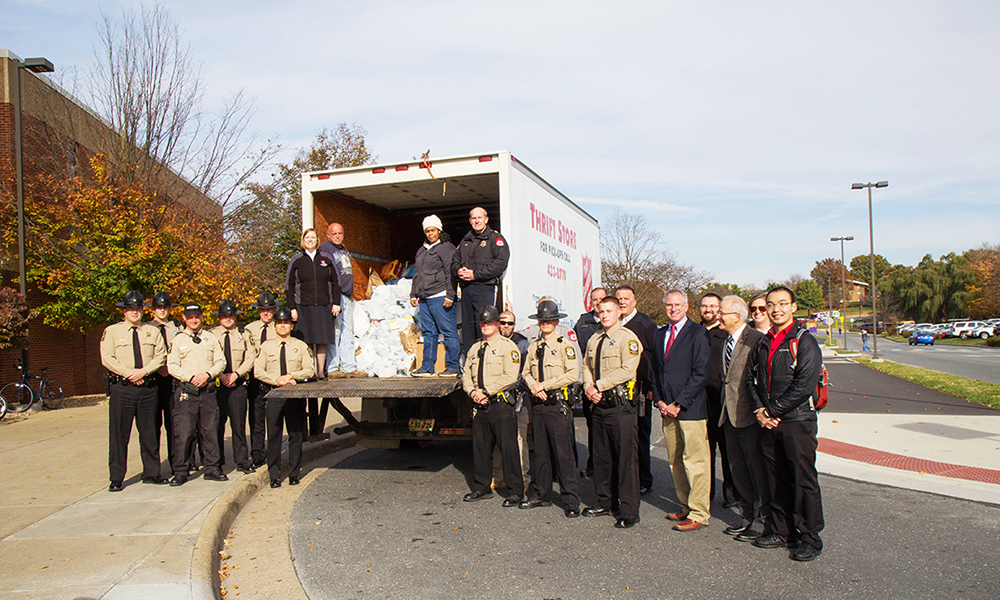 SUMMARY: The College of Business community participated in the ninth annual Brent Berry Food Drive, donating more than 10,000 food items, baby products and hygiene necessities to the Salvation Army.
---
JMU's College of Business (CoB) strives to engage students within the local community, giving them an opportunity to develop their leadership skills while providing for others in need. Students, faculty and staff participated in the ninth annual Brent Berry Food Drive,sponsored by the CoB Diversity Council. They collected more than 10,000 nonperishable foods, baby products and hygiene items to the Salvation Army - setting a record of generosity with the largest donation in the history of the event. 
A ceremony was held on Nov. 15 to officially hand over the donations to Salvation Army representatives. Approximately 30 local first responders from the Harrisonburg City Police Department and the Rockingham County Sheriff's Office, including Sheriff Bryan Hutchinson, were on hand to help load donations onto the truck. City council member George Hirschmann (a retired local TV weatherman) also was present. 
Members of the JMU Women's Lacrosse Team, which donated more than 1,100 items, helped load items, along with representatives from the International Business Fraternity of Delta Sigma Pi, the Brothers of Alpha Kappa Psi, the CoB Diversity Council and the Student CoB Diversity Council. 
Brent Berry, of Harrisonburg, founded and organizes the annual food drive with his father Bucky.
"As students, we are all blessed to have the opportunity to earn a college degree and be in the position we are in," says Ryan Abbott, senior adviser with the CoB Student Diversity Council. "We are grateful for the things we have and want to help those in need. Not only does the event help others, but it also brings a diverse range of people together. Whether it's the professors that help with the logistics of the food drive, or the local first responders that move the donated items for transportation, this event shows that great things can be accomplished when we all work together."
Published: Tuesday, November 28, 2017
Last Updated: Wednesday, January 2, 2019