Management
SHRM Case Competition
---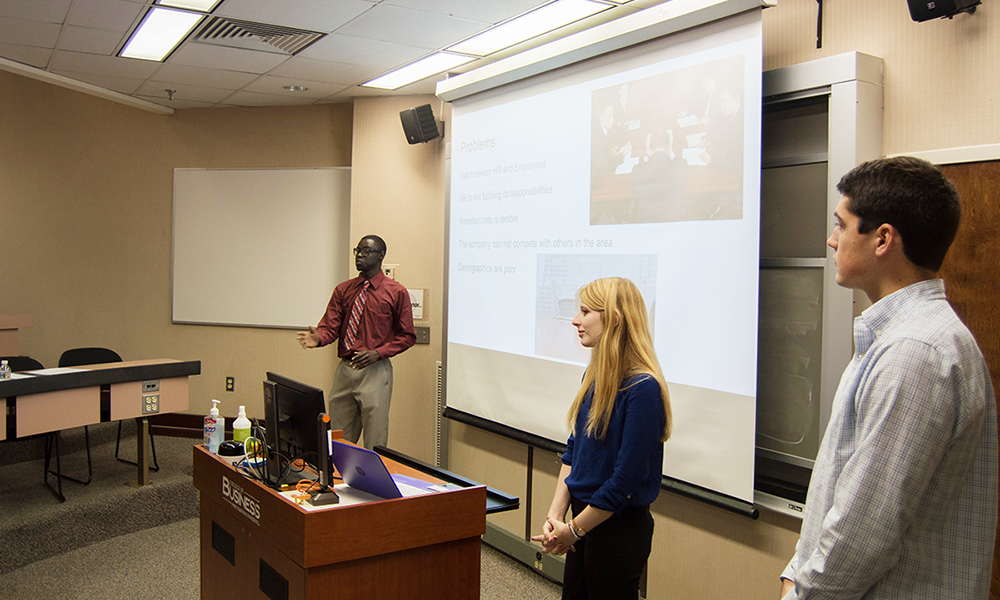 SUMMARY: JMU management students collaborated with Bridgewater College students to participate in the JMU-Bridgewater SHRM Case Competition.
---
On Friday, Oct. 20, management students from JMU's College of Business (CoB) and Bridgewater College (BC) participated in the JMU-Bridgewater SHRM Case Competition.  
The 14 students, members of the Society for Human Resource Management, were divided into four teams working on a case study about a hospital with a new president/CEO whose new style of leadership led to problems such as employee turnover, legal compliance issues, and staffing and employee relations challenges. Each team presented potential solutions and implementation plans to a panel of judges, who were business professionals. 
Students from the winning team are: Tess Atkinson (JMU), Chelsea Colvin (Bridgewater) and Morgan Kaelin (JMU). This event was preparation for several of the students who plan to compete in a state-level SHRM case competition next spring.
"Personally, I gained valuable real-world experience by working with individuals I didn't know before the case assignment," Atkinson says. "I was able to apply the skill sets that JMU courses focus on to help me get the most from this experience, and I am glad I signed up for this opportunity."
Published: Wednesday, November 1, 2017
Last Updated: Wednesday, January 2, 2019