College of Business
Joyce Guthrie Set to Retire
---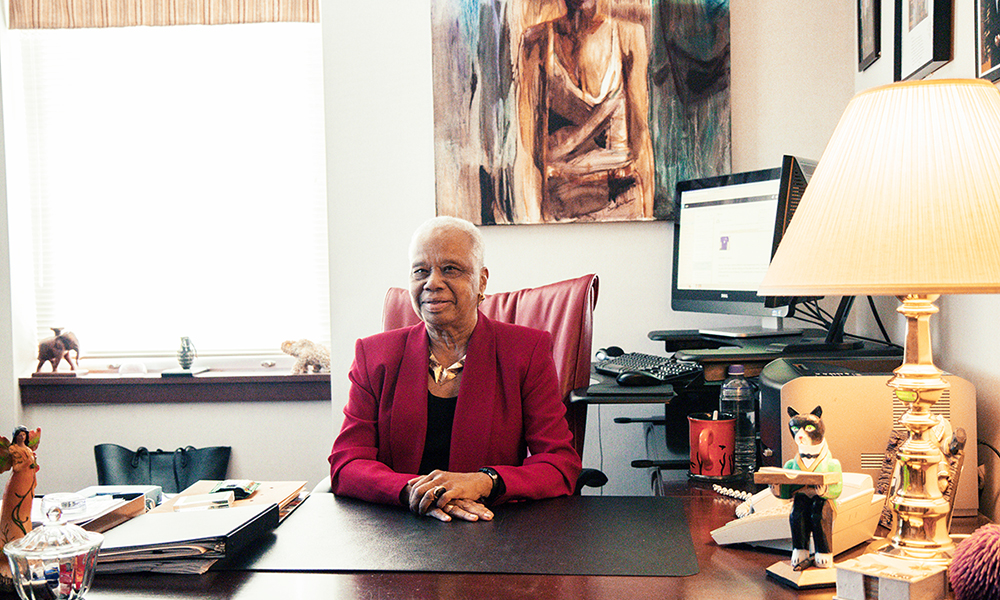 SUMMARY: Marketing professor Joyce Guthrie will retire in May 2018, completing 26 years of service to JMU and the College of Business.
---
As a graduate student at Harvard University, Joyce Guthrie had a professor who encouraged his students to read the front page of the Wall Street Journal every day—taking time to consider the impact of current events on their products or businesses. It was a valuable lesson for her personally, and she strives to pass it along to her students.
"I try to get students to think—not just memorize facts," says Guthrie, a Washington, D.C. native who graduated from Howard University and Harvard Business School. "I want them to think in terms of how to apply concepts from the textbook. I don't care at the end of the semester if students can give me the definition of marketing. I want to know if they can do it, and if they know it when they see it. If they finish a semester in my class and can do that, I've succeeded."
Guthrie, a favorite among both marketing and non-marketing majors, will retire at the end of May Session 2018. She currently teaches three courses: Principles of Marketing (for non-business majors), Retail Marketing and Integrated Marketing Communications. She also has held posts as assistant dean and associate dean for the College of Business (CoB). In the fall of 2006, she served as the faculty manager in residence for the Semester in Antwerp.
Before joining the JMU faculty in 1991, Guthrie worked in the corporate world for nearly 20 years. As a marketing professional with AT&T's Residential Telephone Service, she often worked with college interns. That experience helped inspire her interest in a teaching career.
"I was working with very bright college students, but they couldn't apply what they were learning to the real world," Guthrie recalls. "My thinking was, maybe I could go into the classroom and help students learn to apply what's in the textbooks."
For Guthrie, one of the biggest rewards of teaching is watching students mature and develop professionally between their freshman and senior years. She is the faculty adviser to Collegiate DECA and previously served for 11 years as adviser to Delta Sigma Pi business fraternity. She also is a volunteer usher at JMU's Forbes Center for the Performing Arts.  
"The interaction with students and alumni has been the best part of my job," Guthrie says. "It's what I'll miss most."
As for retirement, she will continue to be active in her church and hopes to teach a class or two at JMU as an adjunct faculty member. For now, she's not making any definite plans.
"I'll find out what it's like to be bored," she says, laughing. "I haven't had that experience in a long time."
Published: Monday, October 9, 2017
Last Updated: Monday, July 30, 2018