College of Business
Dean Gowan and Students Honored by Beta Alpha Psi
---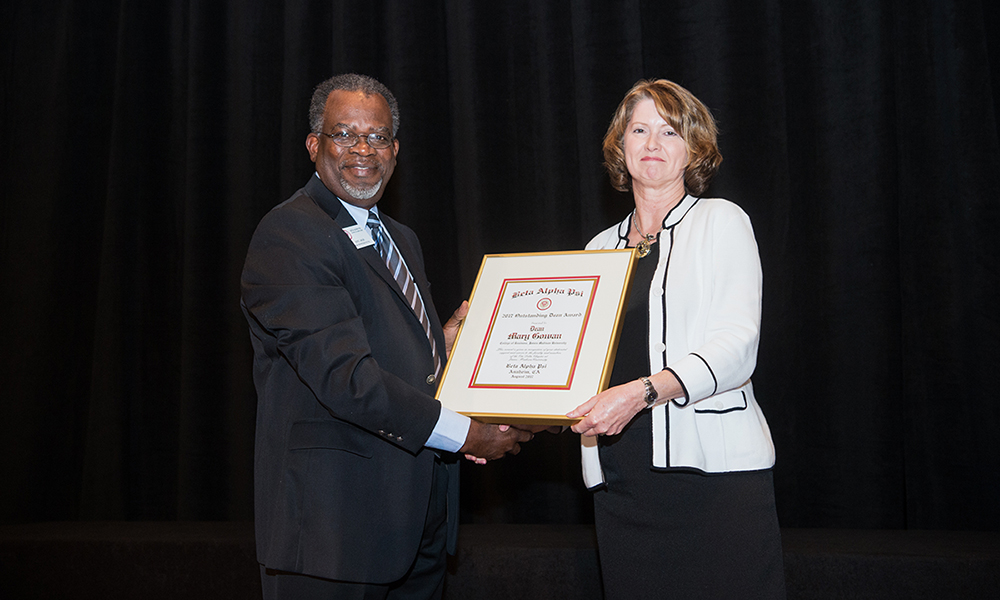 SUMMARY: Dean Mary Gowan of the JMU College of Business was honored as the 2017 Beta Alpha Psi Outstanding Dean of the Year. A JMU student also was honored with the organization's Medal of Inspiration.
---
Beta Alpha Psi International recognized JMU College of Business (CoB) Dean Mary Gowan as the 2017 Beta Alpha Psi Outstanding Dean of the Year. The award was presented at the organization's annual meeting in Anaheim, Calif., in August. 
Since joining the CoB in 2013, Gowan has allotted more than $2.5 million from differential tuition funds towards student and faculty initiatives. The JMU Eta Delta Chapter of Beta Alpha Psi, which has been able to send more students to regional and annual meetings as a result of increased funding, nominated Gowan for the award. 
Gowan says she made this investment to have "more students benefiting from professional development opportunities, more students participating in leadership experiences, and more students competing in competitions."  
Eight members of JMU's BAP chapter also attended the meeting, participating in professional development sessions, competitions and a KPMG-sponsored service project. CIS major Meghana Krishna was on the winning team for the competition "Project Run With It." This community service activity gives BAP student representatives the opportunity to collaborate on a real-world consulting project as they develop solutions to actual business challenges faced by nonprofit organizations in Orange County, Calif.  
JMU's CoB also received another distinct honor during the event. Accounting major Will Chapman, a veteran of the U.S. Marine Corps, received the Medal of Inspiration, which includes a $5,000 scholarship. A Purple Heart recipient who was injured while serving in Afghanistan, Chapman overcame challenges such as post traumatic stress disorder (PSTD) and depression to become a model student on campus and an active volunteer in the local community. 
"It was a great honor to receive this award, but the most important thing to me about this recognition is getting my story out," says Chapman, a junior accounting major. "It's important to me to let veterans and others who are struggling see that it is possible to overcome obstacles and to be successful."
Published: Wednesday, September 6, 2017
Last Updated: Monday, July 30, 2018